King of his castle
by Sabrina Hornung | .(JavaScript must be enabled to view this email address) | Arts | August 23rd, 2017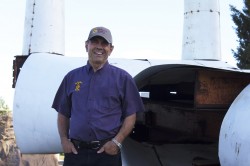 Gary Greff's new sculpture and the future of the Enchanted Highway

When HPR spoke to Gary Greff in 2015 he was in the midst of a crowdfunding campaign to fund his latest sculpture. We spoke of his plans to build a 70-foot spider web composed of ¾ inch cables suspended from an array of colorful prairie flowers. Cement mixers were to be transformed into salvaged metal spiders.
Greff, the visionary behind the world's largest salvaged metal sculptures and creator of North Dakota's Enchanted Highway, is a self-taught sculptor and hotel proprietor in Regent, North Dakota.
With the help of the folks from Emerging Prairie, the kickstarter campaign was launched to raise $15,000 for Greff's spider web. During that period over $20,000 was raised.
Unfortunately Greff's vision was put on hold once he found out he couldn't secure the land needed to support the colossal arachnids. The land that hosts his sculptures, along the 32-mile stretch of southwestern North Dakota highway, is on loan from area farmers.
Unfortunately not everyone along the highway is enchanted by his work.
"I talked to the people who raised the funds and they said you're better off doing something rather than nothing," said Greff. His latest endeavor harmonizes with his medieval-themed hotel the Enchanted Castle and will be outside of the hotel. The Enchanted Castle occupies the former high school in Regent, has 19 guest rooms, a steakhouse, a tavern, and a continental breakfast.
The majority of the funding for Greff's sculptures comes from his own pocket, whether it be from income generated by his gift shop or hotel. He has also received grants and individual donations. In 2004 he received a $44,000 grant from the Bush Foundation, though with purchasing materials for the pieces and renting the necessary equipment to complete each piece safely, such as cranes, funds dry up fast.
Greff, a Regent native, moved to Poplar, Montana, to pursue a career in education. He moved back to his hometown in 1989 to take care of his aging parents. Upon his arrival he noticed that Regent was dying and decided to put it on the map one way or another. One idea was a tearless onion product.
But that year the 32 mile ribbon of road connecting Regent to Gladstone was paved and a small metal sculpture of a man holding up a hay bale received some media attention.
Something clicked within Greff. Though he had never laid a bead of weld in his life,he began to line the highway with the world's largest sculptures -- with the help of area farmers. They helped him with the first sculpture, but once it was finished their interest in future sculptures dwindled.
His latest endeavor is a 40-foot-tall knight in shining armor. While we were there, the frame of the knight night lay on the lawn of the former elementary school building which has been long empty. The headless knight lays on the sod with its massive arms outstretched like Frankenstein's monster. The helmet only a few feet away is still a work in progress.
Greff's greatest challenge with the piece was selecting the correct gauge of tin for the knight's armor. The tin is carefully wrapped on a timber skeletal structure. "Metal doesn't work like paper--it doesn't just bend," Greff said. He envisions the knight poised as if defending the Enchanted Castle from a fearsome sculpture of a fire-breathing dragon. The dragon's eyes will light up and it will breathe fire every hour on the hour.
As he described his vision his eyes sparkled and he walked excitedly around the sculpture of his sleeping knight. His enthusiasm is contagious.
Greff doesn't have a shop per se. He works on his sculptures outdoors. "That's why I'd like to get the knight done by this fall -- if I can get out of here once."
On average, each sculpture takes close to six years to complete. Add the maintenance of the existing sculptures--Greff is faced with a full-time job on top of running his motel and needs all the help he can get.
He tried to coax high school and college art students from nearby Dickinson to help out, but this effort was thwarted due to liability and limited interest.
He approached students who were a part of the Dickinson State welding program. Though unable to make the 50-mile trek, they were open to Greff bringing the pieces to them. He took one piece to Dickinson, but navigating a fifty foot metal sculpture through city streets seemed to be more trouble than it was worth.
Greff approached the state tourism board, but was met with minimal if any support. So his next plan of action is to approach the people. He plans on re-approaching the state tourism board in two years in hopes that they take on his project.
"I will go to the people, I'll say North Dakota, you better step forward here. Tell me yes or no. If you say no I'll cut them down. I have no qualms. If you say no that's your choice and it's the people of North Dakota who have spoken not the politicians from Bismarck," he said.
"I always say you can lead a horse to water but you can't make him drink. I've led Regent to water with the Enchanted Highway. They don't want to drink," Greff continued, "I also believe that one day that horse will get so thirsty that that horse will want to drink eventually. They'll come and say--how can we be a part of this?"
YOU SHOULD KNOW
The Enchanted Castle
607 Main St, Regent, North Dakota
Call (701) 563-4858