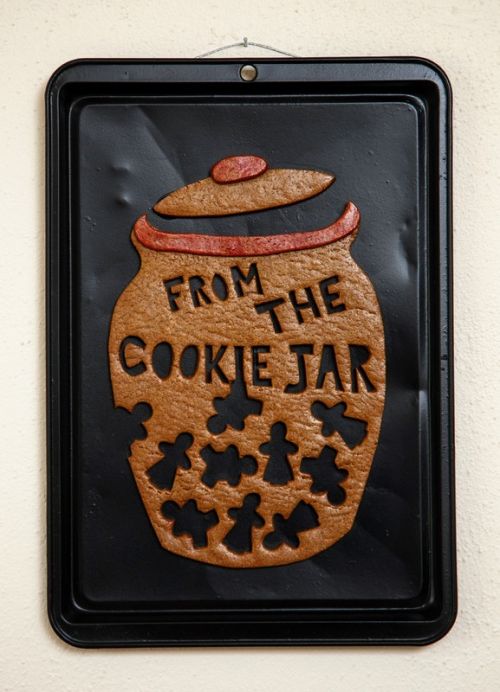 hanhe@mnstate.edu
We may introduce Lana Suomala as a Moorhead High school Spanish teacher, but when you see her art, you will remember her as an artist.
Suomala gets inspired by human stories; her own, her relationships, and those she observes in the world. She explained, "I'm attracted to the stories we tell and retell, as in fairy tales. Also, patterns in the natural world, whether it's the construction of a feather, the changing of seasons, or the life cycle of a dragonfly."
While creating artwork, Suomala revisits her themes again and again and it makes her need to change medium and mission constantly. "I worked on a series of projects that involved sewing and fabrics for a couple of years. Then, I purged the house of all of it. My daughter had to sew a hole in her dance leotard recently and we had to search the junk drawer for a free travel sewing kit."
"I don't think I decided to be an artist," Said Suomala, "When I have ideas, I feel compelled to put them out there in one way or another. It's invigorating and sometimes inconvenient. Suppers are better and clothes are cleaner when I'm not on an art bender. I become very focused and exist in my own world for spurts of time."
Suomala added, "Often, the art chooses me. Sometimes there may be a deeper meaning that I believe is important to be on our collective radar. Other times I want something to be beautiful, funny, or special to one particular person."
"From the Cookie Jar: 12 Fairy Tales and Recipes" was inspired by the children who are fleeing the violence of the drug war and showing up unaccompanied at the southern border. Suomala has been exposed to this topic in a variety of ways; Lutheran Social Service Refugee Resettlement, her work as an educator, knowledge of how the policies as a nation affect other people and populations, the immigration raid of Postville Iowa in 2008, as well as through friends, colleagues, acquaintances, and also through the news.
"This project is really a continuation of a project that began in 2009. This is not my personal experience, but an act of artistic journalism," Suomala said, "More people are on the move than ever before. Articles and horrific imagery flash across our screens until we become desensitized or until the news cycle moves on and we have the luxury of forgetting. This project attempts to process these tragedies in an intimate way, a way that connects us to our childhoods, our hopes and our fears. I hope these stories remind us of our humanity, our vulnerability, and also of our shared responsibility."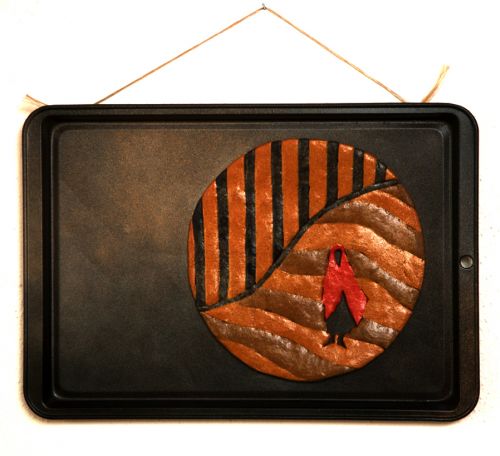 The cookies used for this theme are from Suomala's favorite gingerbread and sugar cookie recipes, incorporating food coloring within. Suomala explained that they were edible until she glued them onto pans.
"Because they are cookies, they are fragile and temporary, and they represent childhood," she added, "Each time I see them, they show more signs of deterioration, some with slight discoloration and others with cracks and crumbles. I tried to incorporate elements from the stories to make them recognizable, as well as to show displacement. All of the pans are used and are from my kitchen, from friends and family, and from thrift shops."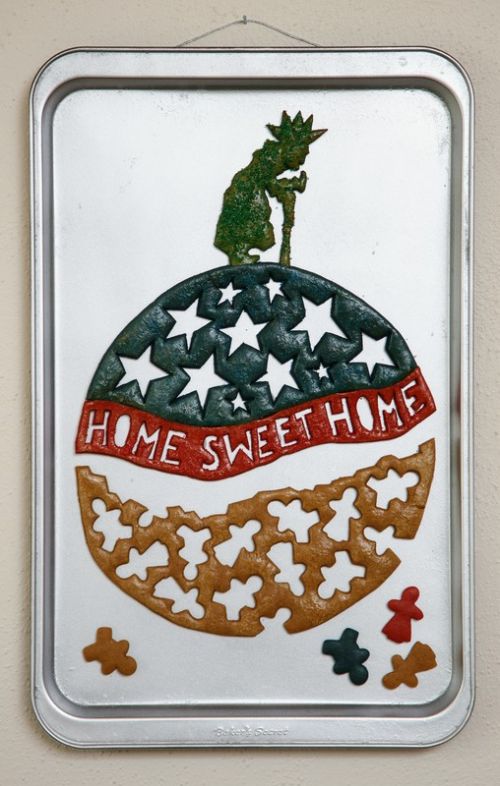 Suomala shared a moment of while creating the cookies; "This project was very time-sensitive, as the dough is only workable for a short period and there is a lot of detail and fitted parts in each cookie. No matter where an observer stood, I'd ask them to "get out of my light." Sometimes the baking process changed the cookies in surprising ways, both positive and negative.
Some cookies took a few attempts. On one attempt, I opened the oven, pulled out the cookie and said, "That's a good one!" Usually I'm critical at first. Then, I lost my hold on the pan and the cookie fell to the floor and broke into bits. One family member handed me the broom, another said, "That's how the cookie crumbles." It was a little too soon, but it's true, cookie crumbles. I stored the cookies in giant pizza boxes from Spicy Pie and everyone who came over wondered about my pizza obsession."
Suomala said that sometimes Fairy Tales are only viewed through the Disney lense or we focus on the "Damsel in Distress" and the "Happily Ever After" wedding. At that moment, she tends to see them in a different view; "Again, and again, the child experiences the worst possible scenario and then embarks on a quest to overcome their circumstances that they themselves did not create. Sometimes they are assisted by fairy godmothers or magical beans. Other times they must use their wits.
Sometimes the endings are happy and other times it is more complicated. In each story, we hope the child survives and thrives. I chose the specific stories because I know them well and because there is the element of a journey. This series began visually but became a writing project as well with the recipes."
YOU SHOULD KNOW
Bakers and Storymakers: Lana Suomala and McCal Joy
Thurs (4:30-8pm) and Sat (10am-2pm) until January 6
APT Holiday Art Market, 225 4th Ave N, Downtown
Lana Suomala: http://www.lanasuomala.com/