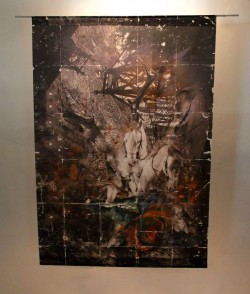 Laura Forgie, visual artist, has always interested in art and being a creator was something that she has had a knack for. Art was not only her interest but a useful way to express herself. She is inspired by what she sees around, especially while walking in new cities or places that she has never been before. She did not see the view in a certain way but profoundly recognizable.
"As I walk around, it is not hard to notice the ways in which we are impacting everything that was here before us," she said, "There are plants pushing through sidewalk cracks, plastic bags caught up in trees flailing against the wind or a dead bird that flew into a pane of glass it could not see."
The adventurous stroll lead her to the definition of death and she started expressing this inspiration through using the abstracted forms of naturally expired animals to discuss and recognize that they exist. "Through the beauty of art, one can find ways to tap into the uncomfortable truths of life," she said, "The theme of life is also perpetuated by the permanence of the art as an object, while the fragility of the material used echoes the temporary quality of our time as physical, conscious beings. Due to the fact that the observer doesn't know how these wild creatures came to be deceased, there is an undertone that questions violence."
Laura considers death an inevitable aspect of life and also the continuation of life. She found out the truth within death is often rebirth and revitalization – there is a variety of beauty in that part of death, and the juxtaposition of industrial and natural form highlight the modernization of the world. The decomposition of creatures that she focuses on indicates our urban state as well.
As introduced, her subject could be slightly uncomfortable because of its complicated perspective of how she shows the world to viewers. At the same time, it intrigues views to expand the viewer's thought of death and a living being that exists. Laura hopes viewers appreciate her artworks with an open-mind and freely interpret what each piece means, whether it is in a positive or negative way.
"I expect viewers might have a beer or two and perhaps an interesting conversation as they consider my artwork."
If you are interested in her unique and interesting view of how she drags in the decomposition of creatures and the boundary of death and rebirth, the show is open for viewing during Drekker Brewing Co's regular hours, and it is ongoing until mid-March. Drekker Brewing Co is located at 630 1st Ave N, Suite 6, Fargo, ND. Additionally, Laura is having another show at the Red Raven Espresso Parlor for the month of March as well. This show will be similar to the one at Drekker Brewing Co, but there will be newer pieces about female sexuality and our current political climate.
You Should Know:
Drekker Brewing Co
630 1st Ave N, Suite 6, Fargo, ND
The Red Raven Espresso Parlor
916 Main Ave, Fargo, ND
Check the website: http://lamifo.weebly.com/