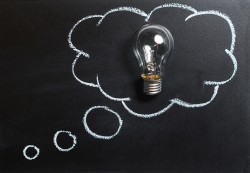 The Scholastic Art & Writing Awards are presented by the Alliance for Young Artists & Writers. This nonprofit organization described their mission as "To identify students with their exceptional artistic and literary talent and present their remarkable work to the world through the Scholastic Art & Writing Awards."
For the main opportunity is to compete for recognition at the state level. There are three different levels of awards; Gold Key, Silver Key, and Honorable Mention. Any students who have been recognized with those awards can list it on their university application, "which shows that the student is creative, has technical skill in the category in which he or she received the award, and is developing a personal voice or vision in art or writing," said Sassi, the director of the RRV writing project, who leads the ND chapter of this program.
Sassi gave some advice for those who submit their work. "I think they should know that the rubric for judging is very different from those used in classrooms. First, teens have complete freedom of expression; there's no censorship of your ideas. Second, works are blind-adjudicated. That means that judges don't know your name or where you are from.
Finally, you should know that there are three categories in the rubric: 1) Originality – jurors value creativity and surprise. 2) Personal Vision or Voice – your work should demonstrate a unique perspective or style, and 3) Technical Skill – you should be proficient in whatever category you are entering work. If poetry, you should have mastery of the poetic elements; if drawing, you should demonstrate technical skill. But technical skill is not enough – creativity is really important."
And added words, "Groundbreaking and iconoclastic artists writers were Scholastic Awards winners when they were teens. For example, Andy Warhol, Lena Dunham, Sylvia Plath, and Truman Capote."
Those who win a Gold Key Award at the state level have the chance to forward their works to the national level for adjudication, and are invited to the national ceremony in Carnegie Hall in New York City if they win the national award.
For those who win a Gold Medal at the national level in poetry, there is an opportunity to apply to become a national student poet. Only five students are chosen each year.
If you are interested in this opportunity or the program, check the website: http://www.arandwriting.org/national-students-poets-program.
Other opportunities: the New York Life Award is for those who write about grief and loss. The national winner this year is Alison Gaarsland, from Fargo South High school.
"This is a great opportunity to be recognized for your creativity and artistic expression!" said Sassi. The 2018 Scholastic Award is open for submissions from September 13 to December 14.
YOU SHOULD KNOW
Scholastic Art & Writing Awards
557 Broadway, New York, NY 10012