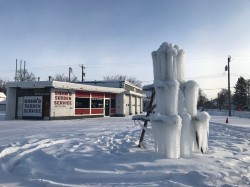 Most of Fargo-Moorhead families would stay at home during winter, which is getting colder. Winter makes people huddle in their bedrooms; they lose a place to take strolls and spend time with their family all in one chilly gust of wind. If anyone wanted to resolve this problem, consider visiting Folkways' Sudden Ice Sculpture Park. Folkways provides an opportunity to get involved in creating artwork as a community member and enjoy this chilly winter.
The Sudden Ice Sculpture Park is created with snow and ice sculptures made by the Folkways team, celebrating winter with their art pieces and expecting to stimulate the environment as a cultural meeting place with community members in the Fargo-Moorhead area. On Sunday, January 15, The Sudden Ice Sculpture Park brings a unique opportunity to community members so they can have a chance to experience winter art and become a sculptor. Families can build their own ice art work throughout Mini Model Build Event. All event attendees will build mini models with their own creativity. Any attendees can be a creator to share art within the community that they live in. Mini Model Build Event is welcoming for all ages and every single person can visit and try out making ice sculptures for fun and being a part of the Fargo-Moorhead community.
Folkways has created this amusing and artistic place with the support of the City of Fargo's Arts and Culture Commission collaborating with community members and local artists. The organization expects to add more life-sized sculptures and create a place enjoyable to community members. Event attendees from children to adults can play a part in the park's creation and get involved in the Fargo-Moorhead community by making their own mini ice sculpture models to complete the theme park. The Sudden Ice Sculpture Park is opening on January 26th and it will stay in place as long as the weather permits. This great opportunity to build mini creations will be starting on January 15, Sunday, 3-5 pm, at Horace Mann Elementary. Event attendees' mini models will be selected by Folkways to be recreated into life-sized sculptures in the park.
The Sudden Park was once a gas station and auto mechanic stop called Sahr's Sudden Service Station. It was transformed into a place to encourage the area's communities and enrich the area with cultural attractions backed by Folkways. Folkways seeks to make Fargo a better place through public exhibits, community engagement projects and services to communicate better with people. The organization has gathered people so that community members can enjoy a greater place to live. Folkways focuses on people who create art and entertainment while sharing a variety of events within the community. Folkways expects to create events to express how we want to live in this community, the Fargo-Moorhead area. Their building projects are already familiar with people in Fargo-Moorhead and it is associated with Uber, Walk Fargo, and Red River Market. Folkways brings joy by providing community services that are deeply enriching to our lives.
YOU SHOULD KNOW:
Mini Model Build
Sunday, January 15th, 3-5pm
Horace Mann Elementary, 1025 3rd St N, Fargo
Grand Opening
Thursday, January 26th, 5-7pm at Sudden Park, 601 4th St N, Fargo
Sudden Park Website: www.suddenpark.com