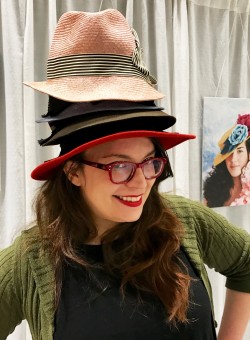 Artist Anna Lee brings years of knowledge to Fargo in new workshops
Organizing and participating in locally-grown fashion shows, years at corporations like Target. And now working as an independent artist, Anna Lee has done it all, making her new workshops perfect for anyone looking to gain a new perspective on their work.
Anna Lee recently moved back to the Fargo-Moorhead area after moving to Minneapolis and building a career there. When she moved back to Fargo, Lee was interested in beginning something she'd already started in the Cities: workshops, where creative people could meet with others like them to work through the things holding them back or flesh out ideas that they had.
Lee is also a partner in the Arts Partnership, so the APT Creative Incubator seemed like a step in the right direction.
"I met up with Dayna Del Val because I had some ideas. I had been teaching workshops in Minneapolis and was trying to figure out a good space for it (in Fargo) and the APT space seemed like a really important community space," Lee explained. "I've been to a couple of events there and they've been a lot of fun. It seemed like a natural location.
"I thought about having people in my studio, but I think it's really important to make use of local resources and to get people into a space where they can see that they can rent space there, they could utilize the space. I think it's really also celebrating the investment that's been happening for the arts in Fargo-Moorhead."
Last summer, the APT creative incubator started as a project between the Arts Partnership and the Kilbourne Group as a space for artists and other creatives to invest in their work in a cohesive, community-driven space.
The incubator offers gallery, studio and performance spaces, as well as areas for workshops like Anna Lee's Workerby project, making it a unique place to cultivate the arts.
"The idea of doing the Workerby workshops has its foundation in the incubator I started with MN Fashion and Voltage Fashion when I was in Minneapolis," Lee said. "We would have monthly workshops for the designers to help them build their collections and build up their business.
"There are common themes that we would deal with that would help create new workshops in the future. And ultimately, as I have made my own venture into my own business, I have bumped up against a lot things that seem to be pretty universal for creative business types."
Lee scheduled three workshops, each two weeks apart: Perfectionism Paralysis, Currency, and Making Sh*t Happen.
The first, Perfectionism Paralysis, took place on Tuesday, May 16. Currency will take place on May 30 and Making Sh*t Happen on June 13, both from 6 to 8 PM. Each workshop is $20, but the price is definitely worth the outcome.
An accomplished and award-winning fashion designer and milliner, Anna Lee built a reputation in the Cities, something she's still trying to get used to in Fargo.
"I feel like I'm still getting to know Fargo again. I grew up here. And when I moved away 17 years ago, I was a different person," she said. "I was pretty involved in the arts community. It's been interesting coming back. I recognize a lot of people…. It's been really interesting coming back and see how much things have grown. There's a lot of familiar people.
But then there's a lot of people where it's like, oh, what's this person about?...It is really interesting because you have to dig for what you're looking for at first, but once you're connected, you're in. I think that's a dynamic I took for granted while I was in the Cities."
For more information on the Workerby workshops, Anna Lee's millinery and artwork, visit her website workerby.com.
IF YOU GO
Workerby Workshops
May 30 and June 13, 6-8pm
$20 per workshop, workerby.com APT Creative Incubator, 104 2nd Ave. S, Ste 315, Fargo
701.237.6133, dayna@theartspartnership.net