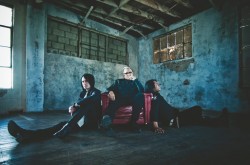 Everclear anniversary tour: from Portland to Moorhead to Honolulu
By Sabrina Hornung and Tom Bixby
It's been 20 years since Everclear released their greatest album, the classic So Much for the Afterglow. It had a huge impact and has influenced many bands and more than one generation of musicians. We recently had a relaxed conversation with Everclear's frontman Art Alexakis.
High Plains Reader: Have you started your tour yet?
Art Alexakis: The 11th is the first show, in Portland, Oregon. We have a rehearsal today and tomorrow, and then we leave tomorrow night on the bus. So we're right on the edge of it.
HPR: So do you have any pre-tour rituals at all?
AA: It's not really a ritual, just spend some time with my daughters and my wife. Because I'm going to be gone for awhile and my daughter's still in school…But they're going to come out for a week in the middle of the tour, and then at the end of the tour, we're going to go to Hawaii for the 4th of July. A couple of shows there, the end of the tour --
HPR: Oh wow.
AA: And then, yeah, that's not a bad way to end the tour.
HPR: Alright, that sounds like a blast.
AA: Yeah, it is. I love Hawaii...it's been a couple years.
HPR: You know, I've never been there.
AA: Wow, you really should go. It's nice, it's a great pleasure. It's a little expensive, because it's an island, but, I don't know, I really enjoy it. It's cool, it's slow. If you're in a hurry, people are like hey, just chill. I went there for a month, and I'd been there three days -- this is like ten years ago. We're sitting in a restaurant and I'm waiting for this guy to bring water to the table. And he's just walking by and I'm like excuse me, could I get some water, please? And he's like, chill, haole, if you want some water you can get it yourself, it's right there, and I'm like, I almost ripped the kid's head off. But by the end of my month I'm so chill I'm like walking through restaurants getting other people water.
HPR: Hey, there you go.
AA: It takes awhile to get used to.
HPR: I bet. So Much for the Afterglow recently turned 20. How does that feel?
AA: It actually turns 20 in October. But I was in the middle of making it 20 years ago. So I was deep in it, right? We were just starting mixing it. So I started on June fifth and it came out October seventh.
HPR: Interesting. And I remember buying that album --
AA: No! You sound like you're like 15 years old.
HPR: Well, I'm 32. You had a happy subject matter, and you still seem to have optimism. Where does it stem from, or where did it stem from?
AA: Optimism? What are you calling optimism? You mean in the record?
HPR: Yeah, in the record, because it's rough stuff, but it seems like there's a certain air of optimism to it.
AA: Well, I think the characters in that album have optimism. I think even though there's dark stories, there's always a light at the end of the tunnel. I believe there's always a chance -- there's always redemption. I firmly believe that, so I'm sure that comes from me. But you can't make the assumption that these are all autobiographical songs, and this is exactly how I felt. That's not the case.
HPR: Right.
AA: I continue to go through rough times. I got out of back surgery a month ago, a little over two months ago. It was pretty devastating. But I'm glad I did and I'm rehabbing, working really hard. Life is going to go up and it's going to go down. Life is going to kick your ass, regardless of gender, where you come from, or anything. The thing that defines us is how we pick ourselves up again, after being knocked down.
HPR: Father of Mine is about your relationship with your father, and now that you're a father, has your relationship with your children influenced your music today?
AA: Well, I was a father when I wrote that song.
HPR: Oh, really…
AA: Yeah. I had a five-year-old when I wrote that song. It's in the lyrics, "Now I'm a grown man / With a child of my own..." My dad was not a bad man. Compared to others, he didn't beat boys, just some physical stuff. Compared to the horror stories I hear out there, he wasn't bad, he just didn't know how to wait, he didn't grow up with a father. My dad's mom ran off with a door-to-door salesman. My dad's dad just shipped himself off to Greece, so he could find another wife. I come from a long line of men who abandoned their children, on my father's side. I think what he did for me was that I was bound and determined to break the cycle. And I did. And by doing that -- I didn't have a son, I have two daughters -- I hoped that I could be a role model in a positive way for them, be more family-centric and pick up the responsibility. Inadvertently, because of the song, it seems like it inspired a lot of other people that I'm not related to. Which is really cool. I get told that literally every day.
HPR: That must be tough. I don't have kids, so I can't imagine being a parent.
AA: It's a commitment, man. When I play solo shows, I say "Whose parents are in the crowd!" Everyone goes yay and I go "Awesome, it's the best!" and it's also the f*cking worst. Nothing is worse than having a teenager or a millennial. They'll talk to you in ways, regardless of how you act -- and my kids are really good because they're kind of scared of me. Not because I've ever done anything physical. I just have that daddy look, I just look at them that way, you know that look?
HPR: Oh, yeah.
AA: Like whoa, stopped you in your tracks. I don't know where I got that from. That and being able to tickle, I'm really good at tickling...It's the best and the worst. It used to be people were like oh, you gotta be a parent and now it's no, don't be a parent, not unless you really want it. If you really want it, it's great. But you gotta be there, you gotta be present. And it's rough. It's not like having a dog or a cat. People say oh, these are my babies. No, they're not babies. They're dogs and cats. And they're awesome and I'm glad they bring love into your life, but it's not the same thing. And you don't realize that until you have a kid. It's like a club you don't understand until you join.
HPR: Do you remember playing at Ralph's Corner in Moorhead?
AA: I absolutely do. That little house, looked like someone's Grandma's, a spot in Moorhead that was right on the other side of the border. One side was Fargo, the other side was Moorhead. We also played the Fargo Civic Auditorium, we sold it out.
HPR: You know, our ad man was booking for Ralph's, and I was picking his brain a little bit, and talking to Jay, he said right after you played Ralph's, you guys made it really big. So what was it like transitioning from a venue with a capacity of 160 to critical fame?
AA: It was a trip, it really was. Going from playing bars to playing concert halls and theatres. But it all happened so quickly, and that's another thing -- it didn't happen so quickly, I'd been working for it for years and years and years. I didn't have a success till I was older than you, I was like 32 or 33. But I had been playing in the band since I was 15. When it happened, I kind of put the blinders on. I didn't really savor it as much as I would have liked to..
HPR: A lot of your fame came from playing on MTV and on the alternative rock radio. MTV was known for pushing you guys. What do you think of the shift to social media?
AA: MTV playing videos was enjoyable and helpful for the music industry. The industry has kind of gone away, it's a different thing now, it's streaming-driven, and I don't know if it'll ever change, but it's interesting.
IF YOU GO
Everclear: So Much for the Afterglow 20th Anniversary Tour, with Vertical Horizon & Fastball
Saturday, June 16, gates 5pm, show 6pm
Bluestem Amphitheatre, 801 50th Ave S, Moorhead
All ages, $20.50; tickets 866-300-8300