​3 Minute Hero returns to Fargo
by Diane Miller | .(JavaScript must be enabled to view this email address) | Music | November 14th, 2013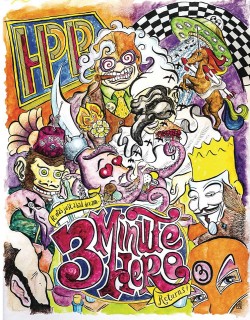 One of Fargo-Moorhead's most successful ska bands, 3 Minute Hero, has not played in town "since Clinton was president," according to lead singer Jeff Nelson.
Now based in Minneapolis, 3 Minute Hero continues to bring its wild, humorous, fun and entertaining music to the stage nearly 20 years later. And finally, this Saturday, Nov. 16, the eight-member group will return to its hometown.
In the late '90s, 3 Minute Hero was the only ska band in F-M. The group had a fantastic college following and was offered great local gigs, including opening for Los Angeles rockers Fishbone.
But perhaps 3 Minute Hero has The Old Broadway to thank most for leading it to horn-driven, punk-rock stardom.
Amusingly enough, the band won a bus at the bar's Battle of the Bands competition in the late '90s. The musicians outfitted the bus with bunks, booths and tables, dropped out of Moorhead State (now Minnesota State University Moorhead), moved to Minneapolis and began touring full time.
The bus, which unfortunately maxed out at 55 mph, was a strange blessing.
"You have to keep in mind (the bus) was a death trap," Nelson said. "It was (The OB's) really cheap way of disposing something they no longer wanted.
"It was a great catalyst for getting us out and for getting us to tour — it was a great kick in the ass to get us to do what we needed to do, but we put so much money in it. We blew two engines. Every time you put gas in it, you had to put oil in it."
At the same time, the bus gave the band free advertising. The words "3 Minute Hero" were boldly painted along the exterior, and the vehicle was crazy-looking, so people would stare.
This wacky and unusual publicity helped propel the band. Not to mention, all the "heroes" are very talented musicians with tremendous energy and bright, bold and passionate musical ideas.
One of 3 Minute Hero's significant breakthroughs was becoming the house band for Minneapolis' famed Fine Line Cafe in 1998.
To cleverly attract a regular crowd, the group literally became a "house" band.
"Every month we'd decorate the entire stage to look like a house," Nelson said. "Our drummer Jonathan played up on a riser in a bathtub. All the horn players, we had a big couch and living room. On stage left, our guitar player Jay and our bass player Jason, they were over in the kitchen. … We thought, it's house a gig so hey, let's have fun with the house idea."
The band would even pay a lucky Fine Line customer's electricity bill.
"It was really fun because … the way we promoted our shows would attract the same kind of people with the same kind of humor," Nelson said.
From 2000 to 2007, the band went on hiatus. Some members went on to become music teachers and some moved away to perform in locations like Nashville, New York City and Hawaii.
Drummer Jonathan TeBeest's 30th birthday brought the band back together in 2007. Afterward, most of the members, including the ones who found out-of-state success, agreed to start 3 Minute Hero back up.
Since reuniting, the eight have released one album, "F Minus," and are planning to release another.
Only 333 copies of "F Minus" were printed.
"We hand made each CD sleeve — painted and stenciled each CD sleeve, took photographs and put individual band photos in each CD and signed and numbered them all," Nelson said.
3 Minute Hero is still deciding whether to release the album digitally, though a few copies will be available for purchase at Saturday's show.
In 2014, the band is planning to release something completely new and different, Nelson said: "It's going to be a double album, it's going to be a concept album, it's going to be released on vinyl — and you are going to be able to play a board game along with it."
IF YOU GO:
WHAT: 3 Minute Hero
WHERE: The Aquarium, 226 Broadway, Fargo
WHEN: Sat, Nov. 16, 10 p.m.
HOW MUCH: $8