​A bouncer, a band, and a birthday
by John Showalter | .(JavaScript must be enabled to view this email address) | Music | July 26th, 2017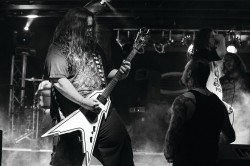 Photo by Gary Lura
Downtown Fargo has its fair share of familiar faces. Regulars at Dempsey's and its upstairs music venue The Aquarium will likely recognize a man named Jeremy Kinnen often watching their doors, whether by his long goatee and hair, his impressive stature, or his wide variety of band t-shirts.
Those who don't know him no doubt see an intimidating bouncer. Those who know him, as I've been lucky to for the last two years, know despite what might be a scary appearance to some that Jeremy is, in his own words, "a half-drunk teddy bear" who loves nothing more than to rock out.
On Saturday, July 29, rocking out will be what he plans to do for his employers of the last four years with his birthday show at the Aquarium, featuring his band Insidious as well as Scarlet Canary, Anomic, and Thirteenth Chapter. Because what better way is there for a dyed-in-the-wool metalhead to celebrate his 26th birthday than by melting some faces at the venue he knows and loves?
Insidious has been an on-again, off-again project for Kinnen for the last ten years, ever since high school. For a long time, he went through a period of performing with the band, moving away and dropping it for a time, and coming back to start things up again. Despite long hiatuses and shifting lineups, the name always stuck.
In the last year, however, is when things have really fallen into place for Insidious, and Jeremy has really "picked up heat" with his passion project. After almost selling out their first show as the newly reformed Insidious, Kinnen decided it was finally time to "take the reins," in his words.
Since then, Insidious has been able to land multiple gigs, including one at the all-day music festival "Chaos in the Midwest" in Bismarck and will soon be self-releasing their first album. "We're putting on the finishing touches," Kinnen said.
Getting to play at gigs with signed bands such as Escape the Fate at Chaos in the Midwest has been an affirming experience for Kinnen. "I've gotten to know a lot of people and realize that I can do this sh*t," he said.
The current lineup for Insidious is Jeremy Kinnen on Guitar, Bran Lange on vocals, Jon Harris (the "full-drunk teddy bear" to Jeremy's half-drunk one) on bass, and Sam Grinter and Rick Tullar (who also drums for Anomic, which will be performing at this coming concert) alternating drums, based on availability.
While the band's roots are firmly planted in the genre of black metal, they have been "building insanity" and evolving into what Kinnen called, "blackened progressive death metal".
Kinnen and Harris are the biggest creative influences on the band and rattled off a list of musical influences that included Black Sabbath, Obscura, The Faceless, Carnifex, Slayer, Atheist, Cynic, and Behemoth.
"We feed off each other's influence," said Kinnen. The two of them described how they will often be crafting a riff only to have the other add to it and enrich it. Though they may come up with the subject matter for most of their songs, they both admit that Lange is the one who has the real gift for words and is able to craft their ideas into the fleshed-out lyrics that he growls into the microphone.
Having the July 29th show be themed around his 26th birthday was not the original intent, said Kinnen. Insidious planned to have this show celebrate the release of their first album, but unfortunately technical difficulties stood in the way. However, since Kinnen's birthday happened to fall on the same weekend, Harris said they decided "F*ck it," and decided to have it be a birthday concert instead.
Both Kinnen and Harris also explained to me why metal has been a longstanding influence in their lives, and their reasons, I feel, match up with a lot of admitted metalheads, including myself. For example, Jeremy admitted, "I'm a scary-looking guy."
However, appearances can be deceiving, and the same is true for those who haven't been initiated into the world of heavy metal. Despite dark clothing, scary makeup, and loud music, Kinnen said you will hardly find a more inviting group of people, many of whom were ostracized or picked on until they found people with their same passion for music.
Harris pointed out that there is also a lot of overlap between those who appreciate classical music and those who appreciate metal. Both are extremely technical genres of music, often involving layer upon layer of composition. "In a way, metal is classical music with modern instruments," he said.
Many wouldn't assume from the long hair, long beards, and all-black outfits that Harris and Kinnen often wear that either studied music thoroughly at MSUM, or that Kinnen has played music for 17 years of his life. The fact of the matter is, many metal musicians have extensive musical chops and sometimes even classical training, and Kinnen and Harris love to defy expectations.
I've had the pleasure of seeing Insidious several times and even tagged along behind the scenes as a guest at one of their gigs. They are certainly set to rise up in the ranks of the Fargo metal scene and put on a great show that will blow out your eardrums and melt your face.
So whether you're a long-time friend of Kinnen coming to wish him a happy birthday or just looking to rock out to some great up-and-coming metal, Harris said to come watch them, "Doing the damn thing," this Saturday.
IF YOU GO
Jeremy Kinnen's birthday show
Saturday, July 29, doors 8pm, show 9pm
The Aquarium, 226 Broadway N, Fargo