​A crash course on America
by Sabrina Hornung | .(JavaScript must be enabled to view this email address) | Music | June 7th, 2017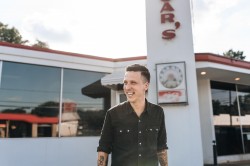 BJ Barham on Rockingham and the decline of the American dream
Photo by Jillian Clark
BJ Barham is a busy guy. He plays around 250 shows a year with his band American Aquarium, but he says this solo tour is his most ambitious venture yet.
"53 shows in 59 days. At least one show in all 48 states plus DC so it's a crash course on America. It's pretty much a stay a day." he said. His native North Carolina, Texas, and California are the only states with multiple shows, the latter two due their vastness.
He allows himself one day a week off and still spends his Sundays on the road. "One of the big goals on this tour is for me and my wife to see as many of the national parks as we can. The goal is -- if we do this how I map it out we're going to do 31 of the 59. We really want to say this is kind of a bucket list trip for us." He adds, "This tour my wife and my dog are here with me. So it doesn't feel like the traditional tour because I have the things I miss about home with me on the road. So it's kind of like family vacation meets Oh, dad's gotta work for two hours every night."
BJ Barham didn't build his musical chops until college. He grew up with a pretty blue collar family who mainly worked in the tobacco industry in rural North Carolina. His musical background was listening to the radio at home.
"When I got to college I picked up a guitar and realized I had a knack for writing songs. I had an interest in it at least, and that interest turned into a knack and that knack turned into a passion and then it turned into a career."
He added, "It's just like any craft. You keep doing it. Hopefully you get better at it. You don't get better at it then you find a new craft. For me, songwriting is definitely that."
His folk Americana sound has sent him touring across the world. In fact his band American Aquarium was playing in Brussels during the November 2015 Paris attacks, but didn't find out about what had happened until after their set in a venue of similar size.
He locked himself in his hotel room and wrote his first solo album, Rockingham. Once he returned to the states and assembled a band Rockingham was recorded and mastered in less than a week.
High Plains Reader: What went through your head when you received the news of the attacks?
BJ Barham: The thing about music venues is I've always considered them safe places. It's where people go to unplug from the outside world no matter where you are--boy, girl, left wing, right wing...no matter what background you come from you go to a show you're all there for one thing. It's supposed to be a safe place, so that was the first time in my life that it ever occurred to me that there really is no safe place.
We got offstage and they basically told us what had happened. We got back in our van and they rushed us back across Holland before they shut down the Belgian border. We left Brussels that night and about two hours later found out there were two attackers who planned the whole thing in Belgium.
I had a couple days off in a hotel room and I wrote about home. I wrote about where I wanted to be, I was 4,000 miles away but I wrote about where I was from and that record turned into my solo debut called Rockingham.
HPR: What about the incident brought you back home mentally?
BJB: The only thing I can assume is any time when you're a kid and you're scared or you get in trouble or something goes wrong you go home, you call your mom or you call your dad -- they always know what to do. In my head -- I was 4,000 miles away -- there was no going back home. It was like mentally going back there.
Once I did that, I just started writing songs about my grandparents and my dad, people I went to high school with, my family. It kinda all just poured out and before I knew it I had eight songs. I didn't sit down and write a solo record. I've been in American Aquarium for 12 years and I never once thought about a solo record.
HPR: In a Vice interview you said something to the effect that you were drawn to write a "broken America album" in response to the deterioration of the American dream. We spoke about going home mentally--but what about the attacks made you question the American dream?
BJB: Reidsville is a small tobacco farming town in the North Central Piedmont region of North Carolina, so it's extremely rural, extremely lower to middle class..it's just a poor place. In the early 90s the American Tobacco Company left, so that left about 10,000 people without jobs, so it had a rough tick in the early 90s and 2000s.
When I started writing about my dad and grandpa I started realizing they spent their entire life in the same town...My grandfather served our country in WWII and all of a sudden he comes home and spends 42 years sitting at a machine in the tobacco factory.
That was one of the first songs I wrote, called American Tobacco Company, it's from my grandfather's perspective: I fought for this country, I was literally willing to make the ultimate sacrifice for the American Dream, then I came home from it and realize that it's not real. I came home to realize that just because you're a good person and you work hard doesn't mean that you're going to be successful.
They sell us all the American Dream--if you believe in yourself enough and you work hard you can do anything. What they don't tell you is you also have to be lucky as sh*t.
There's plenty of people working 40, 50, 60 hours a week, two jobs, trying to keep their heads above water. They're good people and they work really hard. They just haven't caught their lucky breaks. A lot of them are more than likely going to die with a little more than they came into the world with. That's a pretty harsh reality to realize -- you realize it a lot more when you're overseas.
That's the one thing everybody wants to talk to you about is how kind of f*cked up America is. They don't want to talk to me about the band, they don't want to talk about the songs, they want to talk to me about American politics and ask what is wrong with our system. Why is it falling apart? Why is it such a broken system? It gets you thinking.
IF YOU GO
BJ Barham: The Great 48 Tour, with Michael Pink
Saturday, June 10, doors 8:30pm; show 9-11:50pm
The Aquarium, 226 Broadway N, Fargo
21+, $15; http://www.ticketweb.com/fb/7298635