​A new departure for Dawes
by Sabrina Hornung | .(JavaScript must be enabled to view this email address) | Music | July 26th, 2017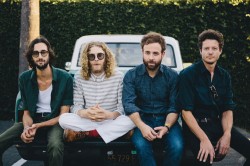 Latest album doesn't sound like anything they did before
When we had the chance to chat with Griffin Goldsmith, drummer of the popular band Dawes, they were just getting off tour with Willie Nelson. Often credited for a vintage Laurel Canyon-esque sound Dawes is making their mark.
We had the opportunity to chat with Goldsmith about their sound, their new album, and the family dynamic between he and his brother Taylor.
HPR: How's the tour going so far?
Griffin Goldsmith: It's been great. Right now we're opening up a couple shows in Jackson, Wyoming and Calgary, Alberta. We like the way it's set up, "An Evening With."
HPR: Where did you find your musical beginnings?
GG: My brother [Taylor Goldsmith] and I have been playing and singing together for as long as I can remember. There was music in our house, a piano to try things out on. Our dad, a musician, showed us how to play things.
HPR: Is it difficult to play with your brother in a band?
GG: No, it's easy. We kind of know where the other is coming from. Musically, we share a lot, our taste. It's great.
HPR: How was the recording process for your new album?
GG: It was awesome, it was just a long time trying things out, hiring different musicians to help us out. We're very happy with it. [Dawes have friends with beautiful voices. Jess Wolfe, Lucius Holly Laessig, Mandy Moore, Will Oldham, Brittany Howard, Jim Keltner, and Jim James all sing on the new album, "We're All Gonna Die."]
HPR: You guys and Blake Mills have known each other since childhood, haven't you? I've read reviews of this new album, that this one is pretty different from your previous albums. Do you think he could be credited for the difference in sound or a little bit of inspiration?
GG: Definitely, yes. The songs were very different, and that dictated other changes. Yeah, he's got a very unique set of skills. So yeah, that's a big reason why it sounds different.
HPR: How do you think he had that influence? What is different about this album, than previous albums, from your perspective?
GG: I think sonically it's a pretty different world. Before this album, we tried to capture what we do live in the studio, because that's our bread and butter, performing. But this wasn't like that. It was taking the song back to its essentials and building it up from there. It felt like making a record rather than capturing a live performance.
HPR: What are your greatest inspirations as far as songwriting and, I guess, your musicality?
GG: That's pretty wide-ranging and it depends on the moment. I'm the drummer, get inspiration from others -- but also the obvious, Bob Dylan, Willie Nelson and stuff like that, anything from the Pointer Sisters to Kraftwerk and everything in between.
Anybody who can do things I cannot do. I try not to limit what I'm inspired by.
HPR: I guess when you start to limit it, you limit yourself. Speaking of Bob Dylan, your band toured with him in 2013. What was that like?
GG: It was amazing to be able to watch him play every night.
HPR: Did you get a chance to meet him at all?
GG: No, it wasn't set up like that.
HPR: What do you think of Laurel Canyon references in your work?
GG: I think it's pretty interesting. We had never listened to that music. And then we got into it and that was funny. We didn't start the band with the intention of keeping the Laurel Canyon sound alive. If people say that, it doesn't bother me. Everybody needs a frame of reference. That's what people do.
IF YOU GO
The City 94.5 presents: An Evening With Dawes
Saturday, July 29; doors 7pm, show 8pm
Sanctuary Events Center, 670 4th Ave N, Fargo
21+, $25, tickets 866-300-8300