​BOOTS set to perform at WE Fest pre-party
by Paige Johnson | .(JavaScript must be enabled to view this email address) | Music | August 2nd, 2017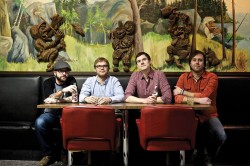 Local talent takes stage with big names
Among names like Luke Bryan and Lady Antebellum, the Fargo-based band BOOTS is taking the stage at this year's WE Fest in Detroit Lakes, Minnesota. BOOTS is performing at the WE Fest Pre-Party on Wednesday, August 2 at 11 p.m., and again on Thursday, August 3 at 4 p.m. on the BOB 95 stage. Nathan Pitcher, guitar and vocals for the band, sat down with HPR to talk about their upcoming show and the potential for a new BOOTS album.
HPR: Is this a major step in the history of BOOTS, performing at a larger stage with big-name acts? Or have you done this before?
Nathan Pitcher: Not on this level. We've played festivals before but just small-scale. More regional bands, Midwest bands rather than big-name bands. Although we've played the Roots on the Red and there's a lot of people that play there, from Ryan Bingham to Steve Earle, so on and so forth. That probably would be the next level, compared to WE Fest. Playing in front of 4,000 people as opposed to 300 is a big jump. It'll be a lot of fun, just drawing from the energy from the crowd. Hopefully they take the original material well.
HPR: What are you guys most excited for when performing at WE Fest?
NP: Just the chance to play in front of that many people. To me, that's just amazing to be able to be exposed to that many people. And getting the chance to play on the BOB 95 Stage from 4 to 4:30, between major performances, gives us a chance to play to more people during the actual festival. They're broadcasting that set to all their BOB 95 listeners, too. There's going to be a lot of people listening at that time.
HPR: There's a bunch of groups and singers performing at WE Fest this year. Are there any you're most excited for? That the band is really excited for?
NP: I am really excited to see the Zac Brown Band. I've never seen him before, but I really dig his music so I plan on going to see him Friday night. Alan Jackson – I've grown up listening to him. My mom's a huge fan. We get artist passes for the weekend. I know Mark (Reitan), our mandolin player, is planning on staying there all weekend and checking them all out.
HPR: What can fans of BOOTS expect of your WE Fest performance?
NP: We put on a pretty high-energy performance. We're going to try to do mostly original music from our two records, our self-titled EP and our full-length titled "1:30." We also play some traditional bluegrass tunes but kind of on our own scale, fast to get going. I think the whole of the show is to try to keep it as original as possible, maybe a couple of covers. Not every song is a get-down-and-drinkin' tune. I feel like we make the set so it flows nice from a medium tempo to a tune you can really get down to. Throwing out the four-part harmonies to that kind crowd isn't something a lot of places do. I feel like BOOTS is really known for putting out vocal harmonies in town, so having high-energy and being able to throw down those vocals and just have a good time with the crowd.
One thing, that's probably most exciting, is we're having a drummer play with us for the first time ever. It's Scott Lange from October Road. He's a good friend of ours, really great drummer. We're really excited to see that come about, and how much more energy that adds to the sound. I think for WE Fest, that's the big thing that's going to help out. We've always been a four-piece string band, and now we're adding drums. To me, that's really exciting.
HPR: Do you think adding drums is an avenue BOOTS might take in the future?
NP: I think it has a lot of potential.
HPR: You guys recently released an album. How has the reception been?
NP: I think it went well, I think people responded well. When we do play in town, we only play once every two months or so. People tend to come out when we do play, because we don't overdo it. We're not always putting out new material.
Everybody in BOOTS has jobs. We didn't get to get out on the road so much, so we didn't really promote on the road except for here and there. We probably went on the road eight, ten times. We'd like to do more, but it's just time restricted. We did start working on our third record. Myself, Rob and Mark, we all write music. So, we have material for a third record, but it's a matter of getting the time to work together and arrange it. All the songs are finished on their own levels. All my songs are finished, but once I bring it to them, they put the icing on the cake. Give me their ideas. But now our mandolin player has moved to Minneapolis, so it makes it a little harder to finish the third record. Our goal is to get a weekend together, go to a lake cabin and just hammer it down, get it in the studio and get it done in five days. We're hoping for another release in January this winter, but crossing my fingers. We'll see what happens.
Other members of BOOTS include Mark Reitan (mandolin and vocals), Rob Ashe (guitar and vocals), Travis Atwood (bass and vocals) and Scott Lange (drums).
IF YOU GO:
What: BOOTS
Where: WE Fest
When: Aug. 2, 11 p.m., Barn Stage
Aug. 3, 4 p.m., BOB 95 StageMore info:http://wefest.com/