​Diane Miller promoting and producing
by Jacinta Macheel Zens | .(JavaScript must be enabled to view this email address) | Music | June 28th, 2017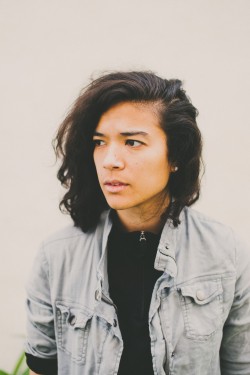 Former HPR editor, musician, and current lead music promoter at The Aquarium, Diane Miller took some time out of her jam-packed schedule to sit down with HPR for an interview. She filled us in on why she works at The Aquarium, how important she thinks the venue is to the local music scene, and what musical endeavors she is currently undertaking.
High Plains Reader: When did you start working at The Aquarium?
Diane Miller: So I started at The Aquarium at the end of last September. Burt and Klaus, the owners (also of Dempsey's), knew that I had interest in it because I reached out to them when moving back to Fargo earlier this summer. Promoting, especially with high profile acts, which The Aquarium does throughout the year, is such a huge amount of work. So I knew that they could use the help. I had such a desire to help because I feel like The Aquarium is such an important piece of our town. It is a treasure, a town treasure.
HPR: Yeah, I agree.
DM: There's nothing like it. It's the only all-music venue in this area. I mean there's obviously the Fargo Theatre and The Sanctuary, but those cater to different things. We (showcase) mostly all music and we try to bring in acts from out of town so that people can regularly stay up to date with what's current in music. I think that is one thing that people enjoy about The Aquarium. People look to it to be inspired and entertained.
There are so many things that The Aquarium does for our community. Another thing is that The Aquarium gives local bands a place to play with an attentive audience. You can play in a bar all you want, but a lot of times you are really just background music. Whereas this is a music venue so people come there to actually watch the band. They pay attention and stand in front of the stage to watch. Not that you can't get that in a bar. But there is something to playing at an actual music venue, with a stage that is levitated off of the ground and using high-quality sound equipment. It can be very empowering to be a part of it.
HPR: I can see that. The intent of participation from the audience is there. They are coming there to see a show, specifically, rather than going there to hang out with friends. What drew you to want to work at The Aquarium?
DM: Knowing that I'd be playing a vital role in the music scene and that I get to work with so many artists. I enjoy working for the community. One of the things about me that I think makes me a good promoter is that I am so open to so many different styles of music. I want to bring in a variety. Another thing is that I (strive not to) play favoritism and I work to make sure that I have connections in all different scenes. From the EDM scene to metal scene to the hip hop scene to the hippy scene, I work to make sure it is all represented in the shows I book.
Of course -- It is not about me, though. Yes, I am the head promoter, but it is not just about what I do. It is about what we all do at the venue. So many musicians call The Aquarium home. I want to make sure it stays a home for everyone who feels that way. Every community needs a space like this.
HPR: I know you have multiple musical endeavors, and am wondering what they are.
DM: Sure. D Mills & The Thrills just released an album. We finally did it! That is really exciting. ... D Mills & The Thrills is definitely my baby right now … It is so rewarding and so much fun to be a part of. That came with a lot of work, and I feel really proud of it.
We actually have not been playing that much recently. I have a thing where I do not try to overbook myself with one band. I don't want to burn people out on what we do. I don't book us a ton because I do not want to oversaturate the market on what we do.
That is one reason I do tributes. They are a departure for me from my own material ... It is a fun way to change things up and people (seem to) love them. I love performing them as well. It challenges me as a musician to learn, really learn, the work of another artist so precisely. Not that I want to make (doing tributes) a focus or anything, but I do enjoy doing those shows.
Aaron Duma from Fargo Brewing Company initiated D Mills & The Thrills doing a Beastie Boys tribute. And Matt Johnson of O'fosho and Human Element initiated the idea of doing a Rage Against the Machine tribute years ago. They've been super fun to perform and helped me realize that I desired some variety.
HPR: Any other projects that you are working on?
DM: I have also started an improvisational, kind of angsty, project with various musicians from the area. So we do mostly original music. Some of what we play is music I wrote from when I lived in Minneapolis, but a lot of it is music we think of together on the spot.
I really wanted to do music that was different from what D Mills & The Thrills does; something more experimental. D Mills has become kind of a party band. We have high energy, we get the crowd movin' and groovin'. I love that, but I also love doing more experimental music. This side project makes that possible.
HPR: So you just have one side project? From what I know of you, I bet there are more.
DM: (laughs) You're right. I play in Heavy is the Head, which is also a tribute band. I've been doing a lot more solo shows too. That entails beatboxing, playing a synth and rapping over a looped beat. I also host different things. I hosted a Johnny Cash Tribute at the Fargo Theatre and have hosted and organized the Bob Dylan tribute called Dylanfest. I might do other projects as well.
HPR: That is an enormous amount of creative endeavors! I did not expect any less, I guess, but wow. How do you balance it all?
DM: Actually, a problem that I have is that I get in so many things and that it is hard to balance it all. One of the many reasons that I moved to Minneapolis was that I was spreading myself thin. I really thought that I was working against myself, to a certain extent. When you take on so many things, it is hard to balance it all out. How can you nurture the projects that are really right for you while exploring all of the different things out there?
HPR: (laughs) I am trying to figure that out myself. If you figure it out, can you let me know?
DM: Deal.
IF YOU GO:
D Mills and the Thrills--Free Alley Concert!
Friday, July 14, 8pm
Drekker Brewing Company, 630 1st Ave. N, Fargo