Doyle Wolfgang von Frankenstein: hot sauce, devil locks, and metal
by Martin Beckmann | .(JavaScript must be enabled to view this email address) | Music | November 1st, 2017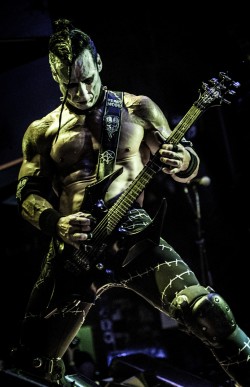 Doyle Wolfgang von Frankenstein is a legendary man. His work with the Misfits helped to create and shape a genre. His solo act Doyle is currently on tour with Gwar and will be following it with the As We Die headlining run, starting with a November 6 date at the Aquarium. I got a minute to speak with the man himself.
High Plains Reader: The Misfits are pretty good band. I've heard of them and I guess you're in that band. Do you ever get sick of people remembering you for the Misfits?
Doyle Wolfgang von Frankenstein: No, I don't care.
HPR: You just take it as a feather in your cap that you were part of something huge?
Doyle: Well it's finally huge. We are finally playing arenas, you know, after forty f*cking years! Everybody that says the tickets are too much and we suck for that can suck my c*ck you know, it's been forty years--it took us forty years to get there.
HPR: So you still do the devil-lock thing. How long does it take you and how do you get it to stay that way?
Doyle: so my whole hair takes me like 10 minutes, and I use KY Jelly and electric tape.
HPR: How did Doyle get started and who are the core members?
Doyle: Oh, well I was looking for a singer and I put ads out in like the New York area, I guess, what was it called?...like the East Coast Rocker and this is when you had to do it in the paper -- and something in L.A., I think its called like Revolver or some sh*t. So I did that.
I put the ads out and Alex Story from Cancer Slugs had made a Cancer Slug CD and he had just burned it. And his was the only one I listened to all the way through, everyone else when the singer started singing I just threw it right in the garbage. Like oh God this sh*t sucks. A couple famous people sent sh*t too and right away I was like no way this sh*t sucks. So it was the only one I listened to the whole thing, it was like 20 songs, it was great.
All his songs are just great you know. So I wrote 12 songs at the time, had them all demoed and arranged and ready to give to a singer. Because I didn't think I was very good at writing vocal melodies and the lyrics. Once I write the music, I see and I hear my hand playing it when I listen to it...so I was smart enough to realize that you need, when you have someone that can do something better than you, let them do it, so I said who should I write this sh*t with, who? I said Alex Story.
So I call him up, hey man got some songs want to write with me.? He was like aww f*ck yeah, he was walking into a Danzig show at the time when I called him, he was walking into a gig.
So I sent him like three songs, I didn't want to send all of that at once so he could roll through them quick, I wanted him to really work on them. I think in like two days he sent me one of the songs off of "Abominator," he sent me "Mark of the Beast," you know, exactly how it is on the album record.
I was like oh wow that's exactly what I wanted, you know and we just rolled it from there. We wrote like forty songs. we actually wrote both of these albums at the same time and recorded both of them at the same time.
HPR: When was that As We Die writing session?
Doyle: It's been a couple years, we wrote for awhile we just kept writing and writing. I bought all the equipment to record, which took forever, just sucks, metal music is like the hardest to record and to play, I mean it's just so precision…
Ah, I hate it, you know? Because I play different every f*cking time, but yeah, the only thing we did over on the second record was, we did the vocals and the drums over in the studio where we were mixing at, we kept the bass and the guitar from the first session.
HPR: The Gwar tour is coming up in just a couple days, have you ever toured with them before? What are your thoughts on that tour?
Doyle: I've toured with them so many times, I feel like they are my f*cking family. You know, with the Misfits they would open for us but they would go on last, because we didn't want them to spray all that sh*t all over my amps. I mean I don't want that sh*t on my stuff, so we would go on first.
Plus they have such a big production and I feel like that is one of the hardest working bands in show business. If you see what they're doing backstage, it's just like holy sh*t, what a f*cking well-oiled machine here.
HPR: How are the audiences nowadays, how do they respond to your music? Are there any trends you're noticing with American audiences?
Doyle: American audiences pretty much suck, for lack of a better word. They just want to watch it on their phone even when they're at the show and they want to see it for free. As everyone is complaining about these Misfits shows we've been doing, they've been asking for this for years and years and now they got it and now they don't want to pay for it.
They want you to come to their house and play in their yard for f*cking free and they want you to bring food to feed them, you know, and they don't really come to shows in the United States as they do in Europe or Japan or South America, where these people are actual music fans they come and they enjoy the show, they don't watch it on their f*cking phones and they're fans.
That's why you see all the festivals in Europe, thousands of festivals with hundreds of thousands of people at them, nobody gets hurt, you know what I mean? Nobody gets killed, nobody gets raped. You have one, the first festival that we had here in Woodstock, people are getting killed and raped, are you f*cking kidding me?
HPR: That's kind of the cool thing about Gwar, because if those people have their phones out, they're just going to try to record everything and they're going to get their sh*t ruined because they're going to get blood sprayed on it.
Doyle: (Laughs) Oh man that's f*cking great, you're right, I never thought of that.
HPR: I noticed that there's a lot of things online stating that you are vegan. How did you get started and is it hard for you to find good vegan food when you're out on the road?
Doyle: Vegan food is food, you know it's just like natural food, it's grains, it's beans, it's nuts, it's fruits, it's vegetables. you know its not a f*cking secret, man, you know what I mean? You go to the store and you buy it just like everything else. It's not some mystical f*cking sh*t. It's real food and it's awesome, you know what I mean?
HPR: I did also see that you are selling your own hot sauce (Haunted Hot Sauce). How did you make it and where can we get it?
Doyle: You find somebody that makes hot sauce and you give them what you want it to be, and you do a taste test, you tell him "I don't like this, I want this, and I want this in it."
HPR: So you did have a say in what the taste is?
Doyle: Of course, yeah, mine is different than the other ones that he makes, mine is more Italian, like basil and oregano, that was what I wanted in it. Its called "Haunted Hot Sauce," I believe, and he makes it, and it's really f*cking good!
HPR: What advice would you have for old fat dudes like myself, to get Doyle-ripped? What's your secret?
Doyle: There's no secret, it's one word, it's called consistency. I've been doing it forty- three straight years, I should actually look better than I do, honestly. And you know what, I eat good, I don't need f*cking animal products. It's consistency. I do it every day. I'm about to go do it right now.
IF YOU GO
Doyle: As We Die World Tour
Monday, November 6, 7:30-10:30pm
The Aquarium, 226 Broadway, 701-235-5913