Eddie Spaghetti of The Supersuckers on the state of rock n' roll
by Sabrina Hornung | .(JavaScript must be enabled to view this email address) | Music | August 9th, 2017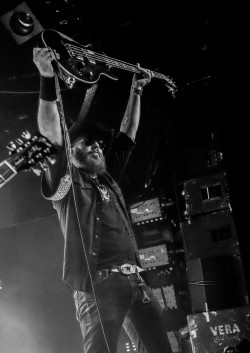 Formed in 1988, The Supersuckers have gained the moniker of being "the greatest rock n' roll band in the world." In 2015 lead singer/bassist Eddie Spaghetti was diagnosed with stage 3 oropharynx cancer. Thankfully he conquered it and is currently back in the ol' rock n' roll saddle. HPR had the opportunity to speak with the frontman: how did his illness affected his songwriting, Seattle in the 90s, and the current state of rock n' roll?
High Plains Reader: How did your diagnosis affect your songwriting?
Eddie Spaghetti: It took me a while to stop writing all of these dark and depressing songs. I wrote a few when I was going through it that were just kind of boring or dark, but now that I feel good and back to normal, I'm able to write the kind of songs The Supersuckers are known for again.
HPR: What was it like when you signed with Subpop in the heart of the grunge scene?
ES: It was great -- it was a super cool time to move to Seattle. We didn't realize that there was so much going on there. When we moved we thought we would be the best band they've ever seen--I mean who's from Seattle? Nobody.
We got up there and there were all of these great bands that were already there, Subpop was just starting up and sure enough, they saw the band and liked us.
HPR: Wasn't it a coin toss between New Orleans and Seattle?
ES: Yes it was, and I'm so glad it landed on Seattle because if we would have went to New Orleans we would probably all be dead. New Orleans is such a dirty decadent town and it always has been.
We didn't know anything about it--we had never been there or anything. We had never been to Seattle either. We just really wanted to get out of Tucson and go somewhere else. We were really lucky we moved to Seattle when we did.
HPR: What was the scene like in Seattle compared to the scene in Tucson at the time?...other than Seattle being the grunge mecca…
ES: Moving from Tucson to Seattle--I liken that to the scene in "The Wizard of Oz" when everything was black and white in the movie, then they got sucked up by the tornado and once they land they open the door and it's all in color. It was kind of like that.
HPR: What do you think about the current state of rock n' roll?
ES: I don't know, there's some good bands I suppose but it just seems like an interest in being a good rock n' roll band has sort of waned -- it's not a popular art form anymore. I don't know why that is. I still love it.
When I hear a band that rocks it still moves me, so that's what we do, keep on making rock music for very few people who don't really care and that's how we're going to do it. I came to the realization a while back that what we do is not for everyone. In fact, it's for very few people, people with impeccable taste: the ones who have scratched below the surface of the greatest rock n' roll band in the world.
HPR: What do you think when you hear people say rock is dead, and what do you think would have killed it?
ES: I don't know, the internet had a big part in it. Just the whole mystery of being in a rock band is exposed now for what it is. A kid can make all the music he wants on his computer now. The need to get a group of dudes together and sit in a garage and hash out ideas and to hear your song is not really relevant anymore.
If you can get all the satisfaction you want out of making up your song yourself without interacting with anybody else, why would you? I get it. I think it would be a lot easier to make up songs by yourself, but that interaction with other people is what makes a song really great.
A band is often defined by its limitations. What it can't do is equally important as what it can do. All of these factors define the sound of a band.
HPR: The Supersuckers have gone through a few lineup changes since their inception. How do you feel about your current lineup?
ES: The Supersuckers are finally The Supersuckers we were always meant to be. We're as good as we've ever been. The guys get along, there's no drama, everything is easy, it's a thrill to come to work. I actually enjoy coming to work, and that's a rare thing.
HPR: You're known for your live shows--how would you describe a Supersuckers show to someone who has never been to one?
ES: It's a knock down drag out rock n' roll party in the streets. Ya gotta make sure you wear your clean underwear because we're gonna rock your pants off ya.
IF YOU GO
Supersuckers with Pretty Hardly
Tuesday, August 15, 9pm
The Aquarium, 226 Broadway, Fargo