Esme Patterson creating Herstory
by Sabrina Hornung | .(JavaScript must be enabled to view this email address) | Music | June 28th, 2017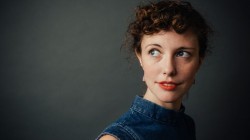 Jolene, Allison, and Eleanor Rigby are all very different characters made famous by pop songs, but have you ever wondered how they felt about their situations?
Singer-songwriter Esme Patterson's latest concept album "Woman to Woman" sings their stories from their perspectives.
We had the opportunity to speak with Patterson via phone interview. We caught her in San Francisco working on a new collaboration. Unfortunately, all she could tell us was it was for a movie score. Fortunately for us, she was eager to tell us about her record "Woman to Woman."
High Plains Reader: Can you tell us how you developed the concept for your album Woman to Woman?
Esme Patterson: The song Tumbleweed was the first one written for that project. I was in South Dakota in a town called Spear Fish on tour with a band that I used to be in and I had my own hotel room -- which was very rare. I think that only happened twice in the eight years I was in that band.
I was learning how to play the Townes van Zandt song Loretta. I wrote all the lyrics down and started studying them and thought it seemed like a one-sided perspective of a woman, and I started thinking how many songs were someone else's perspective of a woman, whose own thoughts and perspectives you never got to hear.
In that hotel room I stopped learning Loretta and wrote Tumbleweed from Loretta's perspective. So the whole album is all songs from the perspective of female characters from famous pop songs.
HPR: What was it like formulating your characters?
EP: It was a combination of being very freeing for me personally, because for the most part my work is very self-reflective, and it was a release. It was really fun actually, to put my energy into this character's perspective. I was trying to make them as human as possible and part of that is a feminist objective of showing that women are also people with complex emotions -- not just some doll.
Part of it was just total fantasy and writing a little fiction about trying to show another chapter to the story, after seeing the original song I was responding to as one side of a conversation, and giving these characters a chance to respond. It was freeing for me to step into a fictional writer's space. It was also with the aim of empowering women, and showing that there's at least two sides to every story.
HPR: Is there a song or character that you identify with more than others?
EP: I feel like the one that I put myself into the most on that record was the song Glow, which is a response to Caroline, No, by The Beach Boys. I feel like that was the one that I was kind of in the most -- but still the art is always part truth part fiction. It's not exactly my story at all, but that song had more of me in it than the rest.
HPR: Let's Dance was a reaction to Lola by The Kinks. In that song, you wrote from the perspective of a trans woman.
EP: I thought it was important to include the voice of a trans woman in the voices of women. That was important to me.
HPR: What kind of feedback have you gotten from Woman to Woman? Some people keep certain songs close to heart -- but I suppose in the end it's all open to interpretation!
EP: Exactly! (laughs) Yeah, the response that it elicited was exactly what I was going for. I wanted to open a conversation about these ideas and in a conversation there is no right or wrong -- it's like let's open this discussion. Let's talk about archetypes and objectification of women. Let's open these conversations. The response was varied and I thought it was really fascinating.
IF YOU GO
Esme Patterson at Winnipeg Folk Festival
Friday, July 7, 6pm
Main Stage, Birds Hill Park, Winnipeg MB
IF YOU GO
Esme Patterson
Monday, July 10, doors 5pm, show 7pm
Fargo Brewing Co, 610 University Dr N, Fargo
Advance $12, $14 day of show