​Holler House and Technician: new split 10-inch
by HPR Contributor | .(JavaScript must be enabled to view this email address) | Music | February 28th, 2018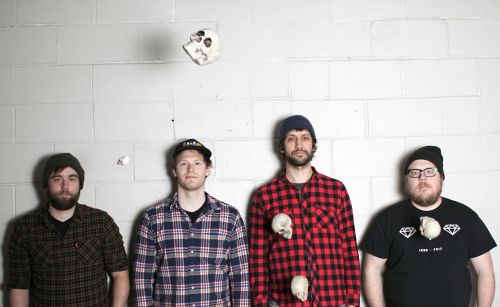 By Ben Rheault
hpr@hpr1.com
Holler House are back with a new split 10" on Jetsam-Flotsam Records, with fellow Minneapolis band Technician.
The band is gearing up for their Minneapolis release party by playing The Aquarium this Friday. I emailed Holler House's drummer and graphic designer Mike Novak a few quick questions before they rip up the stage on Friday.
High Plains Reader: Last time I reviewed your self-released "Lodge" (2016). There was a quote in there stating, "We're angry, we're loud, we're dying, and we refuse to accept the status quo." From the sound of the three tracks on your half of the split, this sentiment still appears to hold true. I want to ask you, how do you reconcile approaching middle age and the juggling act required to sustain yourselves, your families, and your art?
MIKE NOVAK: I think we've all become more comfortable in our own skin as we've aged. It's less about being actually successful now and more about the desire to just make something and do something. We need to release our energy and frustration in a positive way otherwise we'd all go insane. We really don't have any expectations for this band, and that's very freeing. We've all got lots going on: kids, careers… Garth's (Blomberg, guitar/vocals) even starting a brewery! There's just less time for this, but it's still incredibly important to all of us maybe more than ever. We carve out the time in our schedules each week for the band.
Since we're older, things are more stable I guess…we have houses and jobs, and wives. So, with that stability, some things are easier. We can pony up for recording costs and get decent gear, and pay for a decent practice space. We just have to cut back on buying our kids food and diapers for a week or so. No big deal.
When we drive to Chicago in a borrowed van, it's just that much more special, because it seems impossible to still be doing this right now with all of our obligations. We have great support from our wives. They know this is what makes us tick deep down.
The only obstacle is time, really…and my back hurts. I think we'd all say that our day jobs don't really fulfill us creatively, so we all need this band to stay sane. I know I'm a better person, (and dad, and husband) when I have this creative vein satisfied. It's definitely a struggle to find that balance between art, music, and life though, but it's worth it.
HPR: Do you see yourselves as being idealistic? Is idealism possible in your mid to late thirties?
MN: Yes, it's possible for sure. We know this band isn't going to change the world. There's just too much sh*t out there. We just want to get wild for a night or two.
Our band is pretty selfish in that way. We're doing this for ourselves right now. I'm not sure we're idealistic in the historic punk rock-sorta-way. But, we're good people and know that the world owes us nothing. We work hard, we do our thing, we go home and fart on our couches like everyone else. We're just trying to provide an escape for a little while, for the listener and ourselves. Create a bit of fun and mystery.
HPR: Merging art and music seems to be a large part of what you do as a band. You had an installation up at NDSU a year or so ago. Can you explain how that came about, and is that something that you've continued to work on?
MN: That art installation was entirely because of your review of our last album Lodge in HPR. One of our logos that ran with that article piqued the Gallery Coordinator Anthony Faris's interest, and he contacted us to see if we had more.
We did have some more, not a gallery full, though. And we agreed to do an art show. That really advanced our visuals at the time, and gave us more focus. We suddenly had to fill up half a gallery with tangible things. We were forced to develop some of our themes and ideas and turn them into actual objects.
It was humbling and exciting. It pushed us to take a leap artistically and think about the band as art even more than we were. We always did take our imagery seriously from the beginning, but that show advanced that thinking, and it's definitely continued to evolve since then.
We're using some found sounds and old broadcast bits in our set. With this record we're going to abandon the logos that we've been doing up until now. That project is complete. I'm not sure what's next visually. We'll see.
We are going to make a font out of all our logos. So look out for that!
HPR: Technician's half of the split complements you guys nicely. How did this collaboration happen? Are they also from Minneapolis?
MN: Yes, they are buddies from here in Minneapolis. They started playing around the same time as us and some of our members have overlapped in other projects.
We knew they were sitting on a few tracks, just like us. Neither of us had quite enough material for a full-length but we both wanted to get our music out there as fast as possible. It made sense.
Musically, we're on different ends of the "punk" spectrum. They're a bit more angular and can harmonize. We're more spazzy and barky. But that's why splits are fun, you get to discover two bands in one.
HPR: What's next?
MN: We have a few release shows in March for this record: At the Aquarium in Fargo on the 2nd, and Minneapolis on the 23rd,at the 331 Club. We'll do our loop to Chicago, and Madison and Milwaukee or so, again in early summer for this record. Then we'll make more songs and do it again. We'll press on.
It does take us a long time to write songs. We're pretty hard on ourselves, and we tend to tweak songs for a really long time. Things tend to move slowly, but they always eventually do move. We're still just getting started, and we're in no rush.
Copies of the split will be available at the show and Orange Records, 641 1st Ave N, 701-478-6240. Also give a listen to "Lodge" on the band's bandcamp page, hollerhouse.bandcamp.com. They're also on Facebook.
IF YOU GO
Holler House, Busey, One Day, Pisstory
Friday, March 1, 9pm-2am, 21+
The Aquarium (Dempsey's upstairs), 226 Broadway N