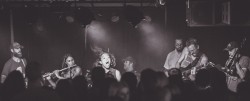 High Plains Reader: Can we start by talking about finding your beginnings in music, how you guys got started?

Diane Miller: I grew up with pop music, as a little kid, always was drawn to it. I guess I got my start rapping in college. I've always been able to rap, had the ability to do it.
HPR: Freestyling or putting it together first?
DM: Writing. A tiny bit in high school, but then I got my start writing in college. But I could always rap over a track that I liked, since I was very young.
HPR: Did you enhance any of that with poetry or rhymed lyrics? Have you studied any of that, taken a poetry class?
DM: It comes naturally, from listening to so much like tech music, you absorb it. And I guess I have an active brain. I think a lot. It's easy. You feel it, you're familiar with the genre, rhyming patterns. It comes out, it self-formulates.
HPR: What instrument do you play? How did you get started?
Jason Boynton: Bass guitar. I play rap, but I'm not an out-in-front person. I did some recording 25 years ago, but this has been a nice opportunity to be in hip-hop but not right out in front.
DM: We are the two members of the Thrills that have been in there since the beginning.
And yeah, members have come and gone.
HPR: How long have you been --
DM: It's been six years. Our first show was in September of 2010. But we didn't get our official start until the end of April, in 2011.
HPR: We haven't heard the new album, "On Your Mark." What does the title refer to?
DM: Hip hop is very much about being in a pocket, in the zone, rhythmic -- and being ready for anything. I was a track runner, and the title is a lyric from a song we wrote.
HPR: Is there a theme to the album, or a connection between songs?
JB: Yes, when we were putting this whole thing together, when Josh Reinhardt was doing the cover art, a theme that kept coming up was forward motion. All of the song titles make you feel like forward motion, like velocity. Ready Set Go, Here We Go Now, Pay It Forward, Don't Stop, I'll throw in Time as well, that's five out of nine…
HPR: That's neat, to start with the title and --
JB: The music too. Steve Wallevand is our trombonist, he's the one who mixed it. I don't know how he's going to feel about me saying this, but it's not in a monotone. I think it's tied together. Best record I've ever been on.
HPR: Are there any other themes you touch on repeatedly?
DM: When I write it's stream of consciousness and I'm an anxious person...it's doing and being and not being complacent. It's crazy because I don't think about it, just somehow do it. You have to go with what it sounds like. And sometimes pay homage, quote rap lines, my favorite artists.
JB: Another theme in the album is sensuality. Diane, are you on the record on this? You've taken on a new lifestyle.
HPR: Stop the recording?
DM: No, keep recording. It's there. It's raw and it's personal.
JB: In the beginning, she's hollering at a dude, and at the end, at a woman. That's cool as shit.
DM: This is the first time I've had to sit down and talk about my words. Hearing what I wrote is different than writing it. It's exposing...but that's hip hop. There's so much you can do with words.
JB: In hip hop, you get the chance to make a persona that's larger than life. She's Superwoman on the record and in front of people, but she's still human, she's still her.
IF YOU GO:
D Mills & the thrills album release party
Saturday, April 22, 9pm
The Aquarium, 226 N Broadway, Fargo