​HPR interview: Peter Yarrow
by Sabrina Hornung | .(JavaScript must be enabled to view this email address) | Music | July 12th, 2017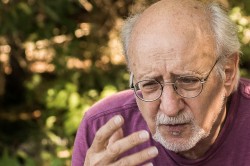 Peter Yarrow is an American singer and songwriter who found fame with the 1960s folk music trio Peter, Paul and Mary. Yarrow co-wrote one of the group's greatest hits, Puff, the Magic Dragon.
A veteran of Greenwich Village and a lifetime dedicated to his causes--at 79 Yarrow has no plans of slowing down.
High Plains Reader had the opportunity to connect with Yarrow on site at the Winnipeg Folk Fest this weekend. We had the opportunity to team up with John Prentice of Planet Mainstage on UMFM, a community radio program based out of Winnipeg.
Peter Yarrow: You can shoot, I mean, you can start. I don't want to shoot anybody. Thank you so much, by the way.
John Prentice: You're attending the Winnipeg Folk Festival for the first time this year. I'm so honored to talk to you. How are you, Peter?
Peter Yarrow: I am good. I have the performances to look back on, that were thrilling. The audience, they were wonderful, wonderful human beings and they embraced me in ways that, as I said to them, I'll have to rethink my U.S. citizenship now. In the U.S., it's like living in a terrible gray fearful cloud and it was great to be up here and take a break from all that.
JP: Can you segue into the importance of group singing and harmonizing in our lives? That's what we experienced with you.
PY: I never entered the folk music arena as a way of life for the love of the music, though I did love the music. The effect on me was that by singing together, people's hearts get linked and that can lead to empowerment and activism and spiritual strength -- and transformation of individuals and society, the possibility of intimacy and togetherness that's possible in music. That's what I'm responding to. It is so moving to me now, at the age of 79.
High Plains Reader: How did you find your folk roots? I read that you were part of Greenwich Village. What was that experience like?
PY: I grew up with a mother who was a progressive thinker, a schoolteacher. She taught English, speech, and drama in high school. She brought me to see Josh White in concert and I was overwhelmed, and to see Isaac Stern play the violin. That's how I got to play the violin.
We had only a few records at home. A couple were in Russian, because my mother was from Ukraine. I also remember Burl Ives singing The Foggy Foggy Dew and Blue Tail Fly, on what we called 78s, which were records made of acetate, not vinyl, that rotated at 78 rpm, revolutions per minute. That was an introduction that was very powerful.
So I played the violin for awhile and my violin teacher made me cry. And then she brought home a guitar. I asked if I could play it and she said no, that's my guitar. So it took a lot of pleading. But she learned some chords on it, and I learned some chords on it, and it became part of my life.
When I went to high school -- the school that appears in the TV show Fame -- I was an art student, and the music everybody was sharing was folk, even if they were playing classical music. We sang along with it together. We went to hootenannies, I saw Pete Seeger, Brownie McGhee and Sonny Terry.
Then, at Cornell, I became president of the folk club. I graduated with a degree in psychology. In my senior year, I had an instructorship in a class in folk music. That's when I realized folk can allow people to open their hearts to each other. It became a passion.
I realized that folk music can play a part in changing the world from a very unconscious way to a new kind of consciousness, which has now been in great part reversed, to a very mean-spirited point of view.
But at the time, we were well on our way to a grander, wonderful land and country and future, and folk music was part of coalescing that.
JP: Is that what keeps you going now? You could, as a musician, retire.
PY: If I'd been selling insurance all these years and somebody said 'Peter, why don't you retire?' I'd say I'd love to. I'd love to retire and become a folk singer. But having done what I dreamed of doing, why stop? Not a good idea.
HPR: Greenwich Village was a hotbed of political awareness. You've been through tumultuous times. Do you think history is repeating itself? You and Mary and Paul participated in the March on Washington…
PY: There was a march on Washington in 1963, and Martin Luther King gave his speech, I Have a Dream. There were a quarter of a million people there. It was a turning point, the country's realization that if ordinary people stood together and locked hearts and arms, they could change the course of history. And Peter, Paul, and Mary's entire career was premised on the idea that we as singers were doing our part to articulate and achieve that vision.
JP: Do you mind if I ask where you live and how you spend your time?
PY: I live in New York City. I tutor about half the time, support educational initiatives such as the creation of Operation Respect, an organization that promotes tolerance and civility in schools. More importantly, proactively, I'm also engaged in many, many other efforts, Native Americans, bringing Americans across the political divide together, dangerously separated now.
JP: You have new songs, not on a record yet. I've heard one, The Children Are Missing.
PY: Well, I have to get ten songs together and record it. In that song, if we treat children cruelly and harshly, they will treat other children cruelly and harshly. They grow up to be bullies. It is more than just ridiculing and taunting. Then in grown-ups, it becomes rage and hatred.
HPR: You are working on a project with your daughter Bethany and her boyfriend Rufus Cappadocia.
PY: They're not married but they are a couple. We work on projects all the time. We were at Standing Rock together. We're performing in California next week. One of our future projects is to make an album of songs of conscience.
HPR: We're from North Dakota and we were covering Standing Rock from the point of view of the protestors. What was your experience out there? What was the climate like?
PY: It was heaven. Empowerment, love, commitment, similar to Occupy. We went right to the Dakota Sioux site, Bethany signed in. There is a video, the song Iemanja from Brazil. Most of the people had never been to a protest before...others don't realize that the great joy comes from togetherness and unanimity of spirit.