​HPR speaks with rock n' roll royalty
by Sabrina Hornung | .(JavaScript must be enabled to view this email address) | Music | January 31st, 2018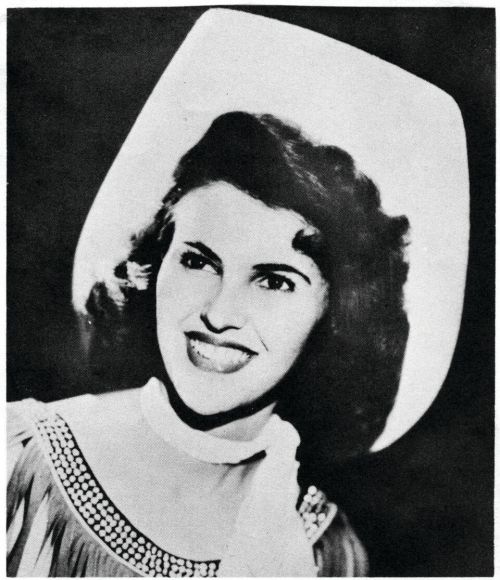 Whoever said rock n'roll ain't pretty must have never had the opportunity to speak with Wanda Jackson, often referred to as "the queen of rockabilly" and even the "first lady of rock n' roll." The Oklahoma native just turned 80 this year and has just released her autobiography, "Every Night Is Saturday Night: A Country Girl's Journey to the Rock and Roll Hall of Fame" co-authored by Scott B. Bomer.
The High Plains Reader had the opportunity to speak with her in 2015, prior to her performance at the Winter Dance Party at the iconic Surf Ballroom, in Clear Lake, Iowa.
HPR: I read that your father was a musician until the onset of the Great Depression. He nurtured your love of country music and taught you to play guitar. Can you tell us a bit about that?
Wanda Jackson: Country music was really the only music that I ever heard unless something was used on a radio show or something. My mother said it this way, she said, "The guitar changed Wanda's life." Dad bought me a little, real guitar. It was just a little cheapie…He let me hold it. I was only about six and he tried to show me the chords and he had all kinds of patience but I loved the singing part and I got to where I could chord and keep meter. I would sing and he would play the fiddle. It was just something we enjoyed doing together.
HPR: Both your father and Elvis Presley encouraged you to play rockabilly. How did you feel :about rock n' roll at the time?
WJ: I was a teenager -- 16 or 17. I graduated when I was 16 and I don't know -- like I said that's the music I grew up on. I loved it and I loved singing it. It was just a natural thing. The rockabilly didn't come along until later, 56 or 57, those years. Elvis just heard something in my voice -- something -- that he said I could do this kind of music that didn't even have a name yet. No one was calling it "rockabilly" or rock n' roll." It was just a new kind of music. So, he finally convinced me to at least try it. Once I tried it I fell in love with it, so that added to my repertoire.
HPR: Is it true that Elvis kind of coached you in the art of rock n' roll? Maybe coached isn't the right word but what kind of rock n' roll wisdom did he offer to you?
WJ: I think I was really hesitant. I was telling him I couldn't do this type of music--I'm a girl and this is something new. I didn't think I could do it and he said, "I know you can and you'll need to if you want to sell records."
He took me to his home -- we had an afternoon off in Memphis. We had a concert that evening and he got his guitar and he played a record and then played it for me -- or sung it for me rather -- in his style. I saw firsthand that it was mostly his delivery that made it different. So, I didn't copy him but I found my own sense of style of singing it and I was the first girl to do rock n' roll or rockabilly, so that started everything I guess.
HPR: What was it like being the first female rock n' roller -- did you experience much opposition due to your gender?
WJ: Well, I didn't really know of it firsthand but I did have problems. The main problem was I couldn't get my record played--airplay you know? That was our main media back in those days. We had newspapers, magazines and radio. If you couldn't get your current record played on radio, that's where you missed out on the sales, because people didn't know anything about your music (laughs). I had a hard time getting play, so I had to start putting a country song on one side of a single and a rock song on the other in order to keep the base of my fans--the country fans. In fact, I started to do that with albums. It was a good way for me to say Hey! I'm not divorcing my country fans. I'm just adding on to -- you know.
People loved those songs in person so I know I wasn't getting airplay because my sales weren't good and by 1960-1961 I had to just kind of give up and go back to country and country was making a big change at the time. I was kind of like in a tornado or whirlwind. Where's the audience these days? What are they like? It was a good challenge for me to hang in there. In 1961 I had my first real national hit with "Let's Have a Party." Finally they pulled it off of an album. So that helped.
HPR: You've also been credited for bringing glamour to country music with your iconic fringe dresses, dangly earrings, and high heels. Who inspired your look?
WJ: Well, that's the way I dressed when I wasn't performing and it dawned on me that I don't like what I'm wearing onstage -- I felt real frumpy with cowboy boots and full skirts and leather fringe.
My mom was a wonderful seamstress and she had made practically most of my clothes for most of my life, so she's the one I went to when I wanted to try a different look. I wanted to look glamorous or sexy. I was a big fan of Elizabeth Taylor and Marilyn Monroe -- the glamor girls.
She took it upon herself to help me find clothes and I really stood out -- it was a lot different, but I still played guitar for a while, then I started to put the guitar down.
I know there was a poll of some sort taken for a magazine and I was awarded the first sex symbol in country music. So that's another title.
Out of all the girl singers from the beginning to the current -- a few years back, I was number 29 of important women in the music business. That was a nice compliment too. Then in 2009 I was inducted into the Rock n' Roll Hall of Fame, and that overwhelmed me.
HPR: Have you ever been to Fargo?
WJ: Oh yes, we used to work a lot of -- we called them "Package Shows." There would be 3,4,5 artists all on tour and we'd go out for two weeks at a time. There were a lot of shows with Elvis, Johnny Cash, Jerry Lee Lewis, Buddy Holly and those guys. They'd always try to put one girl on the bill. Some people just go for window dressing, but it was mostly all guys in the music business.
The way I traveled -- my dad traveled with me until Wendell and I were married. Then I retired him and gave the job to Wendell! That was one way I could keep my reputation clean. That was important in those days. That was the main reason dad went with me, plus we had long drives between cities. It could be 300 to 400 miles in between and I couldn't do it all by myself and work too.