Magic City Homegrown
by Sabrina Hornung | .(JavaScript must be enabled to view this email address) | Music | June 1st, 2017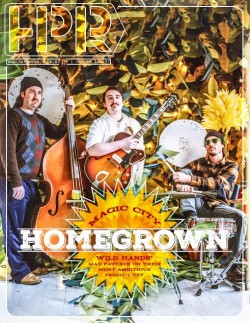 Wild Hands, is a Minot-based bluegrass-Americana band with strong North Dakota roots. Their sound is rootsy with compellingly honest lyrics, that praises and hails the plains of North Dakota. The lyrics and instrumentation are as breezy and whimsical as the album artwork created by lead singer/guitarist Max Patzner.
Currently the three-piece is in the midst of a crowdfunding campaign designed to fund their most ambitious project yet. They plan on releasing three 10-inch records on three colors of vinyl. The jackets are hand-printed with Patzner's original art.
They hope to raise $14,000 by June 7. 14 thousand may sound like quite the sum, but between the pressing of vinyl, printing of artwork, mastering, and digital components, the cost of one album package exceeds $6,600.
Incentives to contribute include digital and vinyl versions of the album as well as original artwork and live performances depending upon the contribution.
Patzner took a moment to chat with HPR about his art, the albums, and what fuels Wild Hands' Midwest daydreams.
High Plains Reader: What's the music scene like in Minot?
Max Patzner: Weirdly amazing for a small town in North Dakota. You can go to one venue and listen to some folk country, go down the street to hear crazy electronic music, afterwards some hip-hop...metal, shoegaze, math rock, whatever...there is always someone putting themselves out there doing what they love. People support it too.
HPR: How do you all know each other?
MP: We have all been revolving members of bands around town for the last 15-ish years. We've all loved each other's bands in the past and it was only a matter of time before we ended up in one together. We couldn't be any different though...Joe is a bluegrass guy, I love 70s soul music and Nick loves pretty much anything original. Put it all together and you get a melting pot of Wild Hands.
HPR: How did you find your musical calling?
MP: Being from a small town you had to find ways to entertain yourself. My grandma had a little organ I would play on for hours and hours. My mom is a music lover and we would go on these road trips to the lake and the Twin Cities.
She would always bring binders full of CD's to choose from...mostly Simon and Garfunkel and 70's soft rock jam mixes. She would let me go buy a CD to take on the trips too. She had to listen to a lot of Nirvana.
Also: I started playing guitar when I was 12. I was told that my hands were too sweaty to play guitar (I don't get it either) which I guess drove me to keep playing. The songwriting just came from all the amazing people in the Minot music scene who write truly great songs. They definitely helped me fall in love with songwriting.
HPR: Can you tell us a bit about the album art? I love your whimsical style, What is your art background and who are your visual art influences?
MP: I went and got an art degree from Minot State University. They have an amazing art program, by the way, with lots of talented professors who are genuinely excited about teaching. The classes were small, so after a lecture you could go have a beer with your professor.
They also put on this amazing artfest called Notstock where I really fell in love with poster art. Jay Ryan, James Flames, Delicious Design League, LandLand, Miss Amy Jo, Dewitt, Sonnenzimmer. They bring these artists in to hang out for a week and you get to learn hands-on from the best of the best. James Flames and Delicious Design even ended up making posters and album art for our first record.
The "Growing Like A Weed" album art is a mixture of the town we live in and how I saw it when I was growing up...and those road trips I went on. I always draw with some naivety...I guess I'm still trying to not grow up.
HPR: Pressing one album is ambitious--What inspired the three-part release? Does each record have an individual theme?
MP: Yeah, it's a big project. We kept going back and forth on what the right way to release it was. In the spirit of comic book movies we went with the franchise idea.
It was originally going to be a double record, but I'm vain and loved every one of the 22 songs, it felt like some of the songs didn't get the attention they deserved.
There is one all-around theme to the record, but each record has its own individual idea, mostly that going back and forth of finding out where home is. We wrote these songs over the span of two years while we were traveling, so there's a lot of highway references.
HPR: Can you tell us a bit about the recording process? You have your debut album, "Oh River," already under your belt. What did you learn the second time around recording?
MP: We recorded with a good friend of ours, Jason Brown, who lives right down the street from me. He recorded our first album too.
What did I learn this time around? It's not the best idea to write and record a three-part album series right before you are going to get married, buy a house and get a puppy. Life really caught up with us.
If I could do it again I would, but it's been a crazy long process. I get really caught up in recording though. I always want to keep adding things, but still going for a big goal, keeping it honest.
We are always trying to put out music that we think is true and I feel people have been most excited about that in our band.
HPR: There have been a number of bands that leave the state and eagerly shed their ND roots-- I love that you are so adamant about embracing yours. Have you always been that way or did it take some time to learn to appreciate them?
MP: I feel like I've always been an advocate of where we come from. It's just a giant part of our lives and we always feel like we need to show people there is music and art and all sorts of creative things going on in ND. In all my travels, it seems like wherever we are, I am thinking of home in North Dakota.
HPR: ND seems to inspire both your illustration and your storytelling. What do you find most inspiring about our state?
MP: There's just something about the spirit of North Dakota that gets me. There are so many factors that shape us. The landscape, snowy winters, the history...it's a giant state with lots of space, but feels like one big small town. Everyone is super-supportive and eager to help -- or not, and they keep to themselves. The people here help keep me honest.
HPR: I love your band photo--the dandelions and greenery almost have a theatre set quality to it -- and the video that accompanied your kickstarter page is beautiful too.
MP: My wife, Bethany, who is an amazing artist, made that set for us. She is always super willing to help me create my big crazy ideas.
HPR: Do you have a theatre background?
MP: I love the theater and a big part of the music scene is made up of theater folk. I was a humanities photographer in college and got to take photos of sets and costumes for the MSU plays. I actually have a new project I'm working on with a local, loveable, awesome theater guy, Chris Stroschein. We are writing and illustrating kids books and adapting them into plays. Wild Hands is going to make music for them too.
HPR: Do you plan on making your performances more visual or do you plan on creating a video?
MP: We plan on both of those things actually. A music video is in the works. Gotta use those giant dandelions for something -- they will be coming on the road with us too. More stuff to carry, but hey, that's a big part of the job. And they are too neat.
HPR: What fuels your Midwest daydreams?
MP: We were traveling all over the country the last few years and after days and days of looking out the window of our van, all I can see are the plains.
My wife and I bought a fixer-upper house too. We worked on it all summer long and I had a lot of time daydreaming while I was pulling nails and staples out of hardwood floors. The record is full of little soundscapes that I recorded all over North Dakota. I wanted people to be able to hear the Midwest wherever they are.
HPR: Can you tell us about your creative process? Do you start with lyrics or a melody?
MP: We have a notebook that we take around with us when we travel. If you have an interesting thought or hear someone say something fun, you write it in the book. We have pages and pages of sayings and ideas. We would write in these for weeks and then I would start writing lyrics from that and then the melody comes along later.
Then, Joe and Nick are the Johns to my Paul -- they tell me if I'm getting too corny. I have my own book too. I heard my wife's grandpa say "We might be lost, but we're making good time." That's a line in a song now.
IF YOU GO
Wild Hands at Junkyard Brewing Company
Saturday, June 3, 9pm
Junkyard Brewing Company, 1416 1st Ave N, Moorhead
YOU SHOULD KNOW