​New Brandi Carlile album forgives and you won't forget
by HPR Contributor | .(JavaScript must be enabled to view this email address) | Music | April 25th, 2018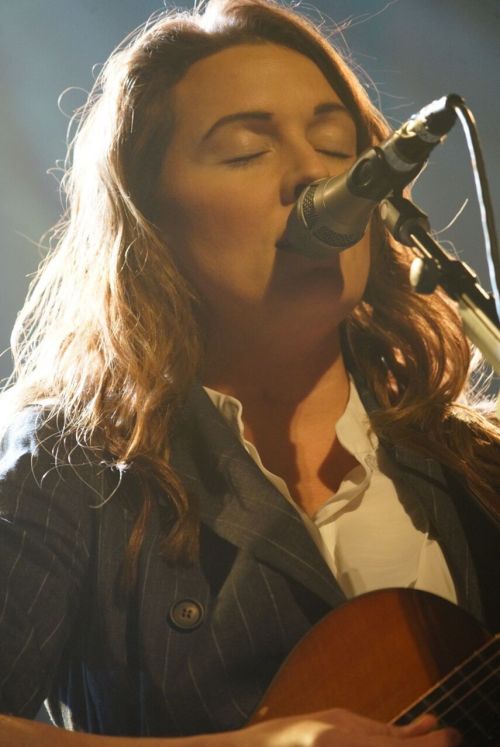 By Cindy Nichols
cindy.nichols@ndsu.edu
I find myself almost weepy with appreciation, these days, for any small reprieve I can find from chronic sickness-at-heart; any small mercy that either helps me to forget about 45 for an hour, or actually wakes me up again to how many amazingly good people live in this country. Seattle-area vocalist Brandi Carlile is one of those kindnesses, a kind of tonic for the times, along with her sixth and newest album, By the Way, I Forgive You.
I was able to catch a private acoustic performance of the record before its release in February, and I saw the Seattle launch of the record tour in March. I also nabbed a seat at her recent live taping for Austin City Limits. I guess you could say I need a lot of "tonic."
I honestly think this woman is some incarnation of a "winkte" figure, that person born into every tribe on earth, a two-souled or multi-souled spiritual person blessed with androgynous qualities and able to see the world from multiple "bodies" at once. The new album, appropriately enough, in both form and content, quietly dissolves categories, especially toxic binary ones. It's something we need in a hideously polarized era.
Carlile is familiar, I'm sure, to many in the F/M community. Along with close collaborators and twin brothers Phil and Tim Hanseroth, as well as longtime cellist Josh Neumann, she has performed at the Fargo Theater a number of times, was recently at Bluestem in Moorhead, and frequently over the years down in the Cities and vicinity. (She has family around here on her mother's side; apparently a Minnesota uncle loaned her the insanely cool Gretsch Chet Atkins she plays on "Mainstream Kid.") She is fresh off a Grammy nomination for her 2015 Firewatcher's Daughter, and in 2017 released a retrospective Cover Stories. With benefits going to War Child UK—affiliated with her Looking Out Foundation—the record features an incredible spread of artists covering every song on her second and pivotal album The Story from a decade ago. Her first big single from that record, "The Story," is covered by Dolly Parton, "Again Today" by Pearl Jam, "Hiding My Heart" by Adele, "Turpentine" by Kris Kristofferson and more. It's a roster as unassumingly eclectic, boundary-teasing, and wakan as Carlile herself.
And her voice. Oh God the voice. Twangy, chirpy, squeeky, and liquid; air-horn powerful and growly; tremorous and knock-you-on-your-ass emotionally potent.
The emotional stakes in this production indeed are uniquely high. The band made a kind of pact, New Years-before-last, to "go deep" with their next one, and nothing on the record is self-flattering or easy. The roots-oriented folk pieces tell intense stories about heroin addicts (the immensely satisfying, hook-beautiful "Sugartooth"), tragically anonymous murder victims ("Fulton County Jane Doe"), and the challenges of forgiveness ("Whatever You Do").
Indeed, forgiveness is a theme winding through the whole, and is even linked to Carlile's real-life campaign for personal forgiveness narratives at her website (#bythewayiforgiveyou). In a time when, locally as well as internationally, we are being urged to point fingers, scapegoat, and project; to other and dehumanize anyone different from ourselves, this is a refreshing, humane project. How many pop artists ask their fans to confront their own inner crud—hostility, insecurity, emotional stasis—for real? We've all seen the heroic benefit concerts for starving children, displaced farmers, maverick politicians, and various political causes, but I don't think I've ever seen an artist ask fans to locate sources of political change in themselves.Interestingly, "The Mother" and "Party of One," among other cuts, explore an equally important need, not for personal reunions, forgiveness, or wholeness, but for distance and self-assertion. The record insists on closing toxic gaps between people, for seeing the Other in oneself—but at the same time on space and autonomy in even the most intimate relationships.This I love. The record will not settle for a thesis; it challenges even its own presumptions.
It's easy to see why Carlile might need a little workable space. Her family is huge. And it is inextricably a part of her singing life. All immediate family members actually lived with the band in their buses on recent tours, her mother and daughter and sister and brother have all appeared on stage with her, and they are, to use Carlile's word, cultish. Brandi's own sister and sometime roady hair dresser is married to bassist Phil, while the sister of Brandi's British wife Catherine is married to cellist Josh. Just a couple weeks ago, guitarist Tim's wife (who lives down the road from Carlile—they all live near each other) gave birth to a baby boy on the exact same day that Catherine gave birth to a baby girl.
One of the album photo inserts (taken by Obama's official photographer, Pete Souza) nicely captures the entire clan relaxing at a stream out in the country somewhere, and looking every bit like a 60s commune. Everyone's casually occupied, just hanging out in jeans and shorts and tanks, probably taking a break from the bus. Carlile is holding one of the family's dozen children, but is also the only figure who is fishing, looking conspicuously out and away from the group, into the water.
Though the collaborative writing by Carlile, Tim and Phil is very tight (like their gorgeous three-part harmonies), I think songs with Carlile's specific mark on them are arguably the most boundary-crossing. Much like their last couple albums, By the Way, I Forgive You is Americana-folk-pop based, with exhilarating splashes of balladry and heady rock crescendos. But on this record one can hear everything from Joni Mitchell to fifties doo-wop; the big-boom drama of Orbison instrumentals to a flat-out primal scream; and, in the album's final notes, even "Canon in D."
And at least three songs leap out as especially bold. "The Joke" rings out as an unpretentious anthem to the resist movement. In this one she is like the traditional winkte who rode out before a battle to check the lay of the land and the location of the enemy, then return with advice for the tribe. The song honors anyone who suffers in the current climate from hate, isolation, or exile—the refugee, the transgendered, the "me too" victim—and then forecasts a return to inevitably better times. It sounds like nothing else on the record or in Carlie's catalog.
Meanwhile, "Party of One" is a confessional narrative about a person tempted to hook up with a solitary stranger in a restaurant, but who winds up going home to an established relationship. The thing ends in a glorious, loud, but still heartbreakingly ambiguous note of reconciliation with home and partner, all in a tsunami of strings.
Did I mention strings? Both of these songs are awash, not just in Josh's cello, but an actual string section with a second cello, viola, and violin. On my first listen to "Party of One" I'm pretty sure I elevated out of my shoes and flew around the planet a couple times. Much of their music does this—finds the sore spot, whatever it might be, that you've buried in your various personal effluvia—but this album, most aficionados will say, is distinctively and wonderfully…excessive.
This is one of the very few complaints I've heard about a record which has had an incredibly strong critical reception overall. Some say that a "too much" quality on this album derives from producer Shooter Jennings' apparently eccentric tastes, and some have commented on unwanted echo and distortion—perhaps just over-reaching in general. I understand some of the complaints; to my ears, things get a little over-robust and even wince-worthy near the end of "Harder to Forgive." But, wincing or not, I'm fundamentally unbothered. I think the album is in part ABOUT speaking up and flirting with excess and clanging some pots and pans if necessary BECAUSE THE WORLD IS IN DEEP SH*T and needs us to get a bit extreme. I mean, I value understatement and "less is more" and the power of a whisper etc. But this is no time for understatement or prioritizing tastefulness. The country is genuinely weird right now and we need a response equal to it. Just ask those fabulous high school kids.
It's hard to say if Carlile's tour will reach Fargo this year. Some say that Electra calls the shots on where the band tours, and is clearly steering her to big population centers for now. But dates are often added all through the year, and I wouldn't be surprised if she winds up somewhere on the northern plains by late fall. In any case, she'll be at Bayfield, WI in early June. A mere six-hour drive.
Their current stage act, by the way, is a joy. It includes everything on the new record, a sprinkling throughout of their beloved oldies and, inevitably, at least one killer cover.
This band, let me repeat, does killer covers. They can cover anything. In Seattle I heard Carlile go from her whimsical, folky mother song straight to Zepplin's "Babe I'm Gonna Leave You" without batting an eye. It sorta detached my brain from my neck, spun it around a few times, then reattached it at a weird, improved angle. She positively unspools on this song, and I don't know why the woman doesn't do more all-out blues.In the Austin City Limits taping, on the other hand, they did Elton John's "Madman Across the Water" (magnificently), and I wouldn't be surprised if they switch on this tour to some of their previous well-known covers which include Prince's "Nothing Compares 2U," Radiohead's "Creep," Fleetwood Mac's "The Chain," Cyndi Lauper's "Girls Just Wanna Have Fun," and the Ramones, "I Wanna Be Sedated." Even Patsy Cline's "Crazy." Crazy.
Their studio work is truly fabulous, but their live energy will blind you.