​Off With Their Heads acoustic tour
by Jack Stenerson | .(JavaScript must be enabled to view this email address) | Music | February 15th, 2017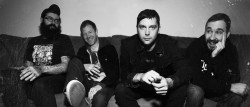 Off With Their Heads have been making waves in the underground punk scene ever since their formation in 2002 and after their signing to Epitaph Records in 2010 have been slowly gaining worldwide attention. We had the chance to do a quick Q&A with singer and founding member Ryan Young about their upcoming tour, his multimedia company, and his own struggles with mental health.
High Plains Reader: What made you decide to do an acoustic tour? Have you done one before?
Ryan Young: I decided to record some Off With Their Heads songs acoustically. I wasn't really sure how it would turn out, but I like to try and stay active with my music. John and I went up to Minneapolis and recorded a few songs with my friend Dan Jensen. They wound up having something to them that felt right, so we pushed ahead and recorded 10 of them. I got the go-ahead from Epitaph to release them on my own label, so I did that. Since its release in October, we have been doing shows all over. This will be our third acoustic tour. It's a lot of fun. I personally have always thought acoustic shows are boring. This pushed us to try and put together more variety-type shows. I've always been a fan of stand-up comedy, so we always try and mix it up with comedians. For our set, we mix up songs with funny true stories or our personal views of what's going on in the world. It's generally pretty entertaining.
HPR: You have played Fargo several times over the years. Has it always been at The Aquarium? What keeps you coming back?
RY: We have been doing shows up there for years. We played Ralph's a bunch before they closed. A lot of VFW basement shows. A couple DIY spaces. Mostly The Aquarium in recent years though. Fargo has always had a super legit music scene. Joke bands galore. Even outside of my friends' theme bands, there is just something about it up there that is genuine and fun. I like that.
HPR: Tell me a little about Anxious and Angry. Did it start with the podcast or did it start as a clothing line and evolve?
RY: It was initially an idea to sell some clothes. I like building things from the ground. Then I decided to do a podcast focusing on mental health in entertainment. Since I already had the name for Anxious and Angry, I didn't see a point in breaking it all up. Now Anxious and Angry is just an umbrella for everything that I do. Clothes, podcast, record label. It's a wild card.
HPR: Has doing the podcast opened any doors for you? Who is the guest you were excited to have on? If you could have one person on, who would it be?
RY: The only thing it has really done is helped me work through my own problems by talking about other people's. It's great to know that all the insanity that musicians, actors and comedians go through is generally similar.
I would say my favorite guest I've had so far has been Jake Burghart. He is the director of photography for that show Vice on HBO. That means he is the dude with the camera who goes around the world filming terrifying things. He told me about getting drunk with Kim Jong Un. So that's something you don't hear every day. Funny connection: He once flew from NYC to Fargo to film us playing at the VFW. He had so many drinks that his footage was useless. My kind of guy! He also made that movie about Against Me back in the day.
As far as who I would like to have, I'm kind of interested in politicians. I want the chance to legitimately find out the motivations of these people. From both sides.
HPR: You have been pretty vocal about mental health. How have your own struggles shaped the band? What do you do to keep yourself moving forward?
RY: When you are someone like myself, you really have to constantly stay in top of it. Sometimes you can get caught up in the lows of life and it seems like all is hopeless. That's when you have to make a change. That change can be a million different things depending on the person. I make sure and stay open about it. The podcast is therapeutic for me. If I don't do it regularly, it starts to show.
The band was always my way to vent all of the problems. It continues to be, but I've made it less the center of my existence. Singing those songs and constantly rehashing all of those moments started to kill me. Now that I've got a handle on certain things, it's back to being a great release.
HPR: What are three short pieces of advice you would give to someone who has struggled similarly to you?
RY: The definition of insanity is repeating the same thing time and time again, but expecting different results. Or so I'm told. If you struggle with mental problems, drug or alcohol abuse or just general terrible person syndrome, you need to take the initiative to learn from your mistakes. You need to be the one to fix them, because nobody else can. You can always ask for help, but you need to be the one leading the charge.
IF YOU GO:
Off With Their Heads Acoustic Tour
Thursday, February 23, 9 PM - 12 AM
The Aquarium, 226 Broadway N, Fargo