Pert Near: Perfect.
by Logan Macrae | .(JavaScript must be enabled to view this email address) | Music | November 15th, 2017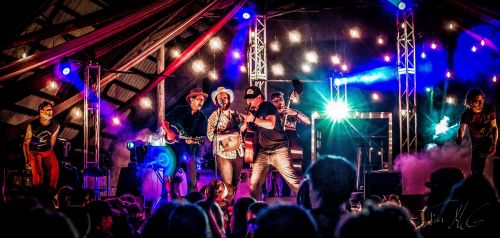 Cut a rug and your teeth with these American Roots animals.
Pert Near Sandstone is a musical thunderstorm. The energy held within their music can only be matched by nature. As the melody swells you know you're watching something amazing and that it's unique and breathtaking.
This is a band that must be experienced live.
Their most unique asset is their percussion section, or the lack thereof. In lieu of a traditional drum kit, all the demonstratively rhythmic action is produced by their clogger and fiddler, Matt Cartier. He dances through the whole show with such impressive accuracy and fervor that you would think he was a robot designed for such purposes.
My most memorable experience with Pert Near was at an intimate concert sponsored by The Current, a radio station that broadcasts at 89.3 in the Twin Cities.
The opener was Charlie Parr and the event was held at a small auditorium on the campus of Shattuck Saint Mary's, a small private Catholic high school in Faribault, Minnesota -- a campus that is an amalgam of Hogwarts and Notre Dame.
I was in the second row and the raw power of this musical act washed over me. They soon became one of my favorite bands and I later saw them at First Ave. It was one hell of a party.
The band has played throughout the country at venues like A Prairie Home Companion and The Telluride Bluegrass Festival. They have shared billings with Trampled by Turtles and even shared a fiddler, Ryan Young, with the bluegrass band from Duluth. They have now cemented themselves in the American roots genre and have their own music festival, called Blue Ox, where they have shared the stage with Bela Fleck, Shovels and Ropes, Blitzen Trapper, and many more.
With Nate Snipe on mandolin and fiddle, Kevin Kniebel on banjo, J Lenz on guitar and Justin Bruhn on standup bass, this band will kick you in the face. I wish I had half of their energy on stage in my daily life. It's a fantastic experience.
Producing six albums in 10 years their chops have been proven. Now the listener has nothing else left to bust other than a dance move.
Their most recent album "Discovery of Honey," is once again a triumphant work of art, recorded in the basement studio where they did their first album, "Up and Down the River."
Ryan Young rejoined the band after seven years of traveling with Trampled by Turtles. What they produced is the sound that made them famous all over again: fresh and feverish and oh so lovely.
This is real music that will build a fire in your gut, and make your toes tap. I recommend it paired with strong bourbon whiskey. Everything about this musical experience is tight, the blending of intricately and well-placed notes from the instruments and the fantastic vocal harmonies.
It's difficult to experience it all, it overwhelms. The best option is to enjoy it and just dance.
Pert Near is playing on Friday at the Aquarium. It's going to be a rousing experience. I expect to see everyone there stomping their feet and enjoying a cocktail.
IF YOU GO
Pert Near Sandstone with Kind Country
Friday, November 17, 9pm-2am
The Aquarium, 226 Broadway N, 2nd floor, Downtown www.ticketweb.com 701-235-5913