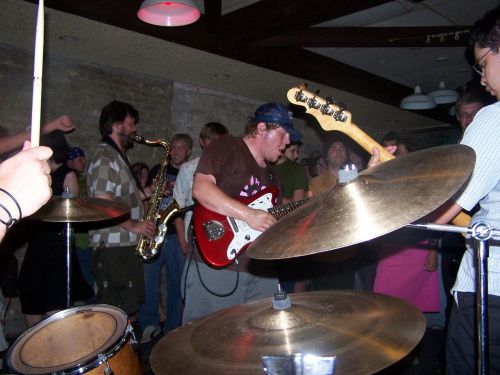 In 2005, the city of Moorhead forced a new vision of downtown on the corner of Main and 4th Street. Wine bars, bistros and yoga studios, I guess, were the thing, and punk-supported dive bars were not. Moorhead successfully gave Ralph's the boot, saddening hundreds of local music fans and Ralph's patrons who appreciated its homey, rough-hewn, clubhouse atmosphere.
"Back then I think I pretty much always got a pitcher of Bud," Benjamin Erickson, a founding member of FUP (who play on Saturday) and a former Ralph's patron, said. "A lot of times they were pouring it as I walked in."
By now the story of Ralph's demise is well documented—as is Fargo-Moorhead's penchant for periodically memorializing it. Its well-worn booths and paneled walls, pocked with years of scotch tape damage from the many underground rock shows hosted in its back room, are closely held memories that people love to revisit again and again.
"Ralph's was the only place I could think of where an act like FUP could thrive," Michael Murphy, a founding member of FUP, said. "It just couldn't have happened at The Nestor or Kirby's."
Pat Crary, the drummer of Les Dirty Frenchmen (also performing), said "Ralph's was just a fun place to unwind have a burger, eat some liver, and most of all, hear awesome music. Never mainstream. Always original and always inspiring. It made me want to play music and not give a shit if anyone liked it or not," he added.
In 2010, Egypt, Starship Reducer, Seawhores, Throbbing Hot Rods, Soviettes, Floid Matrix, The Trans Ams and Wisconsin Night Life played a 5-Year-Anniversary. A few short years ago, the 10th anniversary of Ralph's closing brought more bands the Aquarium stage in its name: godheadSilo, Hammerhead, Seawhores, 7 O'clock Sucker, Dag Island Lewds.
And now it's happening again. While the 2015 event featured bands from the early to late 90s, Saturday will feature a lineup that would have trampled the Ralph's back room during the late 90s and early 2000s. There are a couple of reunions (Battle at Sea and Floid Matrix) a couple of long-running enterprises (Les Dirty Frenchmen and FUP) and there's even a sneak peak of Floid Matrix member Micah Dahl's in-progress documentary about the Fargo-Moorhead music scene, The Red River Runs Through It.
It's been 13 not-so-lucky years since we lost Ralph's. This time around, it also marks the 26-year anniversary of the zine that documented the Ralph's music scene.
"I realized last year that it was 25 years since the first issue," Yahtzeen's founder, Phil Leitch, said. "And I thought it would be cool to do something. Of course I wanted to do it on the actual anniversary … then when Ryan (Anderson) and I were about to do it this summer, Preston (Olson) and Micah (Dahl) got in touch to tell us they were planning another Ralph's show. Well, the last thing Fargo needs is two senior citizen punk anniversary shows in one year so we combined them."
"Phil and I met up regularly at Stumbeano's and Red Raven to co-work and laugh about old times," Ryan Anderson, a one-time Yahtzeen.com editor, and one of the organizers of the event, said. "It's been three years since the last Ralph's Reunion and we decided that it was time to do another. As luck would have it, this year marked the 26th-ish year since Yahtzeen first appeared on the scene, so obviously it was serendipitous, right? Ideally, we'd like to see this happen more often - we have a long list of bands that really should play one more time."
For anyone unfamiliar with the concept of zines (there may be a lot of you, since print zines are an endangered species today), let's go back to the 1930s, 40s, 50s and 60s. In those way-old days, artists, sci-fi nerds, feminists, and the like took a nod from pamphleteers of the 18th and 19th century and started publishing their own small-run publications devoted to ideas, people, topics and things they were passionate about. When punk rock burst on the scene, zines were crucial to legitimizing and proliferating the new underground phenomenon.
In the pre-internet late 80s and early 90s, as punk and indie rock became a source of culture, community and identity for young artistic kids, zines exploded as a vehicle for all kinds of personal expression. This was right around the time that Yahtzeen hit Fargo.
Longtime Moorhead/Fargo/Glyndon resident, Phil Leitch, put together Yahtzeen while recovering from a work injury in the early 90s. His baby dominated Fargo-Moorhead for its 12-issue print run from 1991-1996, and continued online after that.
"I had done a few zines during high school," Leitch said, "and I just thought well my friends and I say lots of funny stuff about local bands. I should put those thoughts into a zine. So boom, Yahtzeen was born."
While there were a handful of other local zines circulating at punk shows, record stores and classrooms in the mid-90s, Yahtzeen gave the local music scene the most serious credibility—and also a fair amount of grief. While the zine was packed with record reviews, show write ups and rumors about local bands, another consistent feature was the Poopscoop, which presented a mocking, Mad-magazine-esque look at Fargo-Moorhead's small, college-town punk scene. It created listicles before listicles were a thing, and poked fun at scenesters, local zines and the bands that played Ralph's, the Bowler, and other 90s venues.
"As long as Orange 17 was around to poke fun at, it was easy," Leitch said.
"The one bit that really stuck out that I can think of was when they had a listing of things to do in the summer or something like that," Murphy said. "One of the things was to go up to Karl Qualey and say, 'Hey Kurt, I thought you were dead.'"
Qualey was the guitar player in Orange 17. He had blonde hair, and had a passing, squint-and-you-might-see-it resemblance to Kurt Cobain. You probably had to be there.
"The Poopscoop bits were usually the most fun and also the most collaborative," said Leitch. "Letting the writers work on funny bits together. Also, I really loved the one time we had way too many albums to review so I enlisted Jay LeFor to sit with me while we listened to about 50 albums and did a stream of consciousness type of bulk review. In fact, I just re-read that piece the other day."
"Yahtzeen's take on the 'Scene Report' was always filled with semi-credible information, rumors and assorted tidbits," Anderson said. "It really felt as if something legitimate was happening in Fargo-Moorhead that wasn't entirely a direct result of godheadSilo and Hammerhead."
Yahtzeen was also a vehicle for insular, manufactured controversy, which created some hilarious scene infighting. Most of it was manufactured. For example, Yahtzeen invented a Fargo Vs. Minot rivalry, and started a joke boycott of local record store Disc & Tape (for not selling vinyl at the time).
"Fargo vs. Minot was great," Leitch said. "(It) was a complete fabrication on the part of Yahtzeen, sort of in an Art of the Deal sort of Trumpian way. What way to make people more energized about the local scene that to create a boogeyman 'other' scene?"
Phil Leitch became a web designer in the late 1990s, and Yahtzeen made the switch to an online publication. It had a sizeable stable of contributors that included (based on my foggy recollection) Leitch, Anderson, Michael Byzewski, Lee Jensen, Sarah (Hassel) Derdoski, James Wendt and others who dropped in for a spell (and also me). It updated more or less every week. By 1998 or 1999, Yahtzeen boasted an extensive archive of band interviews, columns, Poopscoop lists, and hundreds of record reviews. Eventually Yahtzeen introduced video game journalism, website reviews, art galleries, write ups of local hangouts, and more. It became a not-too-ambitious lifestyle website that was equal parts Fargo-Moorhead, punk rock and geek. And being early in the online game, Yahtzeen was regularly mentioned in the company of other well-known sites for music geeks, including Pitchfork.
"Of our peers from the era, Pitchfork is really all that's left," Anderson said. "And they're owned by Condé Nast now. It's better to fade out rather than burn out, isn't it?"
Since it had a talented designer steering the ship, Yahtzeen always looked great. Even in its print days, its execution was many steps above the hand-scrawled and cut-and-paste execution that other zines embraced through choice or necessity. Phil Leitch had a Mac, and he wasn't afraid to use it. Enamored with supermodels (especially Kate Moss), fashion photography and Madonna, Yahtzeen adorned itself with photographs of local women and dancers who passed through town. At the time, it kind of looked like a lad mag…and a tech website…and a message board where people argued about meaningless crap (like whether you say superballs or bouncy balls). Yahtzeen was punk, but it also refused the orthodox view of it. Similarly, Yahtzeen wasn't afraid to cheer on its favorite bands that jumped to major labels.
"It was a silly concept then and now," Leitch said. "Artists definitely 'sell out,' but merely moving from a small, independent label to a "major" label doesn't make one a sellout. Why deny creative artists the opportunity to eat? Oh, I can't like you any longer because now you are actually making money from what you love to do? Sad!"
If I can personally interject, and I feel I can, being I wrote for Yahtzeen for at least a couple of years, I will say that Leitch is one of the most creative people I have ever met. If you run into him, random ideas just spill out of him. And I can say from my own experience that it is not only exciting to be around, but also contagious. Hopefully you'll catch some of it on Saturday night.
"I can't say it's been the easiest thing to put together and make all participants happy," Leitch said, "but it is what it is. I think mostly it will be nice to see old friends (and foes) and joke about shoving super balls up our asses."
In celebration of the 13th anniversary of Ralph's Corner's closing and 26 years of Yahtzeen, party like it's 2005 with FUP, reunions from Battle at Sea and Floid Matrix, and Les Dirty Frenchmen. The show will also feature clips of "The Red River Runs Through It," a documentary by Micah Dahl.
It's happening Saturday. The doors open at 8 p.m.
IF YOU GO:
Ralph's Reunion/Yahtzeen 26th Anniversary
Saturday, July 21, 8 p.m.
The Aquarium, 226 N Broadway, Fargo