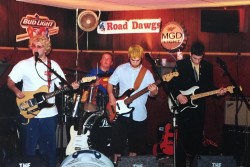 By Sabrina Hornung and Tom Bixby sabrina@hpr1.com
Going back in time for one night only, the Sidestreet Grille presents a powerfully nostalgic show. You'll remember where you were and what you shouldn't have done!
And how to describe Pat Lenertz? Congenial and approachable, a staple and a stalwart of the music scene, producer and organizer, and all-around good citizen. We were lucky to run into him!
High Plains Reader: How long has the reunion been in the works?
Pat Lenertz: I had the idea around New Years that I wanted to have a reunion with some of my best friends and musical compadres.
HPR: Who all will be playing on April 29?
PL: Yard Sale (Members of Kosmic Kibosh), Quadrophonic, and Bad Mojo and Friends.
HPR: 2003 was a great year for music in Fargo--what do you think made it?
PL: I thought about how 2003 was such a pivotal time in the scene. Kirby's and Raph's were still open and kicking, there were great bands from all different genres playing at many different venues around town. It reflects the constant ebb and flow of the Fargo-Moorhead music scene.
HPR: What were some of your favorite band highlights?
PL: I personally loved playing at Kirby's and going to see other great bands there as well. I also have a great memory of Halloween in the basement of The Bowler. I believe it was Kosmic Kibosh, Quadrophonic, and Bad Mojo -- Matt, is that right? Many crazy costumes as well as crazy people. Great times.
HPR: When was the last time you all played together?
PL: Bad Mojo has always played, even when members have come and gone. In 2012 we lost founding member Cody Conner. Since then we haven't done much. Trevor Pearson (drums), plays with me in The Quarterly and The Pat Lenertz Band. Matt Monson (Bass) plays with The Brave, The Moody River Band, and The San Haven Chuckle. But we all get together occasionally at the Sidestreet's Jam. I believe Cosmic Kibosh and Quadrophonic haven't played since 2004!
HPR: What can audience members anticipate?
PL: For those that were around and a part of the scene back then, it will be a time of reunion, shared memories, and experience. We can connect once again through music and get together as friends and audiophiles. For those who weren't around, then you can expect a night of great music, and to see some bands that don't play with each other much, but who haven't lost their love of and devotion to their craft.
HPR: Who came the farthest for the reunion?
PL: Anthony Bergman -Cosmic Kibosh, Marc Docktor -Quadrophonic, and Justin Fox- Quadrophonic all are coming from the Cities.
HPR: What kind of music projects stemmed from the bands you were in in 2003?
PL: Personally I know that The Legionnaires started in 2004 as a direct result of the shared musical experiences of the scene. It was a fun time that I will cherish for the rest of my life.
HPR: How do you think your musical style has evolved in 14 years? (Yipes, 14 Years!)
PL: That's the thing that is wonderful and amazing about Fargo-Moorhead's music scene. It is always changing. Organic in its process and presentation, it truly captures the breadth of its inhabitants. Many styles and genres have been represented throughout the years, and it has been my supreme joy and honor to both be a part, and to watch the music grow.
IF YOU GO
Yard Sale, Quadrophonic, and Bad Mojo and Friends
Saturday, April 29, 10pm to 2am
Sidestreet Grille, 404 4th Ave N, Fargo; 701-271-0092