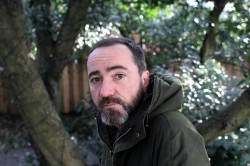 By Sabrina Hornung and Tom Bixby
When we had the pleasure of catching up with The Shins indie rock mastermind James Mercer, the band was in Virginia. Featured in the movie "Garden State" in 2004, their single "New Slang" was endorsed by Natalie Portman's character as a song that would "change your life." 13 years and five albums later they're bigger and better than ever with a few new tricks up their sleeves.
HPR: When did you develop your musical bearings? Were you always interested in music?
JM: Yeah, there are photos of me at three years old, pretending to sing into a microphone. My dad was a singer, and would supplement our income by singing in nightclubs. He was often rehearsing in the house. And my mom was a real muse. She would love to sit and listen to him play, and I grew up where that was the norm, music in the house all the time.
HPR: Oh, wow…
JM: My dad was a country singer. But he loved a lot of pop music too. He loved the Beatles, and he got all that stuff as well. It was all around us, and I was writing songs when I didn't even know what it meant, as a kid.
HPR: And your dad was in the Air Force, and that caused you to move from England to New Mexico, and all over. I read an interview, and you made a comment about the differences in skateboarding culture between England and New Mexico. Were you playing music at that time, and if you were, did that affect your perception of music culture?
JM: I was in high school. In late high school, I started messing around with the guitar. And I got a Squier Stratocaster for my birthday, yeah, that was in my senior year, just after Christmas. That was when I was allowed to start working on guitar. We had a little garage band for awhile, when I was in high school, and we never performed out. We had a lot of fun.
I was into punk rock, in the early stages of me writing songs, because it was easy, you could just bang out power cords and it sounded like the record. We would use Sex Pistols covers and Circle Jerks covers. We did a Creedence Clearwater Revival cover. And that's what I thought of as rock.
And when I came back to the States, it was changing into gangster rap, a totally different scene. And the attitudes of the kids got more and more fierce. It wasn't just about skating, it was about kicking the sh*t out of people.
HPR: I wonder why that is. That's bizarre.
JM: When I moved back to the States, I was shocked by the violence in general. I had gone to my first year of high school at a New Mexico high school. And that was in 1985. When I came back in the summer of 1989, we went to a party and some football players came and just picked a kid out of the crowd, and beat the living sh*t out of him and put him in the hospital. I'd never seen anything like that. I was shocked. I stopped going out to big parties like that.
It's a modern phenomenon, the violence is cool. I don't think it was that cool in the 80s. Something changed with the advent of gangster hip hop, singing about killing people, it really had an effect. High school kids thought it was neat to go and f*cking shoot somebody.
And that's just my experience, my eye witness account of it. It's hard for me not to draw a line between the rhetoric that was being listened to, and the imagery that was being portrayed, and the videos and sh*t -- and then what the kids were doing, they were just killing each other.
I withdrew from all that. We were into shoe-gazey, British music. We had our own little scene.
HPR: That sounds like a lot more fun for sure.
JM: Than shooting, yes. It's just such a weird thing that murder can become cool. LIke a trend, like yo-yos. It says a lot about human culture. How terribly powerful it is, and how ridiculous.
HPR: We were just having a conversation in the office about how whether we were de-evolving or not...on a lighter note, how do you feel your songwriting has evolved since The Shins' mainstream breakthrough in 2004?
JM: I think it's gotten better, certainly it's gotten easier for me. I'm more confident about it.
I got a lot of confidence from working with Brian Burton. I was hesitant to do that kind of a collaboration. I hadn't done that in awhile, and I wasn't sure I'd be good enough. Brian was already enormously successful at the time. It was scary.
But like so many things in life, you do it, and you realize 'what was I so afraid of?' And I think I gained a fair bit of confidence from that...to sit down and write songs reveals some kind of delusional quality -- like I've got something to say, and everybody should hear it.
There's a certain confidence you need to have to get started, and if you are confident, it allows you a certain amount of creative freedom, also.
HPR: How do you think indie music has evolved since the early 2000s?
I'm picturing all the bands that are on the radio, the alternate radio, and that doesn't seem any longer to be any kind of indie rock. Then I start thinking about bands like Ariel Pink, that I think are amazing, doing new and interesting things.
Indie music is kind of shattered. In the 90s, when I was more immersed in indie culture, it was much more dogmatic. You had to sing in a certain way. Really, there were like rules, like pop punk ruled the day. It was more macho; everything was compared to Nirvana.
That was frustrating for me because of my high school years growing up in England, and I was immersed in a different sort of indie world. I found some friends who were also into that, and we had our little clique.
But it was an uphill battle in that New Mexico music scene. Everything had some sort of punk edge to it, and we were trying to push into some kind of classic songwriting. Or at least I was, by the end of the 90s.
HPR: You have a van giveaway going on? Could you tell us about that?
JM: We just did it, we just announced the winner, a band called Myrtle. We fixed up the van and gave it away. It's really a work truck. And it's not something I need. I was like, should I sell it? It was hard for me, with all the history behind it. Should it go to a church or a day care center?
It should be a band van. We had this custom loft in the back. We had an upholsterer redo the inside, and we repainted the outside and fixed all the little dents. The engine has been rebuilt. We've got it into a situation where it should last forever, it's just maintain it.
And then we were going to make a promo video, and why don't we spend this money fixing the van and then give it away and that's our promo piece?
HPR: And then you also came up with a Pasted app?
JM: I saw one of those old collages, where somebody cut out photos of all their friends and pasted them together. I thought, couldn't we do that with your phone, all your pictures of your friends, and cut out their faces? I went to buy the app and I couldn't find it, it didn't exist.
I had a friend, the drummer Zeke Howard, and he had begun programming ten years ago. I just asked him, and we partnered on it, and we just made it. He had some buddies of his help with the programming.
It's been fun, the whole experience of designing a user interface app, hanging out with Zeke. Fun too because I use it a lot, in my Instagram account, we made a T-shirt with it, did a record cover with it. It works, it's a usable tool.
HPR: I was watching a video off your new album…
JM: 'A Name for You'? With the skateboarder? There were moments in the video that I felt like, weren't framed up in a way that made a lot of sense visually to me. So I hired a guy who did illustrations and put animated characters in those empty faces. Or sometimes there would be another camera and I said could you cover him up with a monster? And that was the whole gist of that, just adding to the video.
HPR: I liked those components, adding action to a live-action sequence.
JM: Yeah, it turned out to be a really cool addition. I just got Final Cut Pro and I really want to get versed in how to do that, 'cause you can do all that kind of crazy stuff. And that video was shot by our drummer [Jon Sortland]. We're wanting to do a lot more in-house production, engineering records, mixing. We all just did it ourselves.
IF YOU GO:
The Shins
Sunday, May 21, 5-8pm
Bluestem Center for the Arts, Moorhead