Something to talk about with Bonnie Raitt
by Sabrina Hornung | .(JavaScript must be enabled to view this email address) | Music | August 30th, 2017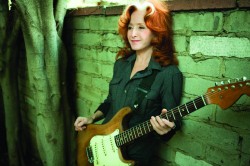 Raitt on her blues beginnings and activist roots
Rated one of the top 100 guitarists of all time in 2015 and top 100 singers of all time in 2010 by Rolling Stone and with 45 years in the business, Bonnie Raitt is definitely giving 'em, something to talk about.
High Plains Reader: You found your musical roots at an early age--can you tell us about that?
Bonnie Raitt: I grew up in a very musical family. My dad was a Broadway leading man and Broadway star. He created the role of Billy Bigelow in 'Carousel' in 1945 and starred in several other shows. My mom was an accompanist and musical director. I fell in love with folk music like the rest of my generation did in the late 50s early 60s. I was only 10 but I got my guitar when i was eight or nine.
I taught myself to play and emulate Judy Collins, Joan Baez and all those early folk artists like Pete Seeger. Bob Dylan changed my life as he did for a lot of other people. In the 60s everybody was playing electric Beatles songs and Motown as well as folk songs and blues so I had a really good musical education.
I just played for fun. I had no intention of doing it for a living until I was in college and found out I could get a little bit of pin money opening for people in clubs, and it kind of just mushroomed into a career.
HPR: You opened for quite a few old blues musicians when you were starting out--how did you make that connection?
BR: I went to college in Cambridge Massachusetts and one of the men who rediscovered the legendary father of the Delta Blues -- Son House, it turned out he lived in Cambridge.
My college friend said "I know where he lives--You wanna go meet Son House?." So we went and I got to meet Son and his man Dick Waterman who also managed Mississippi Fred McDowell who I became very close friends with and toured with in my early days. It was an incredibly fortuitous afternoon and it changed my life.
In the early 60s a lot of these guys were rediscovered and they played the Newport Folk Festival. I was still in California and was only 14 but I heard a record called "Blues at Newport 63" on Vanguard Records which was Joan Baez's label and she was my hero--so I bought the record.
That's where I heard Country Blues so I taught myself how to play almost every song on that record. Little did I know that I would end up meeting some of those people--playing with them and opening for them by the time I was 19.
HPR: What was the most important lesson that you learned from those blues legends?
BR: There were different lessons from different people. I got to ask them a lot of questions about what it was like to be under Jim Crow segregation, an incredible era of lynching in the south, extreme poverty, and working on a plantation.
To be able to have that firsthand education about what it was like to be in the 1920s, to be a sharecropper and being a black farmer in the south--then trying to make it as a musician trying to play juke joints on the weekends. That was a pretty amazing experience and education.
I watched them play in person. I learned a lot about their technique and their stage performance. I would have to say the greatest gift was hearing the stories of what it was like for them growing up at that time period. It was so different from my own background.
HPR: Is that where you found your activist voice?
BR: No, I was raised Quaker out in California. My parents were very active in 'Ban the Bomb' fighting to get a nuclear test ban treaty, which happened in 1963 and the Quakers were very active in demonstrating against war of all kinds and standing up for civil rights and protecting the environment as well. I was raised in an activist family.
HPR: Can you tell us a bit about the benefit that you did for Standing Rock at Prairie Knights Casino?
BR: Jackson Browne, Jason Mraz and myself flew in to be part of an all star performance and to visit the 9,000 people -- water protectors who had been camped out there for months and months. It was a very moving experience and we had a wonderful concert and raised a lot of money to help support the tribes. It was an amazing coming together of people and I'm sure it will be ongoing.
That's one of the reasons we're doing this benefit in Moorhead is to try to bring attention and raise some funds to be able to support and protect not just the tribal lands but the water and environment.
HPR: What did you find most surprising about the protest camps?
BR: I think the greatest thing that I didn't expect was how much the young people were completely uplifted by the process of everyone coming together.
There were over 90 tribes represented, there was school for the little kids that were camping out -- the community spirit of everyone putting aside their personal problems.
There's a huge suicide rate and there's a tremendous level of drug and alcohol abuse on the reservation because there are no programs, no jobs. It seems very hopeless. I was moved to tears to hear how the young people had their lives turned around and uplifted; to hear their history and being given a reason to continue. So in many ways, it was a life-saving, life-changing demonstration.
IF YOU GO
Bonnie Raitt and Indigo Girls: A benefit for Honor the Earth
Friday, September 1, 7pm (doors 5pm)
Bluestem Amphitheatre, 801 50th Ave S, Moorhead