​"Sometimes nostalgic, sometimes sad, sometimes happy and excited about the future."
by Chris Larson | .(JavaScript must be enabled to view this email address) | Music | March 28th, 2018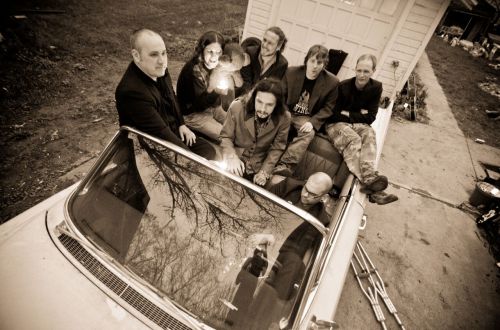 I was a bit taken back by drummer Corey Krueger's heartfelt and honest response when I asked him how he feels when he listens to Big Bad World, the latest release from The Moody River Band which has been over six years in the making. Then again, perhaps I shouldn't have been because even the press release for the show makes mention of exactly why this album has been not only emotionally trying for the band to release, but also why it has been hidden away from the public for so long.
Almost seven years ago, when the band made its return to the legendary Steve Albini's Electrical Audio studio in Chicago, IL, they had no idea that those sessions would be the final recordings with founding member and Fargo blues rock guitarist Cody Conner. The following year, before the band could polish up those session takes into a completed album, Cody's fatal heroin overdose would make regional headlines and shock the local music community. It would take several years of healing and a poignant revelation to bring the album into the public and in many ways, bring the band to a point where, at times, they can be ready to say a fond farewell to the past and look towards the future.
According to Corey, "We recorded it the first weekend of August in 2011, and then a few of us went back once in 2013 to do some backing vocals, etc. It has taken us a long time to be ready to really listen to it and decide to release it. When we recorded this one right after visiting Steve's studio in 2010, we had plans of putting out an album every year, and when Cody passed it was really hard to even think about recording ever again. When we realized that John (Evans, lead guitarist) had now been in the band longer than Cody was, we figured it was time to release it and get ready to record new material, which we hope to do soon."
Not only has the release of this CD and the preparation for the party helped get the band looking forward, it has also been a difficult but thankfully, sometimes joyful trip down memory lane.
Corey remembers, "We first did an album at Electrical Audio (Vintage Boom) in 2010 and went to Lollapalooza, and by accident found Buddy Guy's club, Legends, on his birthday weekend. We got to meet him and were energized by the city and the experience. For Big Bad World we tried replicating our "in and out in two days" success that we had with the first record we did there. Everybody had girlfriends this time, and we weren't as well practiced, but that made for some interesting twists in some of the songs we probably wouldn't have if we had come in like a ton of bricks like the first album. About the only thing the same between the two trips/recordings is that we got to hang out with Buddy Guy again."
He goes on to tell of a particularly memorable experience involving Steve Albini. "Our first time there we recorded with Greg Norman and only briefly met Steve Albini and they had a receptionist at the time named Stephen. When Matt and I showed up with the trailer late at night before the rest of the guys got there, and Albini let us in the back, he was wearing street clothes instead of the standard blue mechanic's jumpsuit he wears every day to work. He said, pointing to Matt (Monson), "Well, I don't usually help unload, but since he has a broken foot I'd better pitch in." I stuck my hand out and said "I'm Corey" and he said "I'm Steve" so like a fool I said "Does everybody who works here have to be named Steve?". He smiled and said "Maybe". As soon as we were alone Matt set me straight. The next day I apologized for not recognizing him out of uniform."
"I absolutely recommend that any band looking to record on tape to get your songs tight and book the time and go to Electrical. If you are around when Albini gets a poker game together you will be invited to play. He wasn't expecting the Nodak boys to be able to play poker but Zach, Tommy and I all pulled about a hundred each out of there. He thought it was great that a Margo's Forehead (the name of Fargo/Moorhead in his punk touring days) band came to record."
Singer, songwriter, and guitarist Charlie Young has his own embarrassing and memorable experience with the legendary recording engineer, Albini. "I was drunk and sitting on the couch in the rec room where there was a pool table, couches, tons of old VHS tapes and whatever have you and I was all alone in a daze, or so I thought, when I farted really loud. I look over and Steve Albini himself was sitting next to me devouring some pasta. He didn't even flinch. I said "Hi, Steve" all embarrassed. He said, "Hi". There was old vintage Playboys on the coffee table that we brought for him and some nutter butters we knew he liked because Zach Kobrinsky told us because he interviewed Steve some years prior. So i told him we brought these for him, He said, "Thanks" and I walked back into Studio B."
There is little doubt that out of all the surviving members of Moody River Band, Charlie Young has struggled the most since Cody's untimely death. Not only did he open up about his own personal journey in recent times but he took some time to look forward to the future and sees himself stepping out to do solo performances from time to time.
"To play these songs we last recorded with Cody is yes very special but also brings a deep sadness as well. So it's been a little of a struggle for me. But I know once we start I'll be feeling his spirit and I look forward to that." Charlie has been not only looking forward to the show at the Sanctuary but also finding himself looking beyond, for the first time in a long while. "I have been writing a lot of songs this last year but I have been pretty recluse about them since I got myself sobered up. One slip up this St Paddy's day but I'm back on the wagon. Anyways the songs I've been writing are singer/songwriter autobiographical indeed. I will always play with Moody when given the opportunity, but the new stuff I'm coming up with I hold dear to my heart. They are about the negative effects of addiction and pain, love and don't forget: happiness. I hope to bring them out in a series of solo shows soon because, like Pat Lenertz says, 'Playing music is therapy.'"
In addition to the headlining set from The Moody River Band, Big and Hungry aka Mike Holtz and Loy Larson will open with a set and there will be a special feature at this show. A feature that, oddly enough, in some ways was the real genesis for booking the show at the Sanctuary. Moody River singer, songwriter and acoustic guitarist Tom Peckskamp explained, "Corey was talking with Aaron Duma about how he had the Duffy's jukebox and it would be fun to bring it out of retirement. Then got talking about our album and a few details later - BOOM - the Legendary Duffy's Jukebox will be opening and closing the show. It will be kind of a social before and after. The jukebox will also be free to play."
Tom also dropped one last tidbit that pretty much seals the deal for anyone on the fence about attending, "With the price of the ticket you will also receive a copy of the new album."
Big Bad World CD Release at the Sanctuary Events Center on Saturday, March 31st from 7 – 11 PM. All ages welcome. Tickets: $10 at the door
Opening act: Mike Holtz and Loy Larson as well as the resurrection of The Legendary Duffy's Jukebox.
IF YOU GO:
Moody River CD release
Saturday, March 31, 7-11pm
Sanctuary Events Center, 670 4th Ave N
All ages, tickets $10 at the door