​The making of 'Midwest MixTape'
by Sabrina Hornung | .(JavaScript must be enabled to view this email address) | Music | December 13th, 2017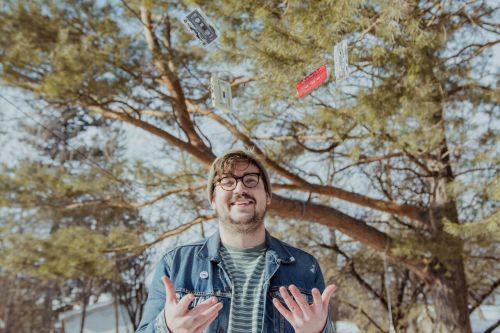 "The DIY scene welcomed me in at the age of 15 and I never left. The DIY scene has allowed me to travel to 49 of the 50 US states. I have made friends all over this country that I will have for the rest of my life. People involved in DIY music care." says Mike Hansen, the man behind the See You Never label.
He continued, "We really care about the music. It's not about money, it's a community that helps each other out and supports each others projects. Everything my bands have for merchandise (except for vinyl), either our friends made for us or we made them ourselves."
Instead of digital or vinyl releases, Hansen prefers cassette tapes. All of the tapes are dubbed on a vintage Kenwood tape deck, a gift from Hansen's father once he moved out of the house.
Local bands that you will see on his label include, Free Truman, Pass the Flask, Windsor Diets, and Grazing.
His latest and most ambitious endeavor is a project called "Midwest MixTape," inspired by a zine that he was once part of. He's looking to create a compilation tape of local music. Think of it as a local music sampler platter welcoming all genres. The only stipulation is it has to be local.
High Plains Reader: Can you tell me a little bit about See You Never records?How did it come about and how long has it been around?
Mike Hansen: The first SYN release was back in October 2016. My band needed tapes for our upcoming tour down to Florida. I used to have friends that to ran tape labels locally, Dan Spah ran Beagle Dad Records out of Grand Forks, and my old roommate Jesse Kepford ran 1019 Records out of Moorhead, but both had since stopped making tapes.
HPR: Where did the motivation come from with regard to starting your own DIY label?
MH: After making the first release, I realized how easy, affordable, and fun making tapes can be. This label has been a good opportunity for me to give back to the local music scene which has been so supportive of the bands I am in. Compared to tape companies online I keep my rates way cheaper and sometimes I even do the release for free, depending on what the band wants and how passionate I am about the album. It's important for bands to have some sort of media at their merch table and I'm happy that I have been able to supply tapes for my friends.
HPR: What do you look for when you find your artists--is there a specific sound you lean toward?
MH: I am open to any genre. So far everything I have released is in one way or another in the vein of Punk Rock. I would love for this label to be as diverse as possible, though, while promoting the DIY ethic. My only requirement is that the music cannot in anyway promote homophobia, misogyny, slut shaming, racism, etc. It's important to stand for what you believe in and I would like this label to help the community rather than hurt it.
HPR: You release tapes primarily--what draws you to that media?
Do you ever get any grief because you release tapes?
MH: I make tapes for a handful of reasons. For starters tapes are awesome. Cassettes are affordable to make. In the digital age, CDs and MP3s sound overproduced, vacant, and insincere.
There is something magical about listening to a cassette. It's imperfect, it has its flaws and it makes the listening experience more unique. I like the creative challenge of making the cover art into a rectangle rather than a square. I also just like the visual of the cassette itself. I compare it to collecting colored vinyl. It's a neat piece of memorabilia from a band.
You catch grief for having tapes all the time. Border Patrol once gave my band Crab Legs a hard time for having cassettes. People outside the DIY scene are confused by the outdated media but it is honestly a form that is thriving in our subculture.
HPR: In your call for artists, you mentioned that "Midwest MixTape" is a nod to an old zine you used to be a part of. Can you tell us about that zine? When was it around? Who was involved? What and who did it cover?
MH: Midwest MixTapes started back in 2013. It only ran a few issues but I'm proud of what my friends came up with. It really was a community effort and we had tons of people write for it. The later issues of the zine, local artist Jordan Tepley started drawing the cover artwork for us and he has agreed to do the artwork for this cassette I'm putting out as well.
The zine itself covered an array of things, from interviews with bands like Tiny Moving Parts and Off With Their Heads, to album reviews, restaurant reviews, Netflix reviews, local art, and tour diaries.
HPR: How long has the idea for "Midwest MixTape" been in the works?
MH: I've wanted to do a compilation that features local bands with SYN for awhile now. Fargo has some real talent and I believe it's worth celebrating. The idea for doing the "Midwest Mixtapes" compilation, though, came to me recently. In an issue of the zine, Scott Heidinger put together a fantastic compilation CD that featured DIY bands here in Fargo. This tape is a nod to that same idea.
HPR: As a musician and as one who aids in the release of other musicians' work. How would you describe the F-M music scene--where do you see it going?
MH: The scene is diverse. From Punk to Hardcore, from Harsh Noise to Black Metal, Singer/Songwriters to Hip Hop. It keeps getting better. My friends keep writing better music and there are new bands popping up writing some killer tunes. I think the scene will keep growing, a big thanks to The Red Raven for hosting all these all-ages shows. Without them we would be struggling right now.
HPR: Where does the phrase "See you never" come from?
MH: I play in a band called Pass the Flask and it's an adapted lyric from one of our songs. "I'd rather drink alone than in your company, so this one is to seeing you never." The song itself is about removing toxic people from your life and I think it is a positive foundation for the tape label.
YOU SHOULD KNOW
"Midwest Mixtape" Deadline for submitting is March 1.
Contact: seeyouneverrecords@gmail.com