​'Thrash' comes to the valley
by James Osborne | .(JavaScript must be enabled to view this email address) | Music | October 4th, 2017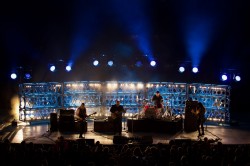 In 1989 David Fricke subtitled a Rolling Stone article "Boston thrash band The Pixies debuts in the U.S. with 'Doolittle'." It was kind of a joke, alluding to The Pixies having more success overseas -- but that's not the interesting part.
Fricke used the word "thrash," which had already been reserved for aggressive, fast-tempo metal bands like Metallica, Slayer and Anthrax five years earlier. "Thrash" can be defined as "to beat (a person or animal) repeatedly and violently with a stick or whip." It's questionable to compare music with upbeat tempos, ethereal guitar tone and melodic vocals to violence.
I was around 13 at the time of David Fricke's misfiling and The Pixies' Surfer Rosa cassette was on heavy rotation while my friends and I would skate.
"Skate" is a term we used to describe sitting on our skateboards chain smoking cigarettes that one of us stole from our moms while we watched high school kids tear it up on the quarter pipe. I would've been more inclined to agree with him then. We didn't know The Pixies weren't punk, we didn't even know what they looked like, we just knew the squares at our middle school would probably hate it and that's all that mattered.
I spoke with Pixies bassist Paz Lenchantin. She was cool and comfortable, which made me nervous. I was suddenly embarrassed by the pretentiously worded questions on my screen, so I shut my laptop to try and get on her level.
"I always felt Kim in The Pixies made it feel complete, like a household," said Paz. She's of course referring to original bassist/backing vocalist Kim Deal, who she replaced in 2013, a move met with much commotion.
Paz was 12 years old in 1986 when The Pixies were formed. "It has always been inspiring seeing women on stage period, but even more so when that woman is someone like Kim Deal."
In 2013 The Pixies had been working on their first album in over 20 years when Kim Deal departed. They finished the album without her. The product was Indy Cindy, which was met with yawning criticism.
Even though the previous 22 years produced a countless number of bands influenced directly or at least indirectly by the Pixies (Nirvana almost chucked Smells Like Teen Spirit for being too much of a Pixies soundalike), the album was critically panned, mostly for failing to sound like The Pixies did in 1991.
The band briefly recruited Kim Shattuck from The Muffs to replace Kim Deal. Then, a few months later, to the confusion of many including Shattuck, replaced her with Paz.
When a band with a legacy like the Pixies, which had the same four members for 27 of its 31 years, has any type of lineup change, it's catastrophic to diehard fans. Despite this Paz says "Everyone has been so welcoming, so supportive. There's mutual respect back and forth."
Frank Black said he had to be careful not to project any "Tired cynicism" onto Paz who was excited to join the band. She said "I'm excited about how well received Head Carrier has been and I'm really looking forward to the next record now that we have the momentum going." When will that be, you ask? "It's in the works, early next year, I think."
The Pixies most recent album is Head Carrier, released one year ago. If you read any press involving The Pixies in the last year, this story will be familiar because it threads through every write up and interview.
For those who did not: Head Carrier was basically finished. Pixies guitarists Black Francis and Joey Santiago had written then recorded a new song on an iPhone, then sent the song to Paz.
Paz wrote the bass parts for it, but the recording was so bad that she misinterpreted the song. Paz said something like "Maybe it could be a whole new song."
Black Francis agreed to creating a new song based on what Paz had written, but only on the condition that she sing. She agreed, but only on the condition that it be a thank-you song to Kim Deal.
Paz says "When Black Francis asked me what I wanted to sing about on the next record, I thought 'Hm, how did I get to this point that I get to be in The Pixies,' I want to thank Kim Deal for allowing me to have this moment that I'm having." Which is how the song All I Think About is Now came into being.
The song is suspiciously similar to Where is my Mind, like, bordering-on-self-parody similar. With Santiago's melodic, reverberant, reciprocation along with Paz's Deal-like distant howl, it's unmistakable.
Since it's arguably The Pixies' most recognizable song, it seems like the most appropriate gesture to assure Pixies devotees that after Indy Cindy, The Pixies were indeed still The Pixies: a trademark tune about nostalgia with a thank-you message to Deal sung by the newest member.
It seemed like a brilliant P.R. move. I asked Paz if this was the intent.
"You know, it's a song we wrote in one day. There was no thought really involved. It was something very organic, very quick, very last-minute. I was just happy that something I wrote made the record." I was still skeptical.
She assured me. "No, I know it has a classic whole Pixies thing. Trust me though, it just came out"
The Pixies are a bit of a departure from some of Paz's more recent projects The Entrance Band and A Perfect Circle with Maynard James Keenan from Tool. The two bands were quite a bit heavier.
"I come from a vast world of music (Paz is a classically trained violinist and her father is world-renowned classical pianist Mario Merdirossian). Whatever side of the sphere I look at, what it comes down to is I love music, no matter if it's heavy or soft or whatever.
There's obvious conflict when you're filling the shoes of someone you respect. I've gleaned from recent interviews that the other Pixies are more than happy with Paz being in the band. Drummer David Lovering even says he's forced to play better since Paz is so solid.
But the entire band, Paz included, have publicly stated that they want Kim in the band "The door is always open for Kim to return" she tells me.
I asked her "Really though, I mean really, if she wanted to come back you'd give up your dream job?" She replied "Well, it would be kind of funny if she had to sing All I Think About is Now to herself.
Way back when, my stepmom heard the Dead Kennedys coming out of my little brother's room and said "That's not music," which was what her dad said verbatim about The Beatles. I can only imagine my step grandfather's parents felt the same way about Glenn Miller's blaring trombone.
So in hindsight, Fricke calling The Pixies "thrash" may have been totally on point. It demonstrates how much we've changed in the 30 years since guitar-driven pop could be described this way. Not only musically, but in the shifted cultural hegemony where the ideals and aesthetics of culture on the fringe became the status quo.
I brought up the irony of seeing music which soundtracked my tween rebellion transform into family-friendly pop now suitable for lullabies and children's movies (They wrote a song for the Shrek 2 soundtrack).
Paz says diplomatically "The Pixies are versatile, they're mainstream as much as they are underground. They're indie as much as they are punk rock. As we grow and shape-shift, we have more of an acquired taste for things.
Some things we liked as kids, we might not like now or in some cases we like those things even more."
Agreed.
The Pixies will beat you repeatedly and violently October 12th at the Bluestem Amphitheater.
IF YOU GO

Pixies at Bluestem
Thursday October 12, 7pm
Bluestem Amphitheater, 801 50th Ave S, Moorhead