​Vanity Plate's got a new album and a new tour
by Paige Johnson | .(JavaScript must be enabled to view this email address) | Music | July 12th, 2017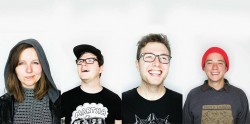 Minot-based pop, punk, rock group Vanity Plate is releasing their first album, Not Cool, after previously releasing two EPs. With their new album, Vanity Plate is touring the region and the country, hitting Fargo on July 17. Jazmine and Zach Schultz, founding members and vocals and guitar for the band, chatted with HPR about their upcoming album, tour and the band.
High Plains Reader: How did the concept for Not Cool develop?
Zach Schultz: When we first started the band, we had a different drummer and the three of us talked about writing songs and releasing them incrementally, like demo versions or EPs. We released two. They're on-purpose, Lo-Fi, minimal production work. We did that. We got two of them done. We were supposed to do a third but our drummer quit before we were able to finish it, so we decided to save those songs. There are a few songs on the full-length album that were actually on the EPs. This was just a collection of all those songs redone with another guitar player and a different drummer. It's an updating of some of the songs, plus new songs.
HPR: Since you're on your first full album, but your third delve into discography, what's something you've learned over the years as a band?
Jazmine Schultz: I think, for me, it was nice to work with Blake Burbach and then our previous drummer Graham Thomas. We were able to do it at our house, and it was things like we've done before, but just their experience with it helped with sound quality. I guess that's changed over the years: when we first started, I used Audacity on my computer when I first started writing music, and now we've grown a little bit in our capability. It was nice that we got to grow as people and we were able to do a third album in that way, still as ourselves, but I think the quality's better than when I was twenty.
ZS: Blake, who is our other guitar player, went to school for recording, so it came in handy, especially when we were doing it by ourselves at our house.
HPR: How has your music grown or changed with Not Cool?
ZS: Definitely expanded with Blake being in the band. We were a three-piece for about a year, it was just the three of us playing. There was only one guitar player. Then Blake joined and it expanded what we could do sonically. That was a turning point. When you get new members, like a different drummer, it skews things a little bit, changes the skill for the better most of the time, and this was definitely that time. It pushed us in a different direction. It was the same music but it was just refreshing, it was cool. The way we write is different. When we first started it was just Jaz and I, and I did everything on my computer, and now we're writing together. That's fun.
JS: It's developed over the album, the result of us working on it together.
HPR: What are you most excited about in this tour?
JS: There's something fun about being in the tour van. It's a modern-day adventure. You never know what kind of craziness you're going to get into. There's something fun about that. Obviously, taking time off work and playing music is really refreshing. At least for me. I'm just excited to get in the van, hang out with my friends and play music.
ZS: And we're going to be with Robert Kramer again this year. His band toured with us last year, The Juniper Drive. That was really fun, so we decided to do it again this year and it's just going to be him, acoustic. I'm looking forward to that, hanging out with him. I've never been to New York City, so that's going to be really cool. That's the one corner of the United States I haven't been to, is the northeast. So that'll be interesting.
JS: The last time I went was, like, scary. So hopefully it's not this time.
HPR: Is this your first tour as a band? Or is this something you've done before?
ZS: We went on a three-week tour last year to the west. Up through Montana and Washington and Portland, back around through Colorado. We're almost mirroring it this year and going the other way. Then of course a bunch of weekend, three- or four-day, ones.
HPR: How did the band form? How did the idea of Vanity Plate become a band?
ZS: Jaz and I were dating, we had done some music before and I guess we were just like, "Well, let's do something new." We started writing and we needed a drummer and we just built it from there. Got more members, and now we're married and it's still going, so that's good. Well, we might as well keep playing music together.
HPR: What has the reception been in North Dakota as a pop punk band?
ZS: Good, luckily, for two reasons: One, for us, we cross in and out of what I would call pop punk. More rock stuff, kind of indie. We cross genres I think. That helps us out. And also, in North Dakota, we pretty much just know everyone. That comes in handy.
JS: In our circle of friends, it's not uncommon to have a metal band cross genres anyway. It's more accepted in our community. When I need the advertisement, I basically call it indie rock. I don't know if anyone's going to know what pop punk is but calling it rock is easier.
IF YOU GO
Vanity Plate
Monday, July 17, 6:30pm
Red Raven Espresso Parlor, 916 Main Ave, Fargo