​Young and Restless
by John Strand | .(JavaScript must be enabled to view this email address) | Music | February 8th, 2017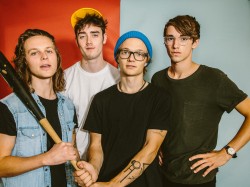 Formed in 2013 Jake Luppen (vocals/guitar), Nathan Stocker (guitar/vocals), Zach Sutton (bass), and Whistler Allen (drums/vocals) -- also known as Turntan, Stitches, Espo, and Beans -- met at Saint Paul Conservatory for Performing Artists. Though each member played in different bands throughout high school, they formed Hippo Campus shortly after graduation. Since then they have sold out First Avenue on their home turf, toured extensively with acts like Modest Mouse, played on Conan, played Lollapalooza, Reading and Leeds, and South by Southwest -- all before the age of 25.
High Plains Reader had the opportunity to catch Hippo Campus via an email interview while the group was across the pond on their UK tour.
High Plains Reader: What was the music scene like in high school (you're all grads of 2013 correct?)--especially what is the all ages music scene like in the cities?
Hippo Campus: The music scene in high school was alive and thriving. None of the bands were as polished as the projects those artists are working on now, but there was a raw energy back then that was magic.
HPR: Have you had any musical or road mentors along the way-if so who has offered the best advice along your journey?
Hippo Campus: Our touring crew past and present Scot Strandburg, Holly Latcham, Evan Meyers, and Sam Barratt. They offer nuggets on a daily basis. Best advice has been to ride the waves. Take everything a day at a time.
HPR: You have a very impressive resume. Was there an OMG moment where you thought. Yes. This is really it?
Hippo Campus: Obviously all of those opportunities were "OMG" moments, but every show big or small has an opportunity to reaffirm we made the right choice doing the music thing. Just selling 40 tickets in Zanzibar Kentucky on a Wednesday night is rad, some would say it's unheard of.
HPR: To what do you attribute the bulk of your success?
Hippo Campus: Our need to push things creatively.
HPR: What do you find to be the best and the worst parts of touring?
Hippo Campus: Best: the astronomical amounts of chipotle we consume
Worst: tour poops
HPR: What moved you to play music in the first place?
Hippo Campus: A need for expression. In junior high most everything is lame, except guitar. Rock rules.
HPR: Who are your biggest musical inspirations and why?
Hippo Campus: Right now JoJo. She does whatever she wants and it's badass.
HPR: What's next for Hippo Campus?
Hippo Campus: A show in Leeds tonight, and then a blissful 30 minutes of free wifi at the Travelodge.
IF YOU GO:
Hippo Campus with Magic City Hippies
Wednesday, February 15, 7pm
Sanctuary Events Center, 670 4th Ave N, Fargo