​Ensemble strength
by Jack Dura | .(JavaScript must be enabled to view this email address) | Theatre | November 12th, 2014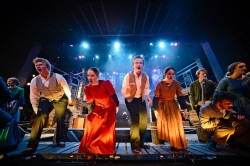 Concordia's 'Les Misérables' showcases student performing power in popular stage show
Concordia College Theatre sees the biggest show of its season these next two weekends. Bringing the beloved "Les Misérables" of Victor Hugo heritage to its Mainstage Theatre, the college company will showcase ensemble strength in this popular production.
Commissioned by former theater faculty member Jennifer Thomas, "Les Misérables" (or "Les Miz") follows in the tracks of shows like "Urinetown" and "Into the Woods" at Concordia College Theatre: big blowout musicals uniting music and theater students.
"I know her impetus was to do a really big show," director Sally Story said of Thomas's selection," a show that would once again bring the music and theater departments together to really show off the talent we have here, and 'Les Miz' would attract many people so I think it was an excellent choice on her part, and it really showcases the students' talents."
Beloved onstage and (perhaps) best known in film, "Les Miz" follows the intrepid Jean Valjean, the police inspector on his tail and other characters of early 19th century France. The 2012 film musical starring Hugh Jackman, Russell Crowe and Anne Hathaway raked in awards in 2013 and was a box office smash.
Locally, this show has been seen at West Fargo High School in 2012, and just this last summer from the Rural Cass County Community Theatre. The story's popularity is well proven, and it can be a pitfall when producing the stage version, as far as making a production stand out against so many other interpretations.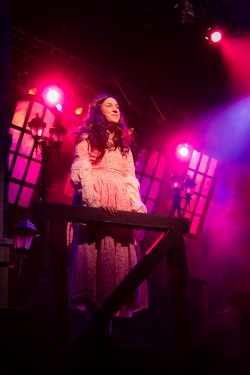 This is something Story doesn't fear.
"I think there is no right or wrong," she said. "Your interpretation is your interpretation."
Concordia's production is one that had to put a cap on its chorus and characters, as 37 cast members, three children, a backstage crew and orchestra pit come together to present. The chorus alone somewhat steals the show, with many chorus members overriding principle characters in the number of scenes they're in.
"I've had individual meetings with every single person, and it's funny running down all the scenes that they're in," Story said, "and you're like 'Oh, you're in everything, and the principles are in three scenes,' so it's interesting."
Together, these students take a more "traditionally based" approach to the show and its design. Much of Concordia's ideas about "Les Miz" are found in its set, which is highly functional for props, furniture and movement. Plopping down props and allowing for everyone to move is key for this production, and theater faculty Christian Boy's wizard set design proved to be the perfect design.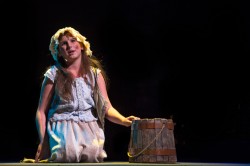 Music moves this show from start to finish, all 150 minutes of it (though some cuts have been made for "the audience and actors' sake and sanity," Story said). With music and theater students combined for such a performance, it should be hard to find disappointment anywhere.
Story herself finds this musical an excellent example of a people-driven show, as the show would be nothing without the actors onstage and the audience who keep coming back for more of its music, message and meaning.
"The show is about the people," she said, "and about fighting for what you believe in and rising up, and do you have the courage to do so."
IF YOU GO
"Les Misérables"
Mainstage Theatre in Frances Frazier Comstock Theatre
Nov. 13-16 and 20-22
218-299-3314