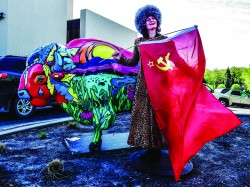 Hello, comrade! Actress Aimee Klein presents sketch comedy, night of characters at Theatre B
Last week Wednesday, under a beaming, mid-morning sun, Aimee Klein wore a heavy fur hat and leopard print dress while walking downtown. "Hello, comrade!" she greeted passersby, laughing that she must suffer for her art under the bright sun. Soviet Union flag in hand, the only thing missing was Klein's accordion, and the picture of Natasha Vodkavitch would have been complete.
Klein brings her character and brand of sketch comedy to Theatre B's stage next Thursday, offering numerous scenes and songs in her Night of Skits & Tomfoolery.
"It's going to start out rather odd, and it's going to be rather odd in the middle, and it's going to end very strange," Klein said, not wanting to give too much away about Vodkavitch's antics or the show itself.
An actress in the area for the last 10 years, the Jamestown College grad has held roles in local film productions and stage shows like "Dead Man's Cell Phone" and last fall's "The Rocky Horror Show." Hanging out with friends is where most of Klein's own material gets its start.
"We seem to share the same warped sense of humor, and so we get a group of us together and we inevitably act out odd scenarios," she said.
Though this is Klein's first time onstage as Natasha Vodkavitch, she is no stranger to performing the character for singing telegrams, at Hewitt, Minnesota's Barter Fest and "just downtown, if I'm bored."
Klein's Theatre B performance will be original material written by herself and local comedian Scott Ecker, presented in part by Bill Dablow, Crystal Cossette and other theater friends of Klein.
Klein will also perform on her accordion, the instrument she took up eight years ago.
"There are going to be moments of 'Wow, I didn't see that coming,'" she said of the performance, adding that she hopes audience members participate in the intermission jazzercise. "I'm really hoping they enjoy the curveballs."
As a one-woman show (with some help), Klein said preparing for the performance has been time-consuming, but "it certainly doesn't feel like work … It's definitely been a pleasure.
"Be prepared for the unexpected, because it's gonna be a fun show."
IF YOU GO
Aimee Klein's Night of Skits & Tomfoolery
7:30 p.m. Thurs., June 4
Theatre B, 716 Main Ave
$7 at the door