​NDSU Opera Production: 'HMS Pinafore'
by HPR Contributor | .(JavaScript must be enabled to view this email address) | Theatre | May 11th, 2016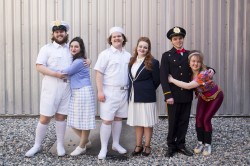 By Alex Huntsberger
Photo by Kensie Wallner
If there's one question that has hounded theatregoers from wing to stall over the past century more than any other, it is most certainly the following: how would W.S. Gilbert and Arthur Sullivan have fared had they been originators of the classic 70's sitcom, 'The Love Boat'? And now, courtesy of NDSU Opera's production of Gilbert and Sullivan's classic comic opera "HMS Pinafore", we finally have an answer: they would have done just fine.
With stage direction by Chelsea Pace and music direction by Virginia Sublett, this production updates the action from the high seas of Victorian England to the smooth waters of the 1980s. The Pinafore is now a cruise ship, one on which margaritas, spandex and neon all abound. I can only assume that certain fealties to the score are what prevented the inclusion of Jimmy Buffet tunes.
The show opens with a chorus of shorts-clad sailors dancing around with mops. These men are the crew of the HMS Pinafore, and they are all eager to inform us how much they adore their gently buffoonish commanding officer, Captain Corcoran (Cole Sherwood). The only sailor whose horizon contains a hint of stormy weather is Ralph Rackstraw (Ian Sherwood). You see, young Ralph (it's pronounced "Rafe") is in love with Captain Corcoran's charming daughter, Josephine (Anna Tescher).
Luckily for Ralph, Josephine is in love with him too. But unfortunately for the both of them, her father has promised her hand in marriage to the ruler of the Queen's Royal Navy, the Right Honorable Sir Joseph Porter, K.C.B. (Christopher Loeffler). Porter, who rose to this rank by being as entirely un-nautical as possible, comes aboard the Pinafore and introduces some dangerously democratic ideals to its crew. This inspires Ralph and Josephine to take matters into their own hands. Hijinks ensue. And then they ensue some more. And then more.
"HMS Pinafore" might seem like an odd show to try and plop down into another era. Like all of Gilbert and Sullivan's works, it is so far and away a product of its time. But at the same time, it's not. Its plots are all basically traced over from other classical comedies, and even the music has a kind of timelessness to its frivolity. (The lyrics on the other hand are super-duper 1878, but two out of three ain't bad.)
And while an 80's cruise ship might not have the same kind of rigid class structure that governed a Victorian frigate, the decade's excesses and overall ludicrousness fit with Gilbert and Sullivan quite snugly. I can only imagine the field day that the two of them would have had with aerobics, bright spandex, and the mere existence of Ronald Reagan. Heck, the full title of the show is actually, "HMAS Pinafore; or, The Lass that Loved a Sailor", so really it's not that far off from "The Love Boat" to begin with. If the sitcom had been titled, "The Love and Rigid Class System Boat", the two might have been nigh interchangeable.
Sadly, the show only ran for two performances this past weekend. So while the eternal question was indeed answered, audiences who missed out will have to simply take the word of those who made it. Trust us, it was quite a lark.