​Rocky Horror live in Grand Forks
by Brittney Goodman | .(JavaScript must be enabled to view this email address) | Theatre | October 26th, 2016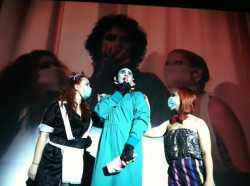 It's time to do the timewarp… again. To be exact, this is the 14th year that the Nine and Numb Entertainment troupe of Tampa, Fla. will bring their "Rocky Horror Picture Show – LIVE!" to the Empire Arts Center in Grand Forks, N.D. The director, actors, and producers invite you to celebrate Halloween a little early with productions on October 28th, 29th and 31st at midnight.
"We are so excited to be back," says Kelly Clow, the production's director and producer, and occasionally "The Criminologist" role in Rocky Horror. He adds, "North Dakota has some of the best Rocky fans in the country and we can't wait to get back on stage."
This show is a shadow-cast. Kelly explains. "This show is not like a normal stage production. The actors themselves don't speak, they lip-sync with and pantomime or 'shadow' the film as it is played on the screen behind them."
C.J. Leigh, Assistant Director and actor says "What we are doing is taking the best parts of the worlds of theatre and the movies, and squishing them together." He elaborates, "The original Rocky Horror Picture Show film from 1975 starring Tim Curry, Barry Bostwick, and Susan Sarandon will be played on a two-story movie screen while local actors act out the scenes on stage precisely as their counterparts do on the screen. All the while the audience will be yelling, screaming, and throwing things around the theatre, creating a familiar controlled chaos that Rocky fans new and old love and expect."
This is Kelly's 14th year of producing and directing the annual Halloween event. He is originally from Grand Forks but has lived in Tampa since 2004. Kelly studied with the Second City Training Center in Chicago in the late 90's and studying theatre at UND. In 2015 he played the voice of Audrey II in Little Shop of Horrors for Carrollwood Players Theatre in Tampa, a role for which Broadwayworld.com nominated him for Best Actor. He's also performed stand up – opening for Louie Anderson, Emo Phillips, and Weird Al Yankovic.
Kelly has directed numerous plays at the community theatre level and is currently employed by Busch Gardens' Entertainment Department in Tampa, in addition to his duties as Executive Director for Nine and Numb Entertainment. NaNE is involved in multiple performance projects in Florida and North Dakota, and they especially focus on improvisational comedy performances and an upcoming monthly podcast called "This Is Unrelated."
"I look forward to this all year," says C. J. Leigh, Georgetown, Mass. native, who is returning to the roles of Eddie and Dr. Scott in this year's production. "Returning to Rocky on Halloween is like going home for Christmas." This is C.J.'s third year with the production. He attended Salem State College in theatre and has worked for 16 years, acting in theatre, television commercials, and doing voiceover work. He asserts that "The one thing I have looked forward to every year for the last three years is The Rocky Horror Picture Show. It's an amazing experience and I get really excited about it every year."
C.J. now lives in Grand Forks, which he came to via military service. He served in the U.S. Air Force as an aircraft mechanic, first in Missouri and then in Minot. In 2012 he moved to Grand Forks to attend UND, studying in the Aerospace/Flight Education program.
In addition to two acting roles, C.J. is the Assistant Director. "I have a passion for directing and when Kelly asked me to assist him this year I was elated."
Kaitlin Parr, currently living in Grand Forks and attending UND, plays Janet Weiss in the production. She says, "I love playing Janet because she goes from a character that is meek and intimidated by almost everything to one who is willing to stand up for herself and go for what she wants." The Carrington, N.D. native has been involved with Sleepy Hollow Summer Theater in musicals such as "Les Miserables," and "Jekyll and Hyde."
Additional actors include Patrick Pearson playing Dr. Frank N. Furter and Chris Feldmann as Riff Raff.
Kelly emphasizes that the show is 18 years and older only and is VERY adult-oriented: "We have actors running around in their underwear and performing some mature material up there."
The venue asks that fans please keep prohibited items at home. These items include toast, rice, hot dogs, open flame lighters, laser pointers and weapons of any kind. Prop bags with approved items will be available for sale at the venue. Alcohol is also prohibited and any visibly intoxicated patrons will be turned away at the door.
C.J. gives advice to attendees: "People should not come to see this expecting it is going to be just a film thrown up on a screen and you will be able to sit quietly and enjoy some popcorn and soda. The audience is going to be yelling and screaming, and cheering, and interacting with the action on the screen as well as the action on the stage. Squirt guns will spray water into the air, bubbles will be blown, and things will be thrown. Get into it. Yell! Scream! And most of all, enjoy yourself!"
Kaitlin says, "I know it is going to be cold outside, but if you come to the Rocky Horror Picture Show, you'll warm up real quick (wink, wink)."
IF YOU GO
Rocky Horror Picture Show - LIVE!
Midnight on October 28th, 29th and 31st
Empire Arts Center, 415 DeMers Avenue, Grand Forks.
Tickets: $15.00 at the door or early at the Chester Fritz Auditorium Box Office & Ticketmaster