A look at Safe Spaces in college
by Faye Seidler | .(JavaScript must be enabled to view this email address) | Culture | July 19th, 2017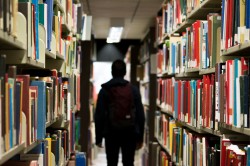 Over the years I've seen a number of articles and individuals condemning Safe Spaces as the bane of intellectual rigor, the death throes of free speech, and a major contributor to political extremism. In these articles, Safe Spaces get defined as places where students are free from information they find emotionally distressing: a place where students can mingle with like-minded individuals and not be criticized or challenged in any way.
Given all of that information, it really only makes sense that we abolish these places and invite intellectual conflict into student's lives. That's how we learn and grow, and that's how we express, defend, and change our intellectual positions and world views. It's college after all and therefore we need to hold everyone up to a standard befitting the institute, especially because when students enter the real world, they won't have the tools needed to be successful.
Nothing can be more telling than looking at how students feel about this. There is a student perspective survey where 62% of college students thought Safe Spaces were out of touch with reality or were indifferent to them. A large majority of individuals on campus don't want them or don't feel we need them. Now, that all sounds super compelling, so we could probably just end the article here, but something is bugging me. What do the people who use Safe Spaces think about them? What benefit do they get out of it? Because I'm not sure there is a person who would say they use that space to create an intellectually stunted feedback loop.
I'm also not sure a person can find a Safe Space on campus that isn't riddled with some drama or conflict pretty much all of the time.
What's happening is individuals who criticize Safe Spaces are choosing an interpretation of the space removed from the actual experience. They create an easily discredited strawman by overgeneralizing what they feel the space is used for. There can be good intentions behind this, but there can also be the desire to oppress marginalized identities who benefit the most from refuge, under the guise of intellectualism. I added the survey above as supporting evidence for disallowing Safe Spaces, because the data and the wording supported that conclusion. But, using that exact same survey data, I can say that 61% of college students felt Safe Spaces were absolutely necessary or felt indifferent about them.
I can do that, because I'm lumping in the people who were neutral in a way that conveniently supports my position. That's how cognitive bias works, we look for data that agrees with us or we contort data to seem favorable to our positions, all while thinking we're being rational and logical.
When cognitive bias is applied to a group, it creates a filter bubble where individuals experience a positive confirmation feedback loop. They find and share data that supports their core beliefs, while ignoring, minimizing, or refuting anything else. This happens all of the time on social media. It happens on Facebook, Tumblr, Reddit, and Twitter. These aren't Safe Spaces, they are filter bubbles that create extremism by lacking any sort of accountability or criticism.
A trans-only space is incredibly important to me, because it's the only time I'm in a room where my body isn't shamed. It's the only time I can breathe and know that despite all my imperfections, I will be respected. It's not a room free from conflict, nor is it my desire to have a room like that in every building, but to know I have a room like that somewhere keeps me going through harder times.
Statistically speaking, LGBTQ+ youth have much better outcomes if they have an access to support groups like Safe Spaces. They have lower dropout rates, higher grades, and better emotional health. But, that's just it, a Safe Space isn't an ideological refuge, it is a spiritual one.
It is a place where students who are marginalized can find a degree of safety from physical and verbal assault. It is where they can find the support, community, and the emotional health to go out on campus and express, defend, and change their intellectual positions and world views.
As a final thought, since the issues tend to get tied together, I don't believe individuals should be prevented from speaking at public events. Protests should be in the form of well-educated debate and not silencing, because it's more effective in the long run.
However, I do think colleges have a duty to find intellectually provocative speakers that can best represent a position within an ongoing debate and not individuals who spout uneducated opinion, encourage extremism, use harassment, promote hate, or thrive on trolling.
[Editor's note: Faye Seidler is North Dakota Safe Zone Project Spokeswoman]