​An open letter to North Dakota parents and school boards
by Faye Seidler | .(JavaScript must be enabled to view this email address) | Culture | January 31st, 2018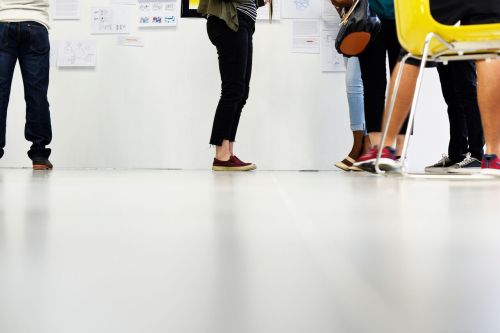 A Wisconsin school district just had to pay $800,000 to settle a lawsuit with a transgender student. This male student was being forbidden from using the boys bathroom and was put into female groups during activities that split students by gender.
He said in the court document, "The idea of using the girl's restroom was humiliating and there was no way I could do it. If I were to use the gender-neutral restrooms, I would also stand out from everyone else with a big label on me that said 'transgender.'"
Two months ago, in Detroit Lakes, there was transphobic graffiti painted on the Detroit Lakes High School's window. This graffiti was a hostile message targeting a transgender student going to the school. The incident warranted both a police investigation of the vandalism and region-wide attention and concern for the issue.
In Texas last year, a trans male won the female wrestling championship because the school refused to let him wrestle boys. Despite hormone therapy making him indistinguishable from male athletes of his age and giving him the corresponding advantage, the school system refused to do anything that would actually make sense.
And nobody can forget how North Carolina's Governor overturned a local ordinance approved by the public, to go on a complete rampage against trans individuals. He was chasing a problem that doesn't exist and there is no way to estimate the damage this did to the both trans individuals and to the state economically and socially, but estimates put the figures in the billions of dollars.
What I'm getting at is that there can be serious blowback to an organization that doesn't accommodate trans students. This might be limited to a negative reaction on social media, but it can also draw negative regional or national attention to a school. Worse, it can ended up costing a school hundreds of thousands of dollars if they do nothing to come to terms with the reality that trans students exist. That's not to mention the undue emotional damage and physical risk it needlessly causes to trans students.
Now, while the Trump administration has created a favorable legal battlefield for someone who wants to discriminate, we still haven't seen a major supreme court decision on this issue, so it is still up to the lower courts to assess on a situational basis.
As mentioned with the Wisconsin case above, trans students can and will continue to sue in the face of discrimination and, increasingly, they win. This is something I encourage all school districts to take seriously and to create preemptive policy to mitigate the risk to both trans students and schools.
The first thing I'll say is if a school's motto is "we accept everyone," it means that they aren't specialized for anyone. I've heard reports from all across North Dakota of trans students struggling, getting harassed, feeling hopeless, and not knowing what they can do.
This is consistent with national surveys that say 57.6% of LGBTQ+ students felt unsafe at school because of their sexual orientation, and 43.3% because of their gender expression. The vast majority of LGBTQ+ students (85.2%) experienced verbal harassment.
I encourage everyone involved in K-12 education to familiarize yourself with the GLSEN National School Climate Survey for more information about all of this.
Right now, our state has no training to really address LGBTQ-specific bullying or LGBTQ+ issues at all. They don't even mentioned LGBTQ+ individuals within the North Dakota Department of Public Instruction's PDF on bullying.
I cannot say this is very surprising, considering our state is one that joined the effort to sue the federal government over the Obama administration guidelines to accept trans students. While the individuals involved in this lawsuit claim that the issue is that they don't want federal oversight, one wonders what they'd like to do once freed from federal regulation. I'd wager the prime strategy at this point is ignore it and hope it goes away.
From a medical standpoint, being transgender is a biological condition. It isn't a choice a person makes, because, trust me, nobody would be making that choice in North Dakota. As a biological condition we are born with, developmental psychologists place gender identity as developing around three years of age.
As education, awareness, and better diagnostic tools are used in helping trans children find the support they need, we are also seeing a significant rise in people identifying as transgender.
The trans population increases per age group, likely because of the factors mentioned above, with 0.7% of 18-25 year olds identifying as transgender. I don't think it is unreasonable from a population statistic standpoint to assume that prevalence of trans individuals in the K-12 school system will be roughly 1% of the students in the coming years.
If a person takes that statistic, then looks at North Dakota population for people between ages 5 and 18, they get roughly 1,600 trans students in our system right now. Even lowering that estimate using the lowest population statistics generated, we are at least dealing with 500 trans students. Personally, I think that represents a large amount of people to be ignoring and it's incredibly short-sighted and detrimental for all parties to not have a system in place to deal with a trans student.
A system doesn't have to be perfect. It doesn't even have to be particularly trans friendly, but it should allow parents to choose the right school environment for their child to thrive.
It is sickening that an already vulnerable, and often already harassed trans student is the one that usually has to be the one fighting to make a change at their school; that they have to put themselves at risk emotionally and physically in the gamble to see if the current administration and school board are willing to listen to them or reject them.
And more often than not, the trans students in these types of cases will not have the resources or ability to change their location in the event of an indifferent school board or hostile school culture.
I spoke with the North Dakota Superintendent Kirsten Baesler last year about what policies our schools have for trans students and she informed me that it's up to each school district to determine these. When I emailed every high school and middle school principal about the Gender Sexuality Alliance initiative, I got one response, which was to tell me to take them off my mailing list.
According to a recent poll from GLAAD, acceptance of LGBTQ+ individuals has declined for the first time since the polling began in 2014. More specifically, individuals reported feeling less comfortable around LGBTQ+ people.
I truly get it that people aren't comfortable talking about these issues, especially in our state, but we need to have these conversations. Ignoring it is why a trans man won a female championship against the wishes of all parties involved, except for the administration.
Attempting to legislate trans people out of existence creates the socially, politically, and economically damaging blowback that North Carolina saw.
As long as this situation goes unaddressed there will always be the potential for situations to occur that fly in the face of common sense, as well as the potential for serious backlash of several varieties.
But even more than that, trans students are still students, they're still humans, and they need better in this state.
[Faye Seidler is the North Dakota Safe Zone Project Spokeswoman]