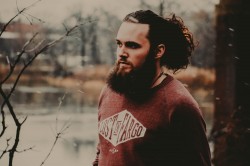 "Fargo has a unique spirit, it is a small town with bigger aspirations, a quiet place with bold dreams. A spirit that comes with the harsh cold of winter, blows with the winds of spring, and pushes us forward; it is a spirit within."
Lost in Fargo is a clothing store that was founded a year ago. It has a variety of clothing items as well as a uniqueness for Fargo pride. It is located at 614 Main Ave, Suite 10 – in the basement – or you can easily find the apparel and other items in local stores such as Kittsona, Lot 2029, or Scheels.
One of Lost in Fargo's specialties is their screen printing. Nels Hunstad, the owner and operator of Lost in Fargo expresses his Fargo pride through screen printing and the products have become Fargo-Moorhead's spirit. With over 14 years of experience in screen printing, Lost in Fargo has been serving customers with their needs and preferences. Customers can make the exact design and product they are looking for at Lost in Fargo where "collaboration is the key to our creativity."
Lost in Fargo has been communicating with our community members through several social networks including Facebook, Instagram and journals on the official website. Through these social networks, Hunstad shares photos and videos of Fargo's own uniqueness by capturing the moments of the beautiful Fargo-Moorhead landscape and its own atmosphere. "Hopefully you will get a chance to look through [our items] and get to know a little bit about our style, techniques, and hopes and dreams," Hunstad said. "Lost in Fargo was founded with the goal to provide Fargo residents a way to express the pride they feel for their town and to uncover some hidden beauty along the way."
Lost in Fargo encourages our community to grow and engage by spreading their positive messages. The store has recently expanded their business into offering professional photography services as well. Hunstad takes special moments in your life and makes them into a story. Pricing is different for each session and you can also see how Hunstad captures special moments and colors it with your own identity.
Lost in Fargo is no longer just a clothing brand. It has become much more important in the Fargo-Moorhead area because of the pride. Hunstad shows the pride of Fargo through his creative products and photography and he enriches our community with joy. If you ever get lost in Fargo, you'll find the basement, so "come hang out some time at our studio/store downtown. Give us a hug. Tell us your worst jokes and your best stories. We would love to meet you, dream with you, laugh with you and probably take some photographs."
You Should Know:
Lost in Fargo
614 Main Ave, Suite 10 (Basement)
Official Website: https://www.lostinfargo.com/
Facebook: https://www.facebook.com/lostinfargo/
Instagram: https://www.instagram.com/lostinfargo/