​Barking up the right tree
by Särah Nour | .(JavaScript must be enabled to view this email address) | Culture | July 19th, 2017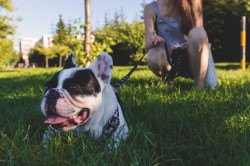 27th Annual Paws Walk at Rheault Farm
On Tuesday the 25th, Homeward Animal Shelter's 27th Annual Paws Walk will take place at Rheault Farm, the 15-acre park that provided the venue last year. This family-friendly get-together allows participants to walk their dogs to raise money for shelter animals, which will go towards food, shelter, and veterinary care, including vaccinations, microchips, spaying and neutering.
"Last year we raised a little over $36,000," says Special Events/PR Coordinator Heather Klefstad. "This year's goal is $35,000 and we're hoping we can surpass that amount again this year as well."
Potbelly Sandwich Shop will provide free food, including vegetarian options. RetroDisc DJ will play music while the children enjoy inflatable games, courtesy of Games to Go, or face painting courtesy of Monkeys Allowance. For anyone wishing to commemorate the event, Timeless Images Photography will have a photo booth available.
In the past, the walk has been led by the Event Grand Marshall, an adopted cat or dog chosen by popular vote. This year, a group of adoptable dogs will lead the walk, while all animals adopted from Homeward will be named honorary Grand Marshalls. This will hopefully provide the exposure needed to find people willing to adopt.
Though this is primarily an event for dogs, participants are encouraged to bring other pets as well. In the past, cats have served as Event Grand Marshals.
"We've had people bring their cats on leashes and in pet strollers," Klefstad said, "so people are welcome to bring other animals, as long as they know they're going to be fine around dogs."
Registration begins at 6pm, with the half-mile walk beginning at 7pm. The entry fee is a minimum donation of $25. Donations of $75 or more will be matched by sponsors. This year's Title Sponsor is Patrick Luger, MD. Platinum Sponsors include Natural Pet Center, Doggy Depot, Matt's Automotive, and In-Health Specialty Pharmacy.
Pledge forms are available at homewardonline.org for anyone wishing to collect donations. Individual donations can also be made on the shelter's fundraising page on Razoo.com. Individuals who raise at least $75 or more get a free Paws Walk shirt, while teams that raise $150 or more get two free shirts.
Over the past 50 years, Homeward Animal Shelter has rescued, rehabilitated, and rehomed over 250,000 cats and dogs. As a community-funded, nonprofit organization, the shelter relies on donations and adoption fees to continue its work.
IF YOU GO:
27th annual Paws Walk
Tuesday, July 25, 6:00 pm - 8:00 pm
Rheault Farm, 2902 25th St S, Fargo