​Coffee Scrub DIY
by HPR Contributor | .(JavaScript must be enabled to view this email address) | Culture | February 8th, 2017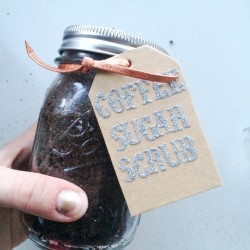 By Ashley Morken
Difficulty level - 1 of 5
Time to create - less than 10 minutes
Cost - $5 - $10
Winning level - huuuuuge
It's that time of year when you suddenly realize how dry your skin has become from this wintery season, right? Well, guys, if you are as obsessed with coffee as we are and need to give your skin both a lift and a buff you'll win by trying this recipe below. It's a little messy when you use it, but this homemade scrub is definitely one we will vouch for because it's totally worth it. Snag a super cute mason jar to put it in or even just a plastic bag.
The Coffee Scrub DIY is incredibly easy and also quite giftable and useful during the harsh, dry winter months. Plus the coffee is not only a helpful exfoliator but the antioxidants in coffee help firm and tighten your skin, too! The coconut oil is a powerful moisturizer and the sugar is an excellent exfoliator. These three simple ingredients together will be your skin's new bestie.
Supplies:
¾ c. coffee grounds (coarser the grind the deeper it exfoliates)
1 ½ c. sugar (we prefer cane)
½ c. slightly melted coconut oil
Bowl to mix in
Steps: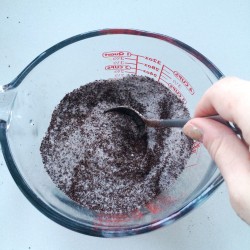 1. Mix coffee and sugar well in a bowl with a whisk or a spoon.
2. Add coconut oil to this dry ingredient mix and mix well until it becomes paste-like, but still just a bit on the drier side.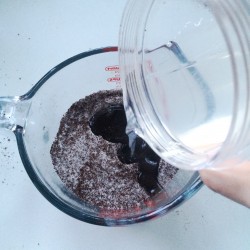 3. Put in a sealable container. Tip: Leave the scrub unsealed for the afternoon especially if your coconut oil is warm from melting it a bit.
4. Use 2-3 times a week on your face, legs, and arms. Tip: Splash your face with warm water, apply a small amount of scrub with a circular motion and rinse off with cool water. Pat dry. Or apply while you are in the shower to your arms and legs.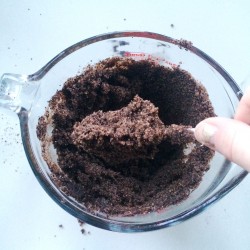 We prefer the scrub to be a bit on the drier side but you can adjust the liquid to dry ingredient ratio as you want! Keep it in a dry environment (probably outside of your bathroom) to preserve it longer. If you don't think you'll use it up within a month, we recommend keeping it in the fridge. Divide up or make extra batches to share with your friend squad.
You can also switch out the sugar with Epsom or sea salt for extra mineral benefits and a deeper exfoliation. However, it may be too harsh for your face and better for your arms and legs.