Do you have what it takes?
by HPR Contributor | .(JavaScript must be enabled to view this email address) | Culture | March 7th, 2018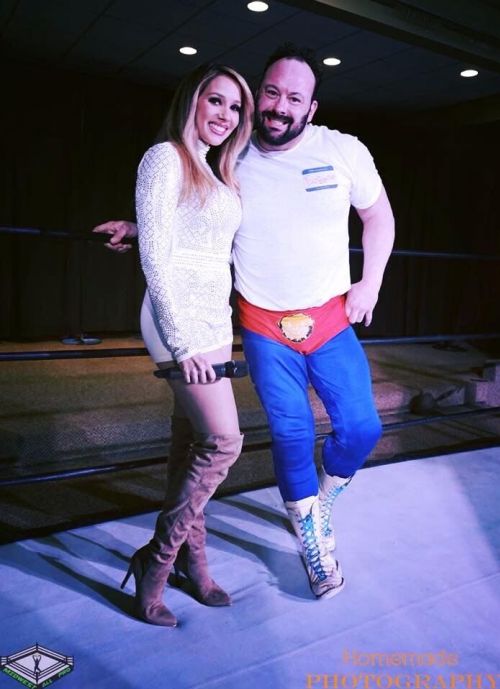 By Travis Hopkins
trav.hopkins@yahoo.com
Brock Lesnar (SD), Jessie Ventura (MN), Eric Bischoff (WY), Sting (NE), wrestling fans may or may not know, but for many years the Midwest has been a hotbed of sports entertainment talent.
The state of Minnesota alone is ranked 6th amongst the 50 states that have produced the most! Sure, North Dakota has also provided a talent, but it's been a while.
Ever heard of Red Bastein? If you're a true wrestling fan and know your facts, you do. Rolland "Red" Bastein was born in 1931 and raised in Bottineau, North Dakota.
He was trained by the likes of the legendary Verne Gagne and helped win several tag team championships throughout his career. In his later years as a trainer/promoter, he discovered future wrestling superstars Sting and The Ultimate Warrior.
Like we said though, it's been awhile since our great state saw an athlete of the "squared circle" make it big, but why? Anytime the multimillion dollar giant known as the WWE comes to perform in our area, it does so to packed arenas. Clearly we have the fan base for the sport!
We're certainly not lacking in the athletic talent department either. For six out of the last seven years, the NDSU Bison football team has won the national title, with players going on to the NFL. That alone has the nation watching us and asking who's next?
So what will it take? Someone who's been there, in the WWE? Someone who's performed around the world for millions of fans, has shared the ring with some of the greats, like Hulk Hogan, The Rock and even helped train other big names such as John Cena and Randy Orton? Someone who clearly knows the ins and outs of the business? Perhaps.
If you take a moment to look you'll notice that there are training facilities and independent wrestling promotions located right here in the heartland. Enter Nick Dinsmore or as WWE fans everywhere refer to him, "Eugene" Nick co-owns and operates Midwest All Pro Wrestling, in Sioux Falls, with his wife, Mrs. South Dakota 2016 Stephanie Dinsmore.
Together they're quickly gaining attention and popularity with their events, and at times bringing in other superstar friends like Hacksaw Jim Duggan, Kevin Nash, and Scott Hall.
Could Midwest All Pro Wrestling already be molding the next superstar or will they find the next big thing right here in our own backyard? We'll soon find out as the group makes not only its Fargo Debut but its North Dakota debut as well, March 10th at Harley Davidson of Fargo.
Nick and Stephanie have partnered with Maui Madness of Fargo for this unique event that will play host to an exciting night of wrestling featuring WWE fan favorite "The Boogeyman!"
Attendees will also get to enjoy live acoustic music from 17-year-old singing powerhouse, Moriah Formica, who's no stranger to Fargo herself, having sung to a sold-out crowd last November at a Bison football game. Moriah was also a contestant on the past season of "The Voice."
If the March 10th event at Harley Davidson doesn't already sound rock solid, get this: Maui Madness with Midwest All Pro Wrestling will be giving away a pair of tickets to this year's Wrestlemania to one lucky winner! Sounds like our kind of party, one that you're not going to want to miss.
Tickets are on sale now at Harley Davidson Of Fargo, Brewtus' Brickhouse in Moorhead or at maui-madness.com
Don't forget to check out midwestallpro.com to see if you have what it takes!
IF YOU GO
Midwest All Pro Wrestling
Saturday, March 10, 6-9:30pm
Harley Davidson, 701 Christianson Dr W, West Fargo
$30, VIP $100, (701) 277-1000