Drones in the North Dakota sky
by Dima Vitanova | .(JavaScript must be enabled to view this email address) | Culture | July 12th, 2017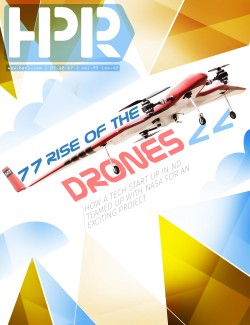 In early June, some 10 miles south of Grand Forks, North Dakota, the air resounded with a high-pitched buzz. Several drones glided above the sprouting fields, each charting its own mission. One hovered along a power line, vetting its integrity. Another carried out the same task, but so high in the cloudless sky it was invisible from the ground. Yet another traced an adjacent farm tract, collecting agricultural data. A fourth drone dashed through the routes of the rest, harrying them to avoid a collision.
The unmanned aerial vehicles, handled by more than a dozen crewmen, shaped up the latest tests in the research partnership between the Northern Plains Unmanned Aircraft Systems (UAS) Test Site in Grand Forks and NASA. They land into NASA's efforts to hone a UAS traffic management (UTM) system that safely divvies up the national airspace between planes and drones.
"We were ideally looking to stress NASA UTM system," said Nicholas Flom, executive director of the UAS test site, "to make sure that there are any lessons learned that we can provide to NASA when you start to really push the capabilities of the system."
The June test flights wrapped up the second phase of a five-year, four-stage contract between the Northern Plains UAS test site and NASA, which has also enlisted five other FAA locations – from Alaska to Virginia – in its ambitious UAS program.
The goal is to securely usher UAS beyond the operators' line of sight and into urbanity, where a scrum of functions awaits, said Flom. From capturing news footage to delivering packages to aiding first responders, the possibilities to weave drones into the fabric of daily life abound. So does the need for their reliable operation.
To that end, the Northern Plains UAS test site was the first to commence flights in 2014, gearing toward NASA inaugural operation in April 2016, that saw more than 20 drones simultaneously soar in rural plots across the country.
This late spring, although the flights remained outside city boundaries and in the vastness of North Dakota's plains, "it was a much more complex type of testing scenario," said Flom. "[NASA] wanted us to fly [UAS] in a realistic use-case type of scenario" – like agricultural and electrical utility inspections.
For NASA's most advanced tests yet, the requirements did not cease there. The drones had to spread horizontally and vertically. Some needed to flutter within the pilot's line of vision, others to drift past it. Logistics – from flight coordination to accident prevention to data transfer to NASA – had to be honed.
"That is what we had control over," said Flom. What lay beyond their reach was aviation as usual. "There were manned flights that were taking place during our testing. This is not happening in a segregated airspace. This is all happening within the national airspace."
Low-altitude agricultural aircraft sprayers and University of North Dakota training flights crowded the area, enhancing the practicality of the drone tests. "There was a lot of other traffic that we had to make sure that we were staying away from," Flom said, "definitely no shortage of flight testing within the area."
The pragmatism of the project also depended on the participation of private companies that specialize in drone services and had never been involved in a NASA program. To realize the public-private scope of the initiative, the Northern Plains UAS test site teamed up with four North Dakota-based firms – SkySkopes, ISight RPV Services and Unmanned Applications Institute in Grand Forks, as well as Botlink in Fargo – that brought in their own expertise, technologies and faculties.
"We have always been involved in providing safety and situational awareness to UAS users, so it was kind of a natural extension to patriciate," said William DeHoogh, director of flight operations at Botlink, an online aerial data and regulation platform.
During the tests, DeHoogh prepped and piloted a drone over a crop field, gathering intel on plant health and forming one of the real-life premises that the Northern Plains UAS test site sought to recreate. "It was beneficial to be able to coordinate operations with a number of different companies" he said, underscoring the opportunity to help further the UAS industry.
"From our standpoint, it was a pretty neat thing to see how strong the North Dakota UAS ecosystem is that we were able to support [NASA's] operations with North Dakota companies," said Flom.
With staunch official and public support, the drone industry in the state is fast taking off. Dubbed a Silicon Valley for drones by the New York Times, North Dakota has so far invested over $43 million in the advancement and commercialization of UAS – endeavors that have drawn in private start-ups, the military as well as scholars and students at the University of North Dakota and North Dakota State University.
"Having the [ability] to diversify our state economy with an industry like the unmanned aircraft, which is technology-driven, is a great opportunity," said Brian Opp, aerospace business development manager at North Dakota Department of Commerce.
At the same time, drones elevate what the state already excels at. "A lot of the developed [UAS] applications are in energy and agriculture – these are two things that we already do in North Dakota and do well," said Opp. "Having the drone technology to support existing industries is a smart strategy."
A strategy that NASA, the Northern Plains UAS Test Site and their local partners affirm.