​Feeling the need for speed
by Sabrina Hornung | .(JavaScript must be enabled to view this email address) | Culture | July 12th, 2017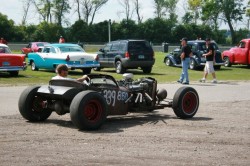 JDRA to host annual drag race at Jamestown Regional Airport
"At one time we had 8 airports hosting drag races. After 9/11 those races started to get banned. We are the last airport in the state to keep going with all the requirements the FAA has for us," says Brian Kamlitz Vice President of the Jamestown Drag Racing Association. "Without the support of the city, airport, sponsors and racers, we probably wouldn't be as big as we are."
This year the JDRA will celebrate its 15th annual drag race. It was founded by six individuals who had occasionally raced in Fargo at Interstate Dragways and the Harvey Airport. After a couple years of running the timing system in Harvey ND, they felt the need for speed on their own turf. Now people come from all over North Dakota to watch and participate.
HPR had a chance to speak with Kamlitz about the who, what, and wheres of the Jamestown airport drags.
High Plains Reader: What sparked your interest in drag racing versus other types of racing?
Brian Kamlitz: I have been a drag racer since before I had my license (laughs)! I am a founding member of the James Valley Off Roaders and have mud-raced and organized and raced snow drags since the late 80s. I helped work on the go-kart track when it was being built in the late 90s, and am a founding member of the Jamestown Drag Racing Association.
HPR: Do you participate in the drags?
BK:Yes I have a car but I do not drag race it. Since I am an officer of the JDRA, I have too many responsibilities during the drag races to run a car.
HPR: Jamestown has an active race scene--Can you tell us a bit about it?
BK: We do! We call Jamestown the Motorsport Capital of North Dakota. We currently have 16 active motorsports clubs here in Jamestown. Every year we have Rods and Hogs downtown on Main Street and all clubs bring their rides and toys to show off to thousands that attend.
HPR: Do a lot of the people who participate in the drags participate in the flat track racing events?
BK: A lot of us involved on the board of JDRA have raced dirt track. Racing is just in our blood, the dirt track and our yearly event work together on advertising and make mention of both groups and our races.
HPR: I think it's really interesting that you guys race down the dragstrip--it's a nice nod to the origins of the sport. Was it difficult to secure the airstrip?
BK: In 1999 we approached the airport. We had many hurdles to contend with. Glenn and I set out to complete the list and it took several months. After a year and half our drag race became a reality.
HPR: Are there precautions drivers must take before hitting the strip?
BK: Their cars have to meet our tech guidelines to get a sticker to run time trials.
HPR: What kind of vehicles are people going to see out there--are they primarily vintage racers?
BK: All kinds of vehicles from your daily driver to full blown dragsters. With every drag race there is a car show too, so you're kinda getting two for one when you come through the gates--you get pit access and bleacher seating to the races.
HPR: Who all comes to the drags?
BK: Motorheads, grandmas, grandpas, moms and dads, kids of all ages. We consider this a family sport. A lot of times you will see in the pits that everyone in the family has a job between rounds.
IF YOU GO
Jamestown Drag Races
July 15-16
Jamestown Regional Airport, 1600 21st Ave NE