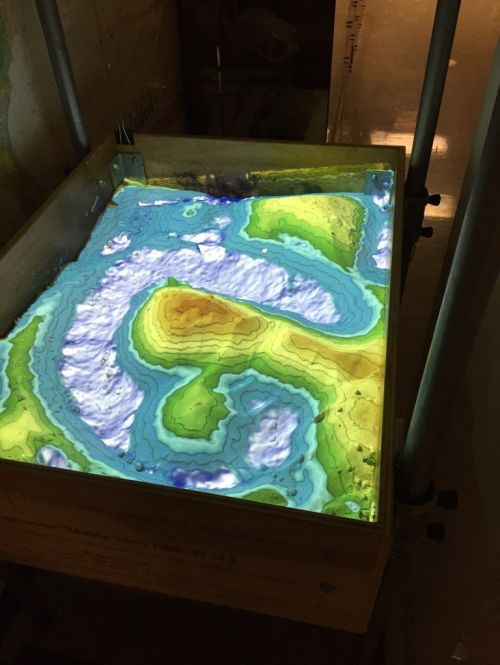 "We need a science museum in this town."
That's what NDSU Geosciences lecturer, Jessie Rock, and some of her colleagues and friends have been saying for years. She was quoted saying it in the Fargo Forum in April, and it was like a phrase that launched a thousand clicks. Rock received many calls and emails from people who had read the article and reached out in agreement and to request appearances at events and classrooms with her fossils. The response was enough to prompt Rock, Lydia Tackett (Assistant Professor of Geology and Paleontology, NDSU), Stephanie Day (Assistant Professor of Geology and Geography, NDSU), and Scarlet Gray Bernard (NDSU Grant Consultant and member of the Fargo-Moorhead Astronomy Club), to start exploring the feasibility of finally starting a science museum in Fargo-Moorhead.
Rock has been doing geosciences outreach in the community for years. She loads her van full of plastic totes with rocks and minerals, samples of sands from the seven continents, microscopes, and large fossil casts like a Tyrannosaurus Rex jaw bone which she straps into a child car seat, then she drives them to area schools and local events, like Share-a-Story at Rheault Farm every June.
Rock's collections and activities have outgrown her personal van, however. A show-stopping instructional tool called the AR Sandbox, is a big item to try to take around, and requires two people to set up. It's a large wooden box with 300 pounds of white sand and a Kinect projector which reads the levels of the sand and continuously adjusts a colored topographical map projection onto the sand as users shape the landscape. In order to bring the AR Sandbox, a portable fossil dig, and other big items out to community events, Rock and Geosciences graduate students Annaka Clement and Gretchen O'Neill were planning and seeking funding for a bumper-tow trailer that could house these items and serve as a pop-up museum or a mobile STEM lab.
The mobile museum plans were already underway at the time of that April news article "Bringing fossils to the kids: NDSU instructor sees need for natural science museum in Fargo-Moorhead." That story brought new allies to the project, like Lisa Preister, a spring 2018 PhD graduate from NDSU's Natural Resource Management program, and since it was published just as the Geosciences crew was gearing up to do the Party for the Planet at the Red River Zoo, the group decided to try an experiment: gauge public interest in the idea of a permanent science museum in Fargo-Moorhead. They had an email sign-up station at the Party for the Planet, they started a Facebook page for the Fargo-Moorhead Science Museum (FMSM) Project, and they created a survey which has been circulating since May 2 and has over 2,200 responses thus far.
The survey results have been overwhelmingly supportive, with 99 percent saying they agree or strongly agree that FM needs a permanent science museum. Some in the community are interested in helping bring this museum to life, including other scientists active in educational outreach. The group has been collecting survey responses and names of interested individuals, meeting with community members and leaders, researching feasibility, and planning to apply for a 501c3 nonprofit status in order to accept donations and apply for grants.
Ultimately, the group would like to see a comprehensive science museum with interactive exhibits to promote hands-on learning for all ages. Several members of the FMSM Project Committee are parents of young children, and they recognize the need for opportunities to engage children and families in meaningful scientific experiences year-round, and to have something to do during the harsh winter months. Experience in outreach has taught them that it's not just the kids who crave science activities—sometimes the adults escorting kids to educational events are just as eager to engage in learning and ask questions. "My experience in educational outreach has taught us that community members —adults and children alike—want to explore and engage in science," said Rock.
High Plains Reader: Tell us about yourself and what you do...
Jessie Rock: We are the Fargo-Moorhead Science Museum Project Committee, a group of scientists, educators, and grant writers, who are taking the lead on a project to explore options in our community for a permanent science museum. We met at NDSU, but are in the process of forming our own non-profit. Our group consists of: Annaka Clement and Gretchen O'Niel - PhD candidates in the NDSU Environmental and Conservation Sciences program; NDSU Geosciences department faculty members Lydia Tackett and Stephanie Day; Lisa Preister - a recent PhD graduate from the NDSU Natural Resources Management program; and Scarlet Gray Bernard - a grant writer from the NDSU Center for Writers.
HPR: Tell us about the F-M Mobile Community STEM Lab.
JR: The FM McSTEM, as we are now calling it, is a community outreach platform for the NDSU Department of Geosciences developed by me. We are retrofitting a bumper-tow trailer to house a pop-up science museum featuring interactive STEM exhibits including one of NDSU's Augmented Reality Sandboxes, a mobile fossil dig, community microscopes, a fluorescent mineral booth, a groundwater experience, a dam break model, and rotating exhibits from our extensive collections. We will be collaborating with other departments at NDSU and local colleges and universities to increase accessibility to free STEM-based learning in our region. We hope this project will generate interest and enthusiasm for science and aid in building community support and momentum toward establishing a permanent science museum for our region.
HPR: How did the Fargo-Moorhead Science Museum (FMSM) Project begin?
JR: In March, I applied for the FM Area Foundation Community Building Grant to fund the FM McSTEM (mobile lab). Following the submission of my proposal, I was contacted by the Fargo Forum who expressed interest in my grant application and followed along on the next outreach event. On April 8th, I was featured in an article. In the story, I expressed that FM needs a permanent science museum. As a result, I was inundated with requests for information, collaborations, and details on how to donate -reinforcing that the FM area needs a hands-on science outlet. In the last month, we have received a groundswell of community support.
The USDA NDRC has sponsored a groundwater exhibit, an NDSU alumnus and an anonymous donor from the community have sponsored our mobile fossil dig exhibit which includes a life-size T. Rex foot puzzle, and Live-wire production house has offered to host a community concert when we're ready. Dozens of other community members have emailed her, asking to know more, and offering their unique services to make this project succeed. And all of this happened as a result of the Fargo Forum coverage of her pending grant application and without any fundraising operation.
HPR: What kind of science museum would this be?
JR: Our vision is a comprehensive science museum that would include interactive STEM-based exhibits as well as natural history. This museum will be for all ages. It will host travelling exhibits and evolve as science advances.
HPR: How would a museum be funded if the interest is there?
JR: The museum will be a public-private partnership funded primarily through donations and grants. The FMSM Committee hopes to have our 501c(3) nonprofit status by June. We will then assemble our board of directors and begin fundraising by fall 2018.
HPR: Is this something sponsored by NDSU, the city, the state?
JR: The FM McSTEM (the mobile lab) is an NDSU Geosciences initiative. The Fargo-Moorhead Science Museum is a community endeavor and will be a public-private partnership run by a non-profit, the FMSM Committee. It is our hope that we can tap the vast intellectual resources of our local institutions.
HPR: What methods are you using to gauge interest?
JR: We developed a survey to gauge community interest and support for a permanent science museum in our region. So far, the response has been overwhelmingly positive. Of the 2,200 responses thus far, 99% support the development of a permanent museum. We've received comments from hundreds of community members offering their support and resources for the project.
HPR: Why do you think there hasn't been a science museum in Fargo so far, especially considering the preponderance of historical museums we have?
JR: With regards to the number of historical museums in the area, we believe it is due, in part, to the fact that individual counties are charged with local history. In North Dakota, county commissioners can use general funds (albeit relatively small amounts) in support of county historical societies and are able to seek mil levy approval from the county voters. Some of our nation's biggest and best science museums were founded years before North Dakota achieved statehood.
Many are associated with large research and educational institutions. While we can't say for certain at this time, we speculate that the population size has been the primary limiting factor in the development of a science museum. However, as the Fargo-Moorhead area continues to grow, we will see more people moving to the area from larger cities that offer this type of amenity. Preliminary results from our survey indicate that, while many local citizens will travel the roughly 3 hours to a science museum, they would visit more frequently if there were a local option. The cost, both in time and dollars, to travel from the F-M area to an existing science museum may prevent segments of our local population from this opportunity.
There are groups within our community that have identified the lack of science programming and have endeavored to fill this void. In recent years, the F-M area has seen start-ups in STEM like Inspire Innovation Lab and uCodeGirl, and more STEM outreach events in public libraries and youth programming. It seems that we may have reached a tipping point in our community; population size, scientific curiosity, opportunity and support have reached levels that will allow us to sustain the momentum needed to complete this project.
YOU SHOULD KNOW:
FM Science Museum Project Survey
https://ndstate.co1.qualtrics.com/jfe/form/SV_4U6JMbcc6XKd9Zz
To support a mobile exhibit::
Go to www.ndsualumni.com/contribute and select Other and type FM McSTEM Lab