​From Algeria to Fargo: Ibtissem Belmihoub
by Brittney Goodman | .(JavaScript must be enabled to view this email address) | Culture | September 21st, 2017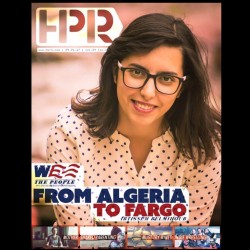 photo by Meg Luther Lindholm.
Ibtissem (pronounced Ib-tiss-em) Belmihoub is both enjoying her time in Fargo as a doctoral student in Rhetoric, Writing and Culture at NDSU and a community volunteer. She is currently the Project Coordinator for The World in Fargo Moorhead social media project. Ibtissem is an Algerian citizen and is in the Berber ethnic group in the Kabyle area of Algeria.
First coming to the United States four years ago on an undergraduate exchange program, Ibtissem studied at Iowa Western Community College. She finished her bachelor's degree in English and Foreign Languages in Algeria and then received a Fulbright Scholarship.
She selected NDSU, where she has already received a Master's degree and is going straight through for her Ph.D. She is expected to complete her Ph.D. in 2020 and that is also when her DS-2090, which allows her to stay and study in the United States, will expire.
Ibtissem says she may apply for a two-year "academic training" extension and stay longer before returning home to Algeria. She loves living and studying in Fargo and would like to stay but says "it is hard and becoming harder to become a permanent resident of the U.S. coming from another country."
Ibtissem came here by herself, but her brother's studies and travels to the U.S. at Purdue University influenced her to make the journey. Her brother is currently teaching for a year in New York. Ibtissem explained: "The fact that my brother did this, made me and my family more comfortable in pursuing this."
She has mostly experienced positive interactions with American citizens while in our area, but has encountered questions. Ibtissem elaborates: "I have had some weird comments and odd questions. A year or two ago, I was in the African Student Association and was presenting on Algeria. And I said Algeria is a Muslim country. There were two women in the audience from Somalia who questioned why I did not wear a veil. They said that if you don't wear the veil you aren't Muslim."
Ibtissem continues, "Once on the city bus there was this guy – I was talking to my friend and I had an accent. He noticed so he asked me about where I was from. When I told him, he reacted with 'Oh, that's a Muslim country, but you don't wear the veil.'" Ibtissem explains that in Algeria, North African indigenous people don't necessarily cover themselves in the same way: "People don't understand that there are different interpretations in Islam. In the area where I live people do identify as Muslim and don't wear the veil, while there are others who wear the full thing. Usually people here don't know that."
Ibtissem explains that the Islamization and extremism in Algeria was when she was a baby in the late 1980s and early 1990s and that is when "a lot of girls decided to wear the veil because if you did not you were looked down upon and in danger."
When asked about her experience first coming to the United States, Ibtissem said: "I was nineteen. Everything was fascinating. It was fall semester. I was going to stay there for an academic year. My first experience, I was driven from the airport and everyone was speaking English. Starting from that day, I realized that I will have to understand and speak English all day every day. It was an interesting realization."
Ibtissem's parents are still alive. In addition to her brother, she has two younger sisters who both still live in Algeria. Her mother is an elementary French teacher who is approaching retirement. Her dad has been retired for a few years and was formerly an accountant for a high school. Now, Ibtissem says, "He takes care of our garden and olive trees."
Ibtissem says, "Was it hard to leave home? Yes. But I was excited about the experience. It was actually hard to go back after Iowa. I experienced reverse cultural shock. My friends had moved on. It was different – you think that things freeze, but they don't. I did bring back some American mannerisms. I didn't see it, but maybe they did. My father commented that it was obvious I had not lived in Algeria for a while. I didn't know personally what the difference was but everybody there seemed to notice it."
She continues, "When I first moved to the U.S. I noticed that people walk around and smile. They smile at strangers. When I first moved here I walked around without a smile. I think people were intimidated because my facial muscles were tight. So I learned to loosen up . But then it did not work at home. When I went back home to Algeria, nobody does that. Especially not as a woman – it may mean that you are inviting something. So when I went home my dad said to not smile – I got lectured on smiling."
She has noticed that in her country there is an anti-immigration sentiment about people from Mali coming to Algeria: "It is racist -- it's the same argument people are using here. Some people say that all people from Mali bring disease – which is ridiculous. It is completely a racist argument."
She remembers when she was in Algeria and there was a little girl with dark skin with a veil begging for money on a bus. Ibtissem continues: "A woman on the bus told this little girl, 'Don't touch me. You have disease.' And I couldn't sit by quietly – I told this woman 'Excuse me but what makes you think this girl has a disease?' I challenged her. The woman said, 'Well they all have a disease.' It really bothered me and we had an argument. They were not treating that little girl nicely. She was seven years or younger. She was black with a veil and that's all people could see."
As Project Coordinator for The World in Fargo Moorhead she manages the site – working with volunteers, making sure there are weekly profiles and posts and doing community outreach.
Ibtissem loves being in our community: "I love everything. I have been here long enough to make good friends. It is tight-knit. And I like that we are all working together to make progress. I like to see people here are trying to do something, new things. I enjoy volunteering and keeping active in the community."
When Ibtissem completes her education she wants to work in the nonprofit sector: "I won't rule out being a professor in a college but I am interested in working with the community more." She is very active as a volunteer and community leader: "When I am not studying, I am volunteering or going to cultural events." Ibtissem and her friends are also obsessed with Bollywood movies. She keeps active with participating in events such as TedX, Prairie Den Co-working, international potlucks and more.
She spent so much time studying after school in Algeria that she did not really learn how to cook traditional Algerian foods from her mother. But now she goes on YouTube and follows her brother who is learning to cook and showing recipes he learned from his mother via Skype. You can find his channel by searching for Berber King. Ibtissem says, "I love Berber recipe couscous. It's not salad-type couscous. We usually steam it and use it with a stew of vegetables."