​Fully Loaded Wrestling takes on Fargo
by Sabrina Hornung | .(JavaScript must be enabled to view this email address) | Culture | September 20th, 2017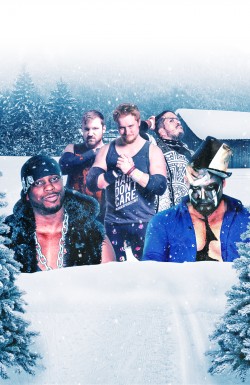 Founded in Minot, North Dakota's premier independent wrestling company has been tumbling around the prairie and travelling the state with their dynamic production since the spring of 2015. Their talent comes from a core base of regional wrestlers and extends into contracted talent from across the globe. HPR had a chance to chat with Fully Loaded Wrestling owners Brady Berndt and Tony Waswick about the independent wrestling movement, training, and wrestling as an artform.
High Plains Reader: Is Fully Loaded Wrestling a troupe or are the wrestlers contracted from other places?
Brady Berndt: We do contract wrestlers in but we do have core wrestlers. We'll get special attractions all the time. We will have Abyss in this upcoming show--he's a big name and he's in Global Force Wrestling Impact. We bring bigger names in but we also have a core group. One of our mainstays Eric Cannon is the official PBR wrestler. He's been in the industry for 16 years and he's kind of our outlet where we meet a bunch of the bigger stars. He owns First Wrestling out in Minneapolis. They do Wrestlepalooza.
HPR: Is there a huge circuit?
Tony Wasvick: Yes, independent wrestling right now as a whole is huge. There are so many promotions out there.
Brady Berndt: Just like any scene wrestling's pretty DIY. It's really relatable to the underground music scene and stuff like that because there's little promotions in each state and Minneapolis alone has six of them. We're the only promotion in North Dakota right now--so that's kind of our thing. We're a part of a larger federation. Essentially we're part of the Allied Independent Wrestling Federation (AIWF). We're technically sanctioned by them but we are all individual companies.
HPR: Can you describe a Fully Loaded Wrestling show?
BB: Usually I kick off the show with all the hype (laughs), I'm the hype guy. It's structured so we have 7-8 matches throughout the show with an intermission. There's highs and lows throughout the show like everything. There's always some comedic value in there and somewhere there's going to be drama/action. There's also opportunities throughout the show for people to meet the wrestlers, shake their hands, get autographs, pictures with kids and stuff like that. There's a lot of fan interaction--that's the fun part! Our guys are all showmen.
TW: We do try to give back to the community too. Usually there's a 50/50 raffle. You'll buy in and half of the money goes to a charity and the other goes as a cash prize to the winner of the raffle.
BB: The match here will be benefitting the F5 boxing club. It's a boxing club for people just getting out of rehab. It gives them an outlet--it's something to join, something to do. We're donating so they can buy tape, boxing gloves, and just keep the lights on.
HPR: Did you guys ever get into backyard wrestling back in the day?
BB: I did! I have scars on my back and a big lump on my leg that will never go away.
TW: Wrestling is not something to be trifled with. It is what it is and people kind of take that for granted sometimes but it takes a lot of training.
BB: All of our guys have 2-3 years of training before they even cross the ropes.
HPR: What does the training entail?
BB: A wrestler has to be a stuntman, an actor, an athlete, and sometimes a comedian all at once. So to get all the timing done--it's a live show--that's the biggest part. That's where the training comes in. Timing, learning how to take bumps and bruises, it's not just going in there and beating someone up. They have to learn to take the beating as well and make it look good.
TW: It's definitely an art form. There's a guy who's pretty well respected in the industry that did a speech a couple years ago about it being the last true theatre in the round where it was a working man's curve. . Where else does that happen in the modern day? Wrestling, boxing, that kind of thing is where it's at.
BB: That's the thing--it's essentially a play. That's where we get a lot of respect from the fans. If the fans are true fans of the art form--they know it's fake. They know an action movie is fake, they know that Rocky was fake, but they're still immersed in it and they're seeing it live. We still play to the good guy and the bad guy sense in everybody.
In the same respect you're able to surprise people--that's what they love about these shows. Thinking they know what's going to happen and then something completely different happens.
IF YOU GO:
FLW Presents: Fight Forever
Sep 22 at 7 PM to Sep 23 at 10 PM
Southwest Youth Arena 4404 23rd Ave SW Fargo