How about that Google Cloud?
by Chuck Solly | .(JavaScript must be enabled to view this email address) | Culture | August 16th, 2017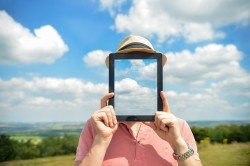 Google has a cloud plan that is actually free! It should be: Google has enough money, they don't need mine or yours.
Last week we discussed the Dropbox cloud offering. Remember that cloud storage is a great way to back up your files, unless you are my brother who doesn't believe in the Cloud.
Cloud goes hand in hand with external drives and network-area-storage (NAS) devices to give you good protection for your files.
What Is Network Attached Storage? NAS straddles the line between a local hard drive and cloud storage, and gives you the benefits of both -- for more money, of course. An NAS system includes a processor, memory and space for hard drive storage that is connected to a local network so that it can be accessed remotely either through connected computers, wireless devices, or even on the go. NAS is a subject for another day...
I am talking today about Google Drive only. Google is pervasive. They have many "Cloud Services," such as Gmail, Calendars, Docs, Google+, Google Photos, and on and on.
When you sign up for Google drive they give you 15 gigabytes of FREE space. You can then upgrade to 100GB for about $3 per month. There are many more plans all the way up to 30 terabytes (TB).
There are differences between Google and Dropbox. You cannot drag and drop from your desktop to your Google Drive directly. Looking at your .jpg's does not seem to be able to be done in Google. You can, however, look at the .jpg on your local folder in both Google and Dropbox and then upload it to the cloud.
Dropbox has various levels of sharing your files with others that Google drive does not. I was not able to find version tracking in Google. Dropbox has it.
Some of these features you may never need, so it might not make a difference which site you use. There are a few extra differences but none that would be a deal breaker for me. I actually use both services.
Most of you don't realize that it is possible to set up your own cloud service. If you have five or six computers in your house you can use a spare computer as a "server" or cloud computer. The redundancy that a system like this provides is better than a "public" cloud service like Dropbox provides.
Your home or small business can also link your private cloud service to a public one with very little trouble. If you are good with Internet security or in the case of small businesses, you have a good IT person in your company, the security level in your system can be greatly improved.
What about performance in a private cloud? Since you are using a dedicated server in a private cloud setup, one that's not being shared with hundreds of other users, as in a public cloud, you can see the benefit of improved computing performance. If you are dealing with big data in your business or your kids downloading movies or games or large files, the private system will benefit you more.
So, what are you going to do about cloud computing and backing up your files in general? If you are the "the-government-is-going-to-get-me" type or the "I-don't-trust-anyone-with-my-files type then to back up your files, stick with external hard drives, thumb drives, or DVDs.
Otherwise, check out Google or Dropbox and let the technology work for you instead of you working at the technology. Life is too short.