​Jewish experience heading to Bonanzaville
by Paige Johnson | .(JavaScript must be enabled to view this email address) | Culture | August 9th, 2017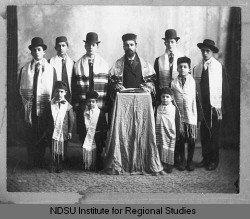 Jewish history recognized in West Fargo museum
A new exhibition at Bonanzaville in West Fargo celebrates the lives, contributions, experiences and histories of Jewish people in North Dakota.
The exhibit, titled "The North Dakota Jewish Experience: Shvitzing it out on the Prairie" opens Tuesday, August 15. Bonanzaville partnered with the Jewish American Society of Historic Preservation, an organization that works to recognize sites of importance to Jewish history. Other contributors include the Jewish Historical Society of the Upper Midwest, the Chabad Jewish Center of North Dakota and the Jewish Community Relations Council of Minnesota and the Dakotas.
Today, Jews make up two percent of the natural population. In 2013, approximately 400 Jewish people lived in North Dakota, from Fargo to Devils Lake, Minot to Bismarck.
On August 7, Steve Hunegs, the executive director of the Jewish Community Relations Council of Minnesota and the Dakotas, published a brief synopsis of the Jewish history in North Dakota.
Many Jews came to North Dakota for land, making their mark on the Dakota Territory and the overall history of agriculture in North Dakota.
Between 1891 and 1924, many Jews escaped persecution in Russia and emigrated to the United States. In 1891, Rabbi Benjamin Papermaster was sent to North Dakota, specifically Grand Forks, to serve the Jewish population. It was in this year that Congregation B'nail Israel was established. He also traveled around the state, serving as a officiate for weddings and funerals, circumcising babies and even slaughtering cattle for the Jewish population in the state.
Papermaster serves as a center for the exhibit, contributing 43 years to the success and preservation of the Jewish experience in North Dakota.
In 1950, Temple Beth El was founded in Fargo. As the years have passed, more synagogues were established in major cities like Bismarck, Minot, Ashley and Wishek.
In addition to places of worship, Jewish people have made their mark in North Dakota politics: Mayor Herschel Lashkowitz was the longest serving Fargo mayor and Judge Myron Bright served on the 8th circuit Court of Appeals.
Using images and artifacts of the Jewish experience in North Dakota, the exhibit recognizes the incredible amount of history Jewish people have contributed to North Dakota since its creation as a state in 1889.
From notable rabbi to businessmen, farmers to politicians, the Jewish population has been a silent force in North Dakota history.
The reception starts on August 15 at 7 p.m. Admission is free for those attending the opening and the event will be catered by BernBaum's following the formal reception.
For more information, visit the Bonanzaville website.
IF YOU GO
The North Dakota Jewish Experience
Reception: August 15, 7–9pm
Bonanzaville, 1351 Main Ave W, West Fargo
Free admission for reception, bonanzaville.org